When One Dream Dies, Another One Is Born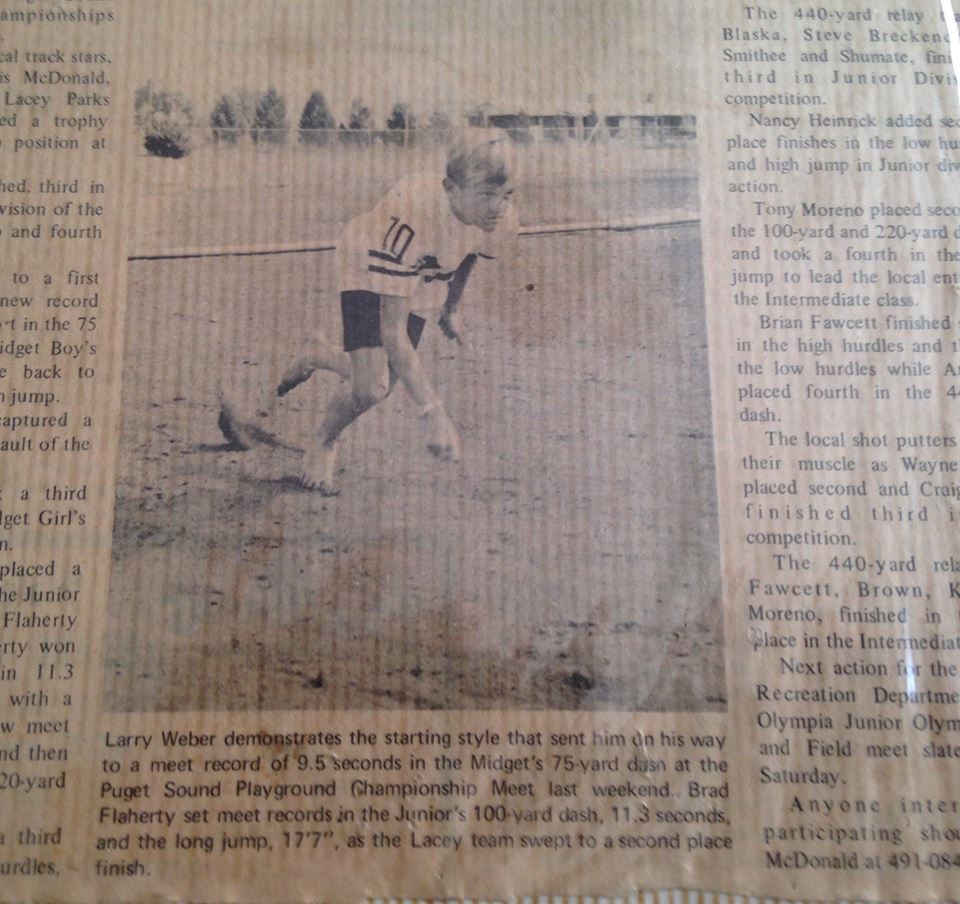 I was ten years old in this picture. From age ten to my mid-twenties, I dreamed of making the Olympic team.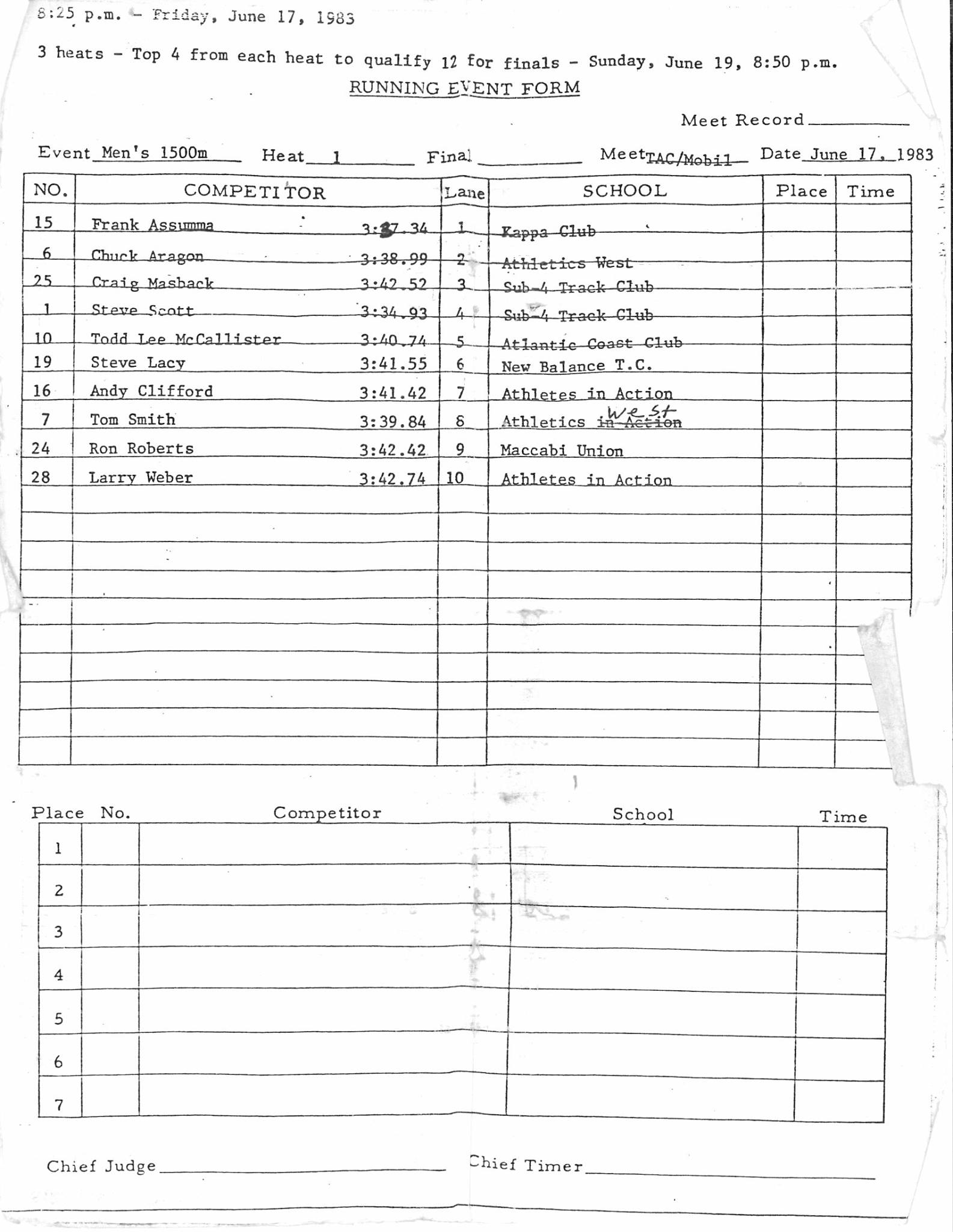 This is the prelim heat sheet from nationals before we ran our heat. I had one brutal heat with two Olympians in the field, including the American mile record holder, a 3:52 miler, and fourth place finisher in the 1500 at the USA Olympic Trials and sub-four minute milers. I did not make the final but ran well against America's best 1500-meter and mile runners.
The Dreams Of  Youth
Like most people, I had a dream growing up as a child. My dream was to become one of the best runners in the world. My goal in accomplishing this dream was to make the U.S. Olympic team in one of the middle-distance events. This desire and purpose were a singular focus of mine for many years.
Fast forward to the end of my story. As it turned out, I reached the national class level in my sport by making the USA  rankings in the 1500 meters and the mile and qualifying to run in the USA Track and Field Championships. I ran in the same heat as Steve Scott (the American record holder in the 1500 meters and the mile at 3:47), 3:52 miler Craig Masback,  Olympian Steve Lacy, Tom Smith, near Olympian Chuck Aragon, and others.
To make the USA Championships, you had to run at least a 4:00.10 mile or just a fraction of a second over a four-minute mile.
However, I never realized my goal of running in the Olympic Games by being in the top three runners in my event in America.
My desire to become one of the best runners in the world was never fulfilled, or was it?
Now, for the rest of the story.
Desires of the heart are the fuel of life. Godly desires keep us going and get us out of bed each morning. It may initially take one form when we have a dream, but God may transform that desire into something completely different. He has a way of fulfilling our desires in the most unpredictable ways. Let me explain.
The desire locked deep down in my soul as a young man was to become one of the world's best runners and make the Olympic team. My goal of making the Olympic team was a quiet focus for nearly two decades.
Something inside of me would not let my dream die. I kept holding on to my goal until one day, in the spring in my mid-twenties, I knew my dream was over, or so I thought.
I remember very vividly the day I stopped chasing my dream. I was racing in a significant competitive track meet and failed to reach the time I needed to move to the next level (I was injured three weeks before this event and had lost my fitness). I knew this was my last attempt at my dream because I would be past my prime and too old to compete when the next Olympic Trials rolled around.
Being a realist and very logical, I knew my goal as I had defined it was over, and it was time to get real, move on in life, and turn in my spikes.
Extreme sadness crept into my mind and body like a storm passing through in the night when I thought about losing my lifetime goal. I sat alone on the track at the last meet of my life, quietly reflecting and praying as years of memories passed through my mind and the tears flowed.
Being a competitor, my pity party did not last long. I intuitively prayed for a new goal to replace my lost goal. The Bible says, "Without a vision, the people perish." I needed to get back into the race again. Hope once again filled my soul.
You may know the rest of the story by now. I went on to win the title of "The Ultimate Runner" as the best all-around runner in the world at the time, setting a record in the event. In the process, I finished ahead of many national and world-class runners I had never beaten. I had fulfilled my desire to run with the best in the world. However, my original dream came true in a different way.
Winning the Original Ultimate Runner was my Olympic Games and my running career's "best event."
The desires written in our hearts are placed there for a reason. However, we can sometimes miss or misread the intended outcomes of our passions. In other words, we can be mistaken about how our desires will play out. God may fulfill our dreams entirely differently than we ever imagined. Such was the case in my life.
A good friend once told me that it was apparent that the Ultimate Runner Competition was made for me and would be my "best event." However, it was not evident to me at all! I was always good at many running events, much like a decathlete is good at several track and field events. However, like a decathlete, I was never a world leader in any event. I liked and ran all the running events.
The life lesson here is apparent. We may have a strong desire and dream that we chase after—sometimes for years. That desire is a part of who we are for a reason. However, God may have a different way of fulfilling our desires. 
Using a running analogy, He may have a "different event" for us that fulfills our desire and potential in a way that is unimaginable at first. The key is to have faith, never give up, and let our disappointments lead us to our ultimate destiny.
Never give up on your deepest desires and dreams. Healthy desires live inside you for a reason. When one goal fades,  a better plan may take its place. Said another way, sometimes the desires of our heart are fulfilled differently or even better than we first imagined.
Don't give up. Have faith that the Lord has a better or more meaningful story for you in your journey.
Blessings,
Coach Weber 
Philippians 4:13
You can read about the Original Ultimate Runner Competition for more information about this event.
The original Ultimate Runner Competition consisted of running a 10k, 400 meters, 100 meters, a mile, and marathon all on the same day. Many national and world- class runners competed for the title of the best all-around runner.  The event's goal was to determine what event represented the best all-around runner in the world, a sprinter, mid-distance runner, marathoner, or ultra-marathon runner.   
I was blessed to win and set the all-time record in the event.