What is the deeper meaning behind some awards?
I only have one running award displayed in my house. The award represents the culmination of decades of work in running and racing. It was the race of a lifetime for me but not in the way you may think.
Awards end up in boxes in a garage, at least for me. They represent a prior time when the body allowed you to give it your all and put everything on the line for something as simple as a trophy. The trophies are also a reminder of days gone past that include the memory of some fantastic people I've met along the journey.
Once a year or so, I'll look at all those old trophies in the boxes in my garage and remember the relationships that came out of all those races much more than winning a race. I am thankful for all the people who helped me along the way. I am also thankful for past teammates, coaches, and those who supported my journey. You never do anything on your own. 
I started thinking one day more deeply about why I had just one award left on the wall in my house. Why have any awards at all?
It was all so long ago. It hit me like a rock as I reflected that the one award left on the wall in our home changed how I viewed life. It was different from all the rest. That one award represented a life-changing moment for me, for sure.
The one award still displayed in our home has set my life course for decades now. I am not going to write about that race again, if you have not read my story you can read it here: https://www.coachweber.org/The-Original-Ultimate-Runner.html.
The lessons learned from that one race still drive me today. I try my best to teach young people, and at times adults, the same life lessons I learned from the Original Ultimate Runner Competition. 
You can always do more than you initially believe. With God, all things are possible. Don't place limits on what you are capable of doing in life. Believe deeply in your God-given ability. You can finish your toughest life races strong. Pray from the heart when you face big challenges in life. The underdog can win. Persevere through life trials. And many more….
This is the first time I've ever shared the actual award from the original Ultimate Runner race publicly. It sits in a closed room near the picture of the event in the hall. When I walk into that room each day, I see more than just a trophy, I see my life mission: Find ways to help others see and reach their God-given potential through the sport of running. 
Not a bad life.         
Blessings,   
Coach Weber 
Philippians 4:13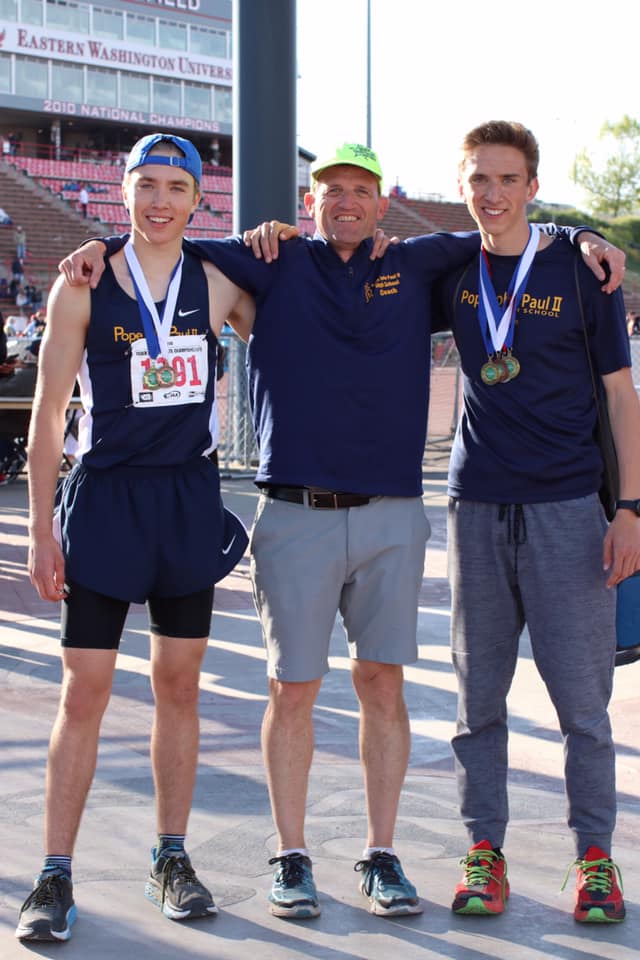 Brothers Kobe and Caden Deutscher after winning their state track and field championships in the 1600 meters, 800 meters, and 3200 meters in 2019. I was blessed to serve as their coach. They are two amazing young men.