Impacts of Breaking a Long Standing Barrier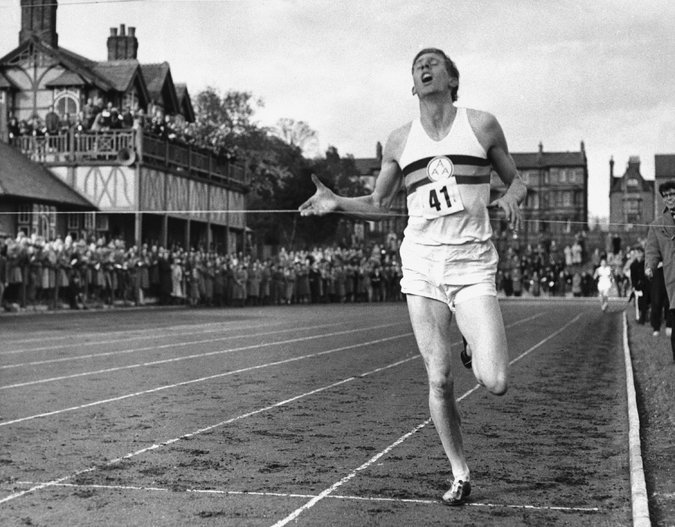 Photo Credit: The Associated Press
There are two options to take when those around you break a long-standing major barrier in life. 
Option 1 is to be inspired enough by the performance to break through the barriers that stand in the way of your own big goals. 
Option 2 is to go with the negative side of the equation and think that a breakthrough will never happen in your performance.
Choose option 1 when you see others hit it out of the ballpark! Be inspired to breakthrough your own barriers when you see someone else breakthrough their long-standing barrier!
In my talk on a sports show recently, I discussed how Roger Bannister broke the first sub-four-minute mile. His accomplishment was one of the greatest athletic accomplishments in history. However, I also discussed why running a sub-four mile may not have been Bannisters greatest accomplishment during his running career.
I made the case that perhaps Bannister's greatest accomplishment was that within about 10 years of running the first sub-four-minute mile, 336 other people ran a sub-four-minute mile! Bannister's breakthrough race shattered the "impossibility barrier" in the minds of others. His amazing barrier-breaking performance opened the gateway for others to follow. 
I think the recent sub-2-hour-marathon effort by Eluid Kipchoge will have a similar impact in the next several years as Roger Bannister's first sub-four-mile had in his day. Others will run under 2 hours if they prepare well and have similar race conditions. The limitation of the human spirit that was set by some "experts" in the marathon was eclipsed when Kipchoge ran the first-ever sub-2-hour-marathon this month (October 2019). The world marathon stage will never be the same, in a very good way.
On a more local level, when a teammate or someone you know breaks a long-standing barrier or runs a personal best, let it inspire you to break your own personal barriers.  Be happy for your barrier-breaking teammates and use their accomplishment as fuel to go where you've never gone before. Never fall into "it can never happen to me syndrome".  Make an intentional effort  to do more than you ever thought was possible with the unique gifts God gave you.
Keep believing and working hard and smart toward your goals. Your personal breakthrough will come if you are consistent in training and do the right things day in and day out. I have seen breakthroughs happen over and over again for multiple team members when one person on a team leads the way by making a major breakthrough in their performance. 
Be the leader of the pack by running, jumping, or throwing a personal best this season. It will inspire others to do the same.
If you want to learn more about the power of barrier-breaking performances, you can listen to the first 10-15 minutes of my interview on a recent sports talk show below. 

Talk Show Video-Podcast
https://www.youtube.com/watch?v=9OTsG7nuoWM&fbclid=IwAR3kkier1GVlRRC_MFeqBUIsV6yYO-lEgHpNCpLX62eksb0QYbTW7QcBFW0

Blessings, 
Coach Weber    
Philippians 4:13