A Season To Remember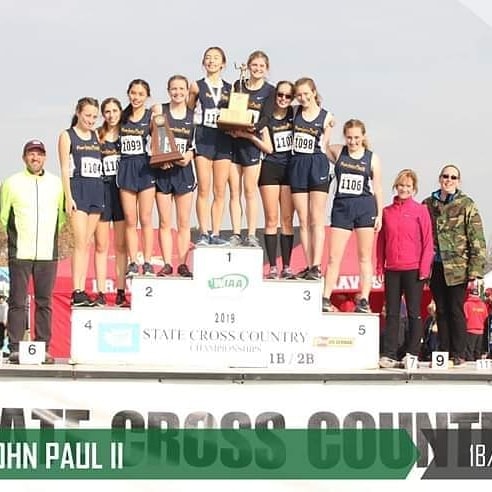 Pope John Paul II Girls Cross-Country Team Historic Season
Background

In 2018 we organized the first-ever girl's cross-country team at Pope John Paul II High School (JPII for short) in Lacey, Washington, in school history. In their first year of competition, the JPII girls qualified for the Washington State High School Cross-Country Championships. The lady eagles also won the Washington State High School State Academic team Championship in their cross-country classification in their first year of competition. The girl's team had a tremendous first-ever season.
By season number two, in 2019, the Eagle girl's were Washington State Cross Country Champions upsetting the three-time defending state cross country champions. The girl's state championship was the first state athletic championship of any kind at JPII in school history. The school is ten years old.               
The JPII girls are likely the first team in state history to win a state championship in cross-country in their second year with a team. This State records don't list every team's initial start date, so it is currently impossible to verify this accomplishment for sure.                           
The state record cross-country historian, Rod Wilcox, had this to say in his summary of the 2019 Girls team: "…Pope John Paul 2 not only returned (to the state cross-country championships in our second year with a team) but ran away with the title. This is probably a record but not even I track years of existence compared to titles".
How the girls won the state championship in such a short time is truly inspiring and historical. I still, at times, can't believe this team pulled off the state championship. I've been blessed to coach many state championship teams in my career. However, none of these state championships were quite like the JPII state championship run in 2019.
The Beginnings Of A Team
Some of the varsity girls on the JPII team had never run before joining the cross-country team or had never run cross-country before. It was amazing to witness the team's incredible transformation in such a short time frame. The team's hard work, determination, overcoming multiple obstacles, and faith were a thing of beauty to watch over the following months. To see each team member's self-confidence grow each week was a fantastic blessing. All of the girls on the team are very different, with unique abilities on and off the sports field.
Like any other great team, the JPII girls had their share of ups in downs in their state championship season. They had many high points and experienced low points where they persevered and had to pick themselves up again. Like one parent said, "you don't have to be perfect to win a championship." However, you do need to keep working hard and smart, learn from your mistakes and have faith that it will all work out in the end.
One Captains Perspective Of The 2019 Season                   
One prominent example of the heart of the 2019 girls team and how the JPII girls team overcame adversity is stated very well by Vivi Kondrat, a sophomore at the 2019 state championship race. Vivi said:   
"...School Cross-Country wasn't about running for glory. It was about running for something greater than ourselves or even our team. We prayed before competitions and challenging workouts, after our races, celebrating, and when anything unexpected happened. For example, in 2019, our second year competing as a team, my dad drove half our cross-country team up to Marysville for a meet. We laughed and sang when one girl turned around and screamed: we heard a crunch and felt a jarring impact. Luckily, we all made it out of the four-car accident intact. Still, I clearly remember huddling by the side of the road for an hour, praying decades of the Rosary both to calm down and because we were concerned about the other people in the accident. I had never felt more connected to my faith.         
Ultimately, JPII has prepared me for life by teaching me a basic truth: Life has hills. There are times where you have to struggle, and you might feel tempted to quit. After that car accident, none of us wanted to race… and it showed! We lost to the reigning champions by almost 100 points. But Coach Weber had a common message for each person, a singular focus and mission, and it wasn't necessarily beating everyone. It was reaching our God-given potential.   
In our first year as a team, he challenged us to reach State...then the next year, he set an almost unbelievable goal: winning the State Championship in our second year as a team. The day before the 2019 state cross country meet, we drove to Pasco to check out the course and prepare mentally. As we jogged, it seemed like nothing but hills! We had been preparing for this race for months, but it wasn't going to be handed to us. On the day of the race, during the last stretch, I couldn't keep up with a couple of runners who passed me at the end. I was disappointed in myself… it seemed like I had failed our team. But I had given it my all, and so had everyone else. And because it was a TEAM effort, because everyone was committed to meeting their potential, our small team (in only its second year of competition!) won the State Championship!
If Coach had never pushed us beyond our barriers, we wouldn't have even considered it possible".
The JPII girls picked themselves up throughout the season when they had challenges by praying together and honestly talking through their different challenging situations. Grace amid struggle was the centerpiece of this team in their championship journey. The girls never gave up. I have never seen anything like what these girls did in the state championships during my coaching career.
The Unexpected Victory
The story of the actual state championship race itself was like something out of a movie script, but it was real life.
At mile one in the 5k race, the girls were in third place. They had gone out conservative and wanted to run the first part of the race smart and within their capabilities. By mile two, they had moved up to second place behind the three-time defending state champions.
With 1000 meters to go, every girl on the varsity seven pushed the pace like never before. They all ran their hearts out in the last 1000 meters of the race. It was amazing to watch such a young team carry out their race plan in the most pressure-packed race of the year.
We knew the race was close at the finish line. The defending state champs knew it was close as well. They had beaten our girl's team by 99 points earlier in the season at a large cross-country invitational.  Even if we didn't win, I knew our girls had run their hearts out. They had nothing left as a team at the finish line. You could not ask for anything more.
When it was announced that we had won, there were tears of happiness and joy on our team. The three-time state champs were a great class act as well. They were outstanding in their graciousness and sportsmanship after the announcement was made.
The team celebration ensued at our team dinner that night. It was a time to give thanks and celebrate the many blessings of a great season.
Lessons That Last A Lifetime
The life lessons of the 2019 season were priceless. Never let others define what is possible in your life. Just because it's never been done before does not mean it can't be done now. Never lose faith when things get tough. Keep pursuing big dreams no matter what the obstacles are that stand in the way. It's never over until you cross the finish line. Encourage others along the way. And recognize no journey is ever perfect. With strong faith and a committed team, anything is possible.           
Grace and mid-course corrections are always a part of the journey, no matter what you do or where you are in life as well.
The lady Eagles had a great season, but more importantly, they learned many life lessons along their journey. They supported other teams through their sportsmanship, and they did their best to be role models as student-athletes, as demonstrated by winning an outstanding team academic award in 2019 with a team GPA of 3.681.                                                                                   
The lady Eagles were a joy to coach throughout the 2019 season. I will never forget this group of amazing young ladies. I have rarely seen such amazing hearts and perseverance amid any life storm.
Congrats on being the first team in school history to win a state championship!
Blessings,
Coach Weber
Philippians 4:13
Some of the articles about the 2019 JPII Girls Team are below.
The Runner
https://www.therunnerwa.com/…/pope-john-paul-girl-s-end-lib…
Thurston Talk
https://www.thurstontalk.com/…/just-two-years-in-and-pope-…/
https://www.thurstontalk.com/…/northwest-christian-pope-jo…/
From The WIAA, After Winning The High School Team Of The Month Award
"The Pope John Paul II girls cross country team captured a come-from-behind, photo-finish, 1B/2B State Championship in only its second year with a full team. Their hard work, determination, faith, and willingness to grow have helped push the Eagles through the struggles on and off the courses. Grace amid struggle was the centerpiece of this team's Championship journey. As voted by league coaches, the girls also won the Sea-Tac League Sportsmanship Award and finished with an outstanding team GPA of 3.681.