JPII Senior Spotlight: Vivi Kondrat
      Vivi running at the State Cross-Country Championships. 
Humility is an important virtue in life. When you meet someone who is truly humble, respect and admiration naturally follow.
Never mind that she is a 4.0 student. Never mind that she is Captain of a State Championship team. Never mind that she is President of the Senior class. Never mind that she excels at virtually anything she does. This young lady's greatest attributes are loving and caring for others and her sincere humility.   
Clare (we call her Vivi!) Kondrat is one of the finest people you will ever meet. She is other-centered, articulate, generous, super positive, and competitive in a good and healthy way.
Vivi led the Pope John Paul II Girl's Cross-Country team to the school's first-ever state championship in any sport her sophomore year. She also finished as the number one girl on our state championship team. Like she always does in those big meets, Vivi left it all out on the course and had nothing left at the finish line. She gave her all to help the team.
Vivi is extremely talented not only in the classroom but in all of her extra-curricular activities. She has played in the Jazz Band, is a member of the Stellar Xplorers nationally recognized team, and has participated in Basketball.    
Vivi was also a Pope 1B/2B Pope John Paul II  Washington State Championship academic cross-country team member in 2018. The JPII girls team had the highest team GPA of in their state classification in the State of Washington. 
Vivi finished second in the state in the 3200 meters in track her freshman year and was the favorite to win the 3200 meters her Sophomore and Junior years. However, the Washington State High School Track and Field Season was canceled due to COVID policies for the last two years.
Giving back is more than a nice slogan to Vivi; it is who she is day in and day out. Vivi has volunteered at her church men's shelter, Vacation Bible school, and Pigman's farm, which produces organic fruits and vegetables. Vivi helps out in many other ways as well in our community.
When you ask Vivi about some of her favorite memories, you can hear the words community resonating in your ear. Vivi loves people.
Vivi recalls one special memory from her freshman year. "At the end of my freshman year, when we were starting summer training for the next season, some incoming freshmen started joining us at practice. On my birthday, we all ended our run at Limeberry and got to know each other better. Those freshmen ended being really good friends of mine, and key members of the team that won state".
Vivi also mentioned that "exploring (and naming) many different trails to add in variety to our runs, like the Karate Kid, Bread Trail, Albino Spider Loop, and the Café are favorite memories."                                                                                                 
Vivi also said: "Going to camp and creating an elaborate performance for "Eye of the Tiger" for our team song, was also a favorite memory."
Vivi's senior year is extra special and blessed this year. Vivi has two sisters on the JPII Cross-Country team this year. Her sister Bella is a junior, and her sister Lucy (Luc for short) is a freshman. 
Vivi Kondrat is primed to do great and meaningful things this year on and off the field. Her multitude of talents serve others well now and will continue to do so in the future.  I can't wait to see the positive impact that Vivi has on others this next year.             
Vivi is one of those people I will always remember due to her incredible heart, humility,  dedication to serving others, and her example of always doing her best and going the extra mile for others.
Blessings,

Coach Weber
Philippians 4:13
          Vivi with one of her  teammates, Maggie Larson.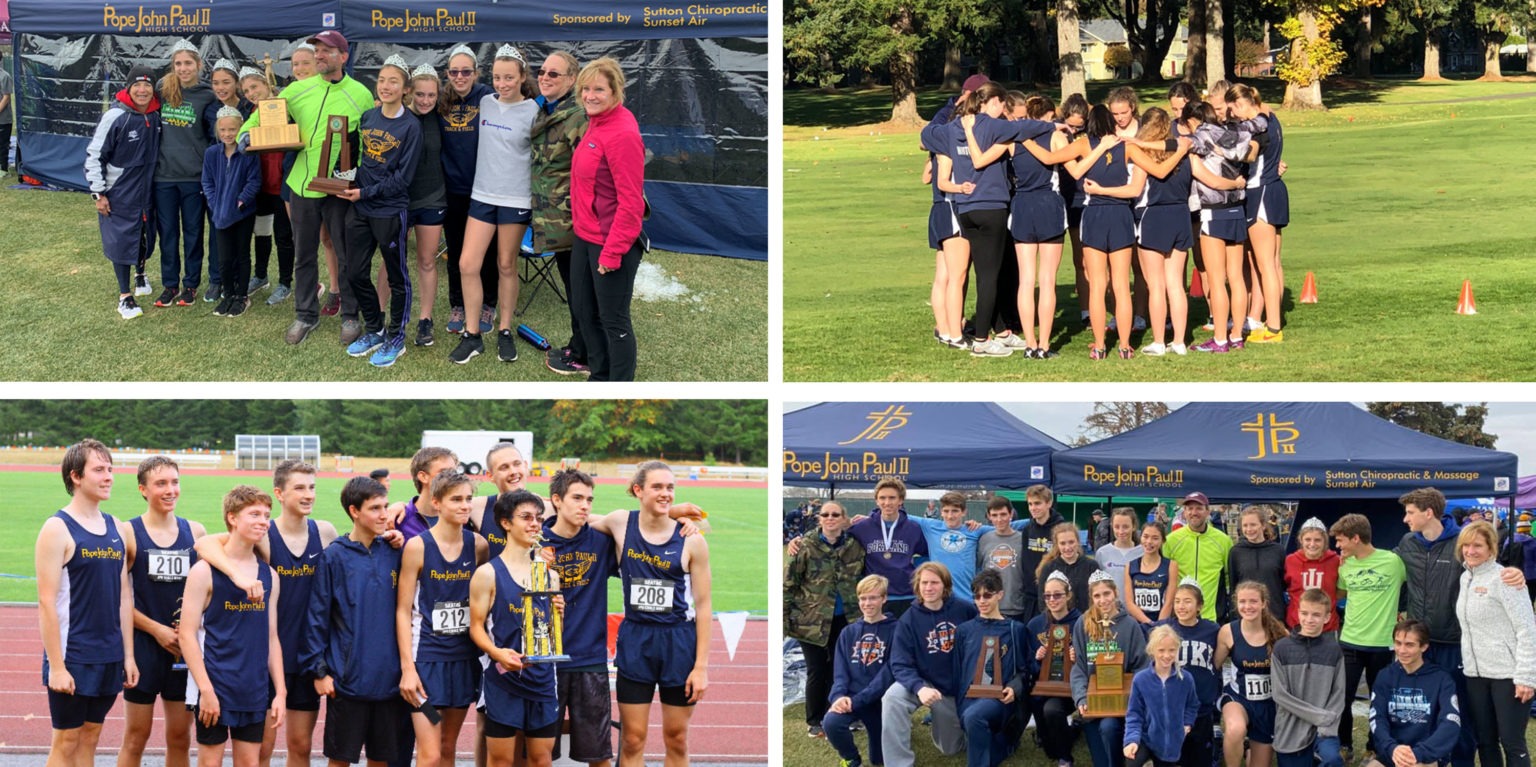 Vivi with several of her teammates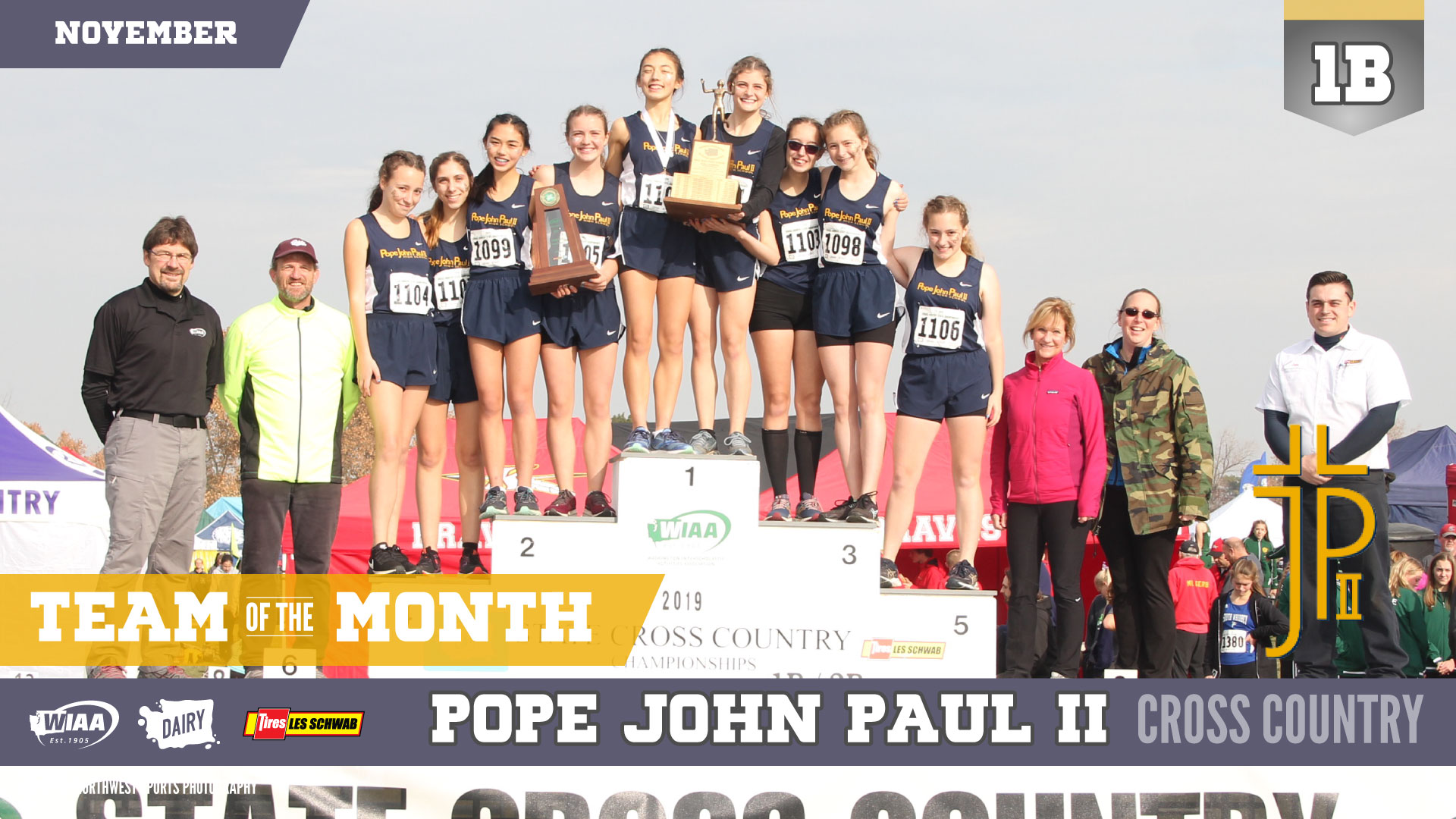 Vivi on top of the podium with her state championship team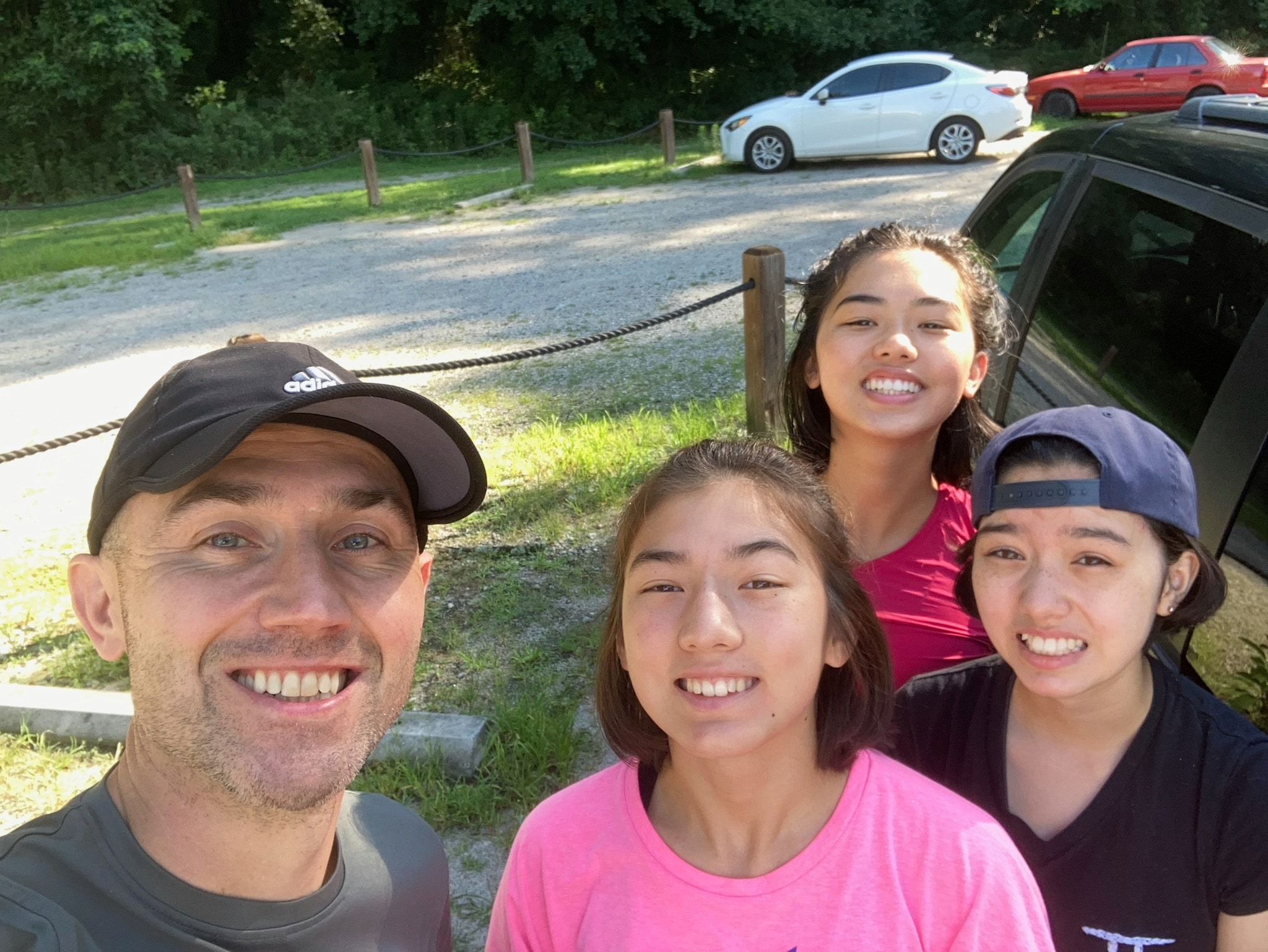 Vivi with her dad, Robert Kondrat, and sisters Bella and Lucy (Luc). All three Kondrat sisters are on the JPII team this year.