Timberline Cross-Country Went To New Heights In 1984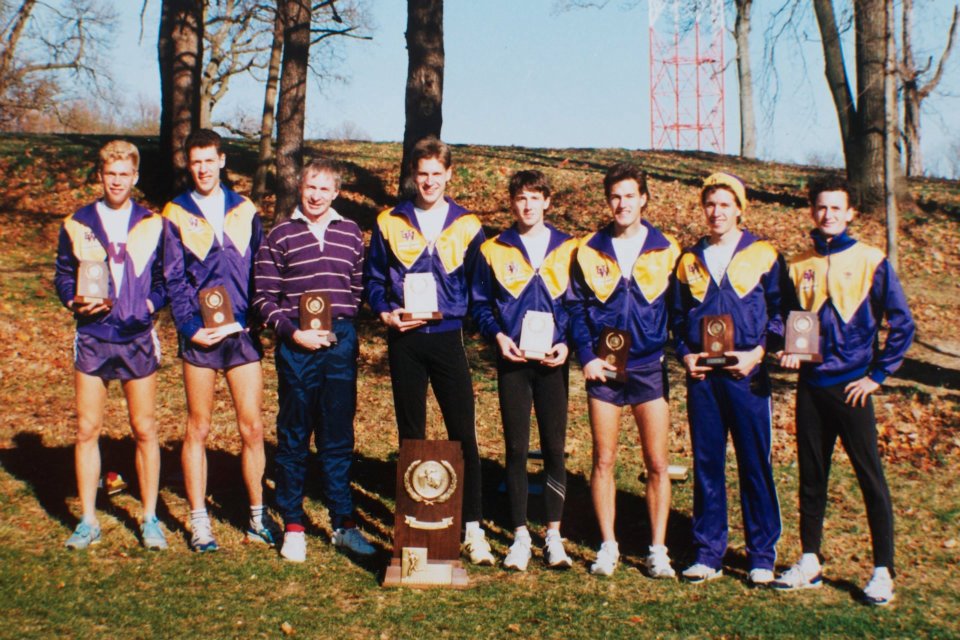 Picture: Rich Connor from Timberline High School went on to run for the University of Washington. Rich was on the varsity team that finished 4th in the nation at Division 1 Cross-Country Nationals. Left to right are Storm Shuman, Redmond, Pat Johnson, Montesano, Al Hjort, Marysville, Jeff Green Tahoma, Sean Anderson, Cashmere, Rich Conner Timberline, Adam Leahy, and Pasco.
All varsity runners on the 1989 University of Washington team at nationals graduated from high schools in the State of Washington.
Photo Credit: Rich Connor
    The Timberline High School Cross-Country Team Of 1984

Every high school, college, and even pro-running team can look back and point to one team in their history that was the best of all time.
The 1984 Timberline High School cross-country team was the best in school history on many levels. The 1984 team serves as a model for current teams at Timberline to aspire to or surpass.
Interestingly, the 1984 team was not built around a group of  Track and Field athletes or runners whose only sport was cross-country. The 84 Blazers only had five seniors on that team who also ran track. 
And one of the team's stars, Phil Jasperson, didn't start running track until his junior year, when he gave up baseball to try track and field.
The core of the 84 team at Timberline started running together regularly in 1982, with many sophomores who showed promise.
Phil Jasperson and his twin brother Alan joined the team late in 1982 when the season was underway. 

The Jasperson brothers started in the football ranks but decided football was not for them. Their decision to switch sports was one primary key to the success of the 1984 team. 
Phil and Alan's friend, Pat Berdhal, encouraged them to turn out for cross-country after he left the baseball team. Pat was a 2:02 800M runner as a freshman and played football in the fall before finally deciding to try cross-country. 

When I was communicating with Phil about the 1984 team, he mentioned that he ran his first cross-country meet in the Shelton JV race with only three training days! 
Phil had no idea what he was doing in the race but decided to stick with the leader. Amazingly, he ended up in 2nd place, running roughly 17:30 for 5k, wearing a pair of trainers he borrowed from a teammate!
Incredibly, even with his lack of experience, Phil finished his sophomore year as the teams top runner when it mattered most at the district meet.
Rich Connor was also coming into his own as a runner. He was the number one runner on the 1984 team that I will talk more about in a minute.
Rich eventually set school records in track and field at Timberline that still stand in the 1600 and 3200 meters 38 years later.

Rich was also a baseball player as a freshman but decided he would follow in his brother Rob Conner's footsteps and run track his sophomore season instead of playing baseball again. 

The Rob I am talking about is the current Division 1 Cross-Country and Track and Field head coach Rob Conner at the University of Portland. Rob competed for Timberline a couple of years earlier, graduating in 1982.       
As a side note, The University of Portland is consistently among the nation's best collegiate Division 1 cross-country programs under Rob's leadership. 
Back to the 1984 team.
By 1984 Phil and his teammates talked a few more baseball guys and a great soccer player into turning out for the team. Phil described his team as "somewhat of a group of hardworking misfits that knew how to work hard and excel on low mileage. He remembers no one running more than 30-45 miles a week even as seniors".

With newfound confidence and success, the 1984 team started running quite strong with ambitions of sending the team to state.  Olympia and Hoquiam High Schools had solid teams in 1984 and were the main competition for Timberline. 
Timberline finished the season as league champions even though their number one runner, Rich Conner, was injured, and their number three runner left the team in mid-season. Losing the number three runner at that time of year seemed like a serious setback since he usually ran in the mid-16:30 range for 5K.

However, the team regrouped and prepared for the district meet at Lake Sacagawea park in Longview. They were not only becoming more physically fit, but they were also becoming mentally stronger as they reached more significant goals.
Only three teams from Timberline's super competitive district were allowed to compete at the state that year.
Rich Connor won the district meet on the looping course in what Phil remembers as a time of just over 15:30 for 5K. Phil was fourth in 16:04. Pat Berdahl, Karl Imlig, and Alan Jasperson were all somewhere between 16:30-16:45.                                                     
Phil's brother Alan had the race of his life that day.  Phil would typically run a minute and a half faster than Alan in most races. Alan was only around 30 seconds behind Phil at Districts.
The two non-scoring varsity runners at districts were Dan Halvorson and Jon Thompson, both sophomores.

The State Cross-Country meet was held in Spokane at Hangman Valley golf course in 1984.  It was cold, the ground was full of slushy snow, and the course was messy. In other words, the course was incredibly sloppy and slow.  
The race started well for most of the team, with Rich Connor going out with the leaders and Phil in the top 12 at 2 miles. 
The race got a bit tougher for most of the team in the last mile, except for Rich, who finished third overall. Phil finished in 29th, Karl was 50th, and the rest of the team struggled but finished in the top 80+ as finishers.                                                   
Remember, the 1984  team was missing their number three runner, who left mid-season. Timberline finished 9th, their highest-ever finish at state. However, their finish would likely have been much higher if the original team was intact.
Here is The Team roster at the 1984 State Cross-Country meet and a brief overview of each athlete.
#1 Rich Conner placed 3rd at State, is still the school record holder in 1600M at 4:18, and holds the 3200M record. Rich went on to run for the University of Washington and was a varsity member of the 1989 Huskies team that finished fourth in the Division 1 National Cross-Country Championships. 
Rich and Rob Conner's Cousin Adam Leahy, the current Green River College coach, also ran on the national championship cross-country team.

#2 Phil Jasperson was 29th at state and had personal bests of  1:59.4 in the 800 meters in high shool and 4:27 in the 1600 meters. 
After his high school career, Phil went on to qualify for the U.S. Olympic Marathon Trials. He also won the Capital City Marathon several times.
#3 Karl Imlig was 50th in the state meet, was a star soccer player at THS,  and never did run track.

#4 Pat Berdahl ran 1:58 for 800 meters in high school and is a former football player from Timberline.
#5 Dan Halvorson was primarily a runner in high school and is now a retired Navy pilot.
#6 Alan Jasperson, Phil's twin brother, never ran track and continued playing baseball throughout high school as a pitcher and outfielder/first baseman.  He once ran a time trial on an old cinder track around 10:30 for 3200M.                                                 
Alan still lives and works in the Olympia area.
#7 Jon Thompson made it to state as an underclassman on a senior-laden squad. 
The coaches of the 1984 team included Bob Atwell and Tom MacRoberts.  Long-time coach and Timberline Athletic Director Pat Geiger also helped during those years but was not a formal part of the coaching group in the 1984 season due to his work on his master's degree.
One of Phil's favorite memories was making the trip to the Sunfair Cross-Country Invitational in Yakima. Phil had his best race of the year, running 15:53 on the course.                                 
Phil said they drove home from the meet over I-90 in the snow in his coach's car.  He also said the coaches stated that the young men could crank up their favorite music at the time, which was heavy metal music, "because that's what coaches do." 
I can only imagine the ringing in the ears in that car due to the loud music while traveling on I-90! I bet it kept everyone awake, though!
Phil fondly remembers all those races, practices, coaches, and those road trips, as I am sure his teammates do.
The class of 84 is still the subject of cross-country lore at Timberline and parts of our community. And for a good reason, the 1984 blazers record and legacy have stood the test of time.
But...with a coach like Kevin Gary at Timberline at the helm and other cross-country leadership at the school, whose to say I won't be writing about the next great team at Timberline soon!
Blessings,
Coach Weber
Thurston County Running and Track & Field Historian
Philippians 4:13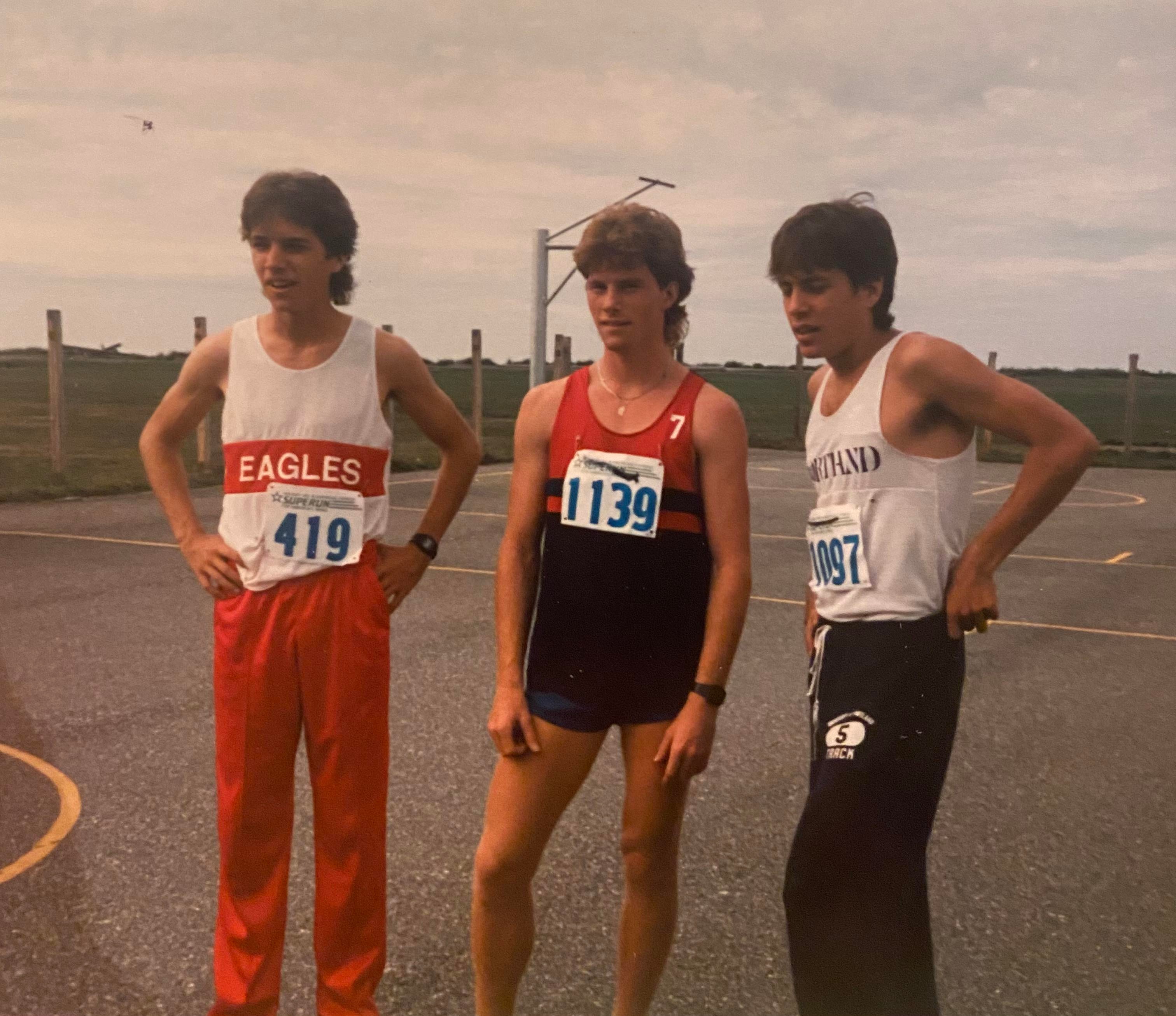 Left to Right: Timberline High School graduates Rich Connor, Phil Jasperson, and Rob Connor in their college running days. Rich and Phil were college freshmen in the picture. Rob was a senior in college.
Rich initially ran for Eastern Washington University but transferred to the University of Washington, where his team finished 4th in the DI national cross-country championships. Phil ran for Clackamas Community College and went on to qualify for the USA Olympic marathon trials as an open athlete. Rob Conner ran for the University of Portland, where he still coaches today.
Rob became one of the top Division 1 cross-country coaches in America at UP.
Photo Credit: Rob Connor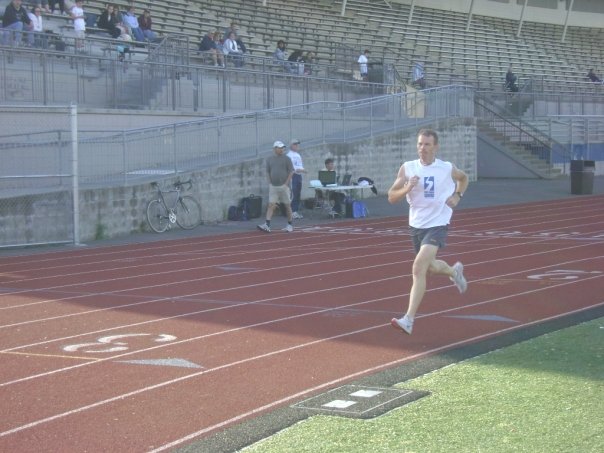 Picture: Timberline 1984 Cross-Country Team member Phil Jasperson went on to qualify for the U.S. Olympic Trials in the marathon. He also won the Capital City Marathon several times.