Thurston County Athletes Shine in 2022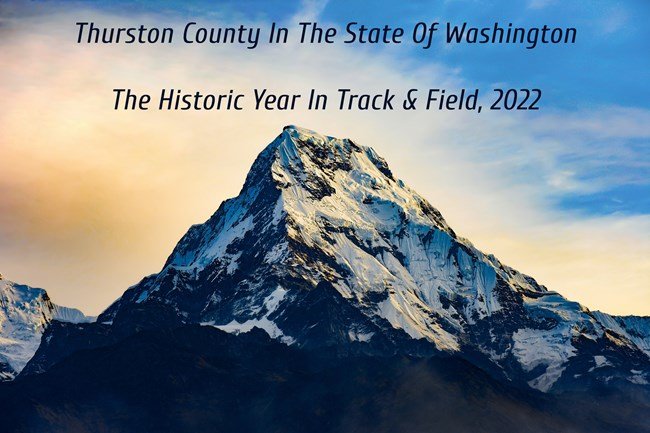 The most significant large-scale accomplishment in area track and field history happened in the spring of 2022.

To start with, the most First-Ever State Track and Field Championships happened in 2022. 2022 was indeed a historic year.
Quick Facts
Area Team Accomplishments
Rainier High School, established in 1909, 113 years ago, won its first-ever state track and field championship in 2022.
The Mountaineers were led by one of the top discus throwers in the nation, Jeremiah Nubbe, in their first state championship win. The win was a team effort, though, and a day nobody in Rainier will forget soon.
Tumwater High School, established in 1961, 61 years ago, took home its first Washington State Track and Field Championship in 2022. 
Several student-athletes led the T-Birds in multiple events. There was an outstanding balance of points between the track and field events in their first state championship. It was a fantastic day for the Thunderbirds.
Capital High School, established in 1975, 47 years ago, won its first track and field state championship in 2022. 
The Cougars were led by two of the best pole vaulters in the nation, Amanda and Hana Moll. Both are incredible student-athletes. What a day to remember for the Cougars of Capital High.
Pope John Paul II High School (JPII), established in 2010, 12 years ago, won its first state track and field title in 2022. The Track and field team was created in 2018.
The Pope John Paul II Lady Eagles pulled off a rare triple—winning the state cross-country title, state track and field championship title, and the state academic team championship in cross-country with a team GPA of 3.960.
Before 2022, only a few area teams won state championships in track and field history since records were kept starting in about 1931. 
Individual Accolades
There were also national event leaders, long-time area records broken, and state athletes of the year named. Ethan Coleman from Olympia was among the national leaders in the 1600 and 3200 meters.
Ethan was named track and field athlete of the year in his division by The Runner, the primary media source for high school track and field in the State of Washington. He was also named overall runner of the year across all classifications.
Ethan also broke two of three middle and long-distance running area records this year.
The oldest record to fall was Dave Smith's 4:09.28 1600-meter record set in 1988. Dave is the great three-time NCAA Division 1 Cross-Country coach of the year at Oklahoma State. Ethan Coleman broke Dave's record by 3 seconds when he ran 4:06.28 at the state track and field meet. Dave's record stood for 34 years!
Ethan also broke his 3200-meter record set last year by about half a second when he ran 8:49.00 at the state meet.
In the 800 meters, Ethan ran the second-fastest time in area history. Ethan ran 1:52.37, close to Larry Weber's area record of 1:51.7 set in 1975. The 800 area record has stood for 47 years.
Jeremiah Nubbe from Rainier High School led the nation for most of the year with a throw of over 207 feet. No one in area high school history has thrown that far. The University of Texas is getting a great thrower next year.
The amazing Moll sisters from Capital High School pole-vaulted to national best jumps, with Amanda vaulting 14'9.5 and sister Hana clearing 14'5.25, respectively. At press time, Amanda was number one in the nation, and Hana was number three among high school pole vaulters.
The Moll sisters led their high school team to their division's state track and field championship. Local coaching legend Mike Strong helped connect the sisters to the Northwest Pole Vaulters in South Seattle and the Paul Licari Pole Vault Club in Parkland to learn their craft.
Trevor Dugo from Pope John Paul II High School in Lacey, Wa, was named athlete of the year in his state classification by The Runner after winning the 1600 meters, 3200 meters, and finishing second in the 800 meters at state.                                                                
I will write a post on a complete list of area state champions soon. However, of particular note, Connor Johnson of Olympia won the 4A 400 meters in his first entire high school track and field season.
Winning a state championship in your first season is rare and usually a sign of greater things on the horizon.
2022 was the best year in area Thurston County track and field history. Congrats to all area teams and their athletes and coaches.

Thurston County is in the State of Washington, about 60 miles south of Seattle.
 Blessings,
 Coach Weber  
 Philippians 4:13