JPII Running and Track & Field Mission, Goals, Values, and Benefits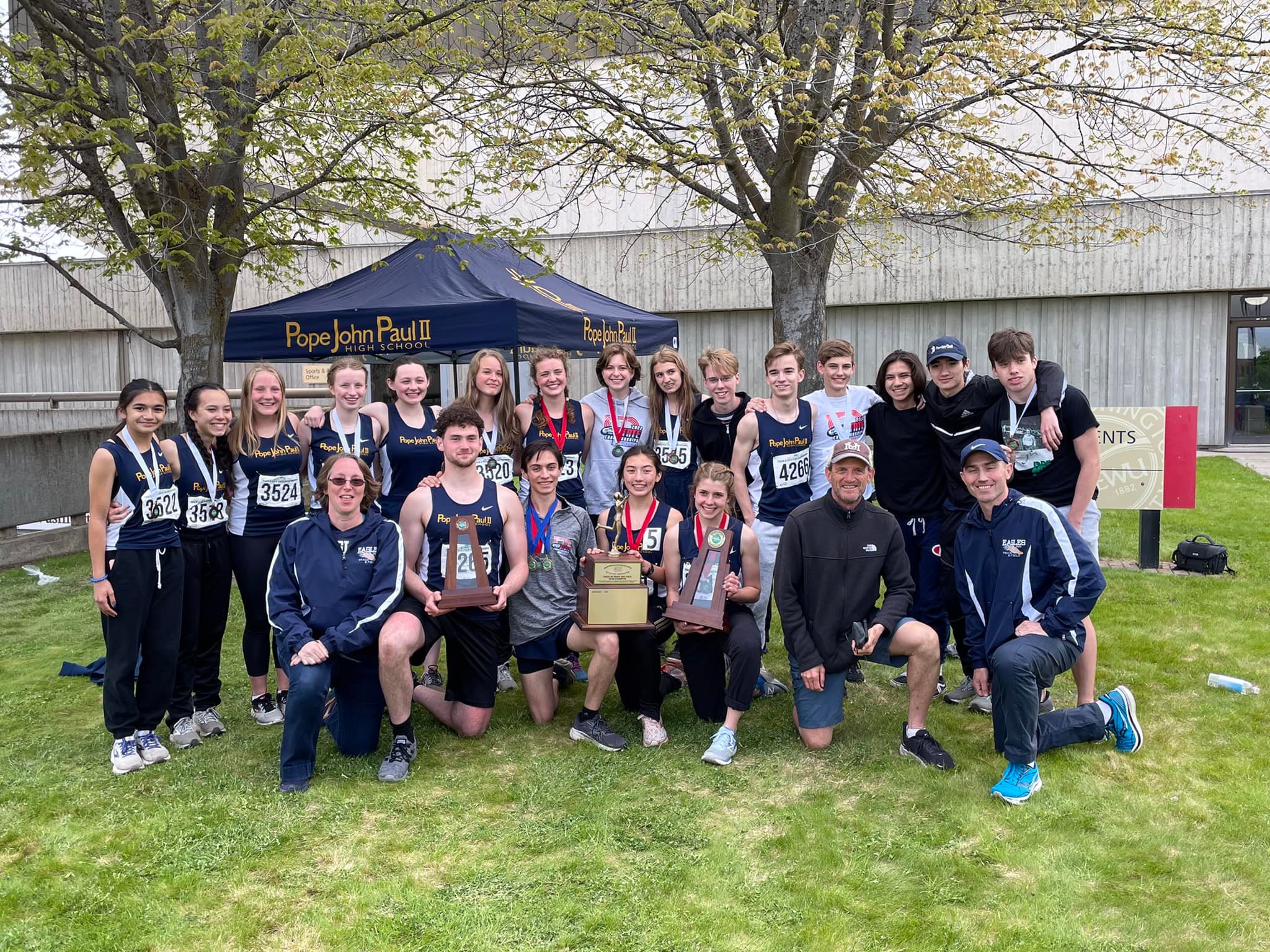 Introduction
Raising Spiritual Champions
Some call it the next Daniel Generation. Others say we need to more intentionally raise the next generation of Moses, St. Paul, Esther, and other prominent Biblical figures who were the world changers of their time.
However, let's not forget the One as we raise The Next Generation of Christian leaders; our Lord and Savior Jesus Christ.
Regardless of how you label the raising up the next generation of leaders, the critical point is this: How do you raise Christian Leaders like the tremendous Biblical figures of the past in current culture?
What educational institutions or programs intentionally raise the next generation of faith-based, character-driven, transformational leaders? Who will become part of the Next generation of Christian Leaders?
Raising Spiritual Champions seems like a lofty and unattainable goal on the surface until you see up close and personal students who display tremendous leadership potential on and off the field.
I've seen these young leaders up close and personal in action for many years now. Many great potential faith-based leaders are waiting in the wings. It's up to you and me to help lead, mentor, and point the way for the next generation of Christian leaders.
The current potential leaders face a much different world than their parents and grandparents. There are many new challenges to overcome that are unique to the current generation.
For me, running and track and field are activities that provide a venue for much more than just getting fit or running fast. I see our sports and activities as ways to help young aspiring faith-based leaders to find their gifts and inner grit in some incredible and life-changing ways. 
In other words, running and other fitness activities are one way to help a young person develop their God-given potential. Our ministry allows student-athletes to grow in all areas of their lives through participation in cross-country and track and field.
Our activities help teach young people how to set big goals, learn to persevere amid challenging circumstances, develop grit, recognize all things are possible through Christ, and experience what it feels like to be barrier-breaking moments.  
I have spent years thinking about and working on reaching the current generation about the importance of becoming the transformational Christian leaders of the future through my coaching practice. Helping to disciple and mentor emerging leaders through our programs is what I do at this point in my life.
Helping students spiritually, physically, and mentally is the primary reason why I still work in a Christian school environment. I see the unquestionable need to help develop character-driven leaders in our society. I believe a Christian school environment, including our running and track and field programs,  is a great place to help make all of this happen.
No, we will never develop perfect leaders because, as leaders ourselves, our imperfections come through loud and clear to others around us. However, people who consistently put the needs of others before their own and who are not afraid to take a stand on the issues of the day are potential leaders of the future.
Love for God, Love for Others, Courage, Character, and grit are end outcomes of what we try to coach and teach each day.
Sometimes we have succeeded at conveying the importance of becoming a world-changing Christian leader in my coaching practice through running, while other times, we have failed.          
In life, you don't always reach 100 percent success. Like I tell the students I coach, though: You only have three choices in life, give up, give in, or give it all you've got.
Choose the last option if you want to become a transformational leader who makes a difference for Christ in this world. You'll never do any of the things mentioned above all perfectly, but you will still become a champion for Christ through his mercy, grace, forgiveness, and most of all, His love.
One thing is sure; I won't give up on these goals in some capacity until I leave this earth. Our culture desperately needs character-driven faith-based leaders who want to love, help, and serve others.
Team Mission, Goals, and Core Values
This section outlines the mission and core values of the cross-country and track and field programs.
Mission, goals, and keeping our values intact are always a work in progress. In other words, we never do any of these things entirely right. However, each year's goal is to get better and live out our mission and values to the best of our ability.
Mission
The mission of our Running and Track and Field coaches is to help high school student-athletes reach their God-given potential physically, mentally, academically, and spiritually through Cross-Country and Track and Field sports.
WE FULFILL OUR MISSION BY:
·        Working with student-athletes who want to reach their God-given potential regardless of ability level
·        Teaching key life lessons through the sports of cross-country and track and field
·        Educating student-athletes and their parents about scholarship opportunities
·        Helping student-athletes identify their unique gifts in all life areas (faith, career, life skills, etc.)
·        Building champions and championship teams to develop leaders and leadership skills
·        Mentoring and student-athletes in their faith
·        Creating an environment where student-athletes have a lot of fun with their teammates
·        Striving for excellence by creating one of the best cross-country and track and field programs around
·        Exceeding school, state, and national student-athlete academic standards
Core Values
Passion For Authentic Christian Leadership
We believe in developing exceptional Christian Student-athletes who will make a difference for Christ in their chosen profession. Athletics is an essential tool to help young adults build character and world-class leadership skills.
Christ At The Center
Christ is at the center of our programs. We are committed to helping student-athletes grow in their faith and live it out daily.
Service For Others
Service and servant leadership go hand in hand as a part of the athletic experience. Each Student-athlete gives back to the local community in meaningful ways.
Practical Life Skills
Athletics provides a forum to use the leadership, academic, and life skills learned in the classroom. We take lessons learned in the classroom and apply them in practical ways on the road to accelerate and reinforce classroom learning.
Innovation
Part of leadership is thinking and doing things differently from the crowd. We teach, and coach student-athletes to think out of the box and blaze their unique life trail. Innovation is more than a word—it is a way of life in our thinking and actions.
Eternal Perspective
Our daily actions in our running program focus on creating eternal value. We do our best to live our faith, embrace excellence, and go the extra mile to support teammates and others consistently. We also forgive each other when we make mistakes.
People Skills
World changers need strong people skills. We teach and coach interpersonal skills, encourage one another and build long-term relationships.
Compassion And Strength
Effective leadership strikes a balance between strength and compassion. Jesus was compassionate, but he also displayed extreme strength depending on the situation. We want our student-athletes to learn and apply both traits.
Fun
We have a lot of fun along the journey and don't take ourselves too seriously. Having a good time with teammates is part of the athletic experience. Our interactive and fun learning environments are essential to our success on and off the field.
Belief And Confidence
Athletics provides an incredible learning forum different from any other educational environment. Student-athletes learn how to reach well beyond their perceived limitations and go beyond what they think is possible. When applied appropriately, this confidence and belief carry over to the classroom and workplace.
Key Distinctions About Our Programs
We strategically use running and track and field as a tool to help build character and disciple future Christian Leaders.
Academic and Athletic excellence is encouraged, embraced, and closely integrated. Both disciplines provide incredible leadership value throughout each student-athlete lifetime.
We learn by doing. Athletes apply what they learn in the classroom on the road by participating in various community service initiatives or team activities to reinforce academic learning. This approach accelerates learning and helps each student-athlete grow spiritually, intellectually and strengthens leadership skills exponentially.
We do our best to coach athletes to become compassionate and servant leaders in life. We are also committed to world-class excellence in our running and leadership programs.
Community and other leaders serve as guest speakers to help mentor student-athletes in essential areas of life. We also actively educate parents and our athletes about academic and athletic scholarship opportunities so they can continue to develop as Christian leaders in college.
Student-athletes transition well from their athletic experience from our programs to college and their career. Many student-athletes experience "athlete transition" after their athletic careers. Athletic transition is a grieving process related to losing an athletic career. We recognize this issue and help each athlete navigate this transition as this issue comes to the surface.
I can't think of anything more important than helping students reach their God-given potential on and off the field. Together, let's help mentor and disciple the next generation of Christ-centered leaders who will lead for the glory of God.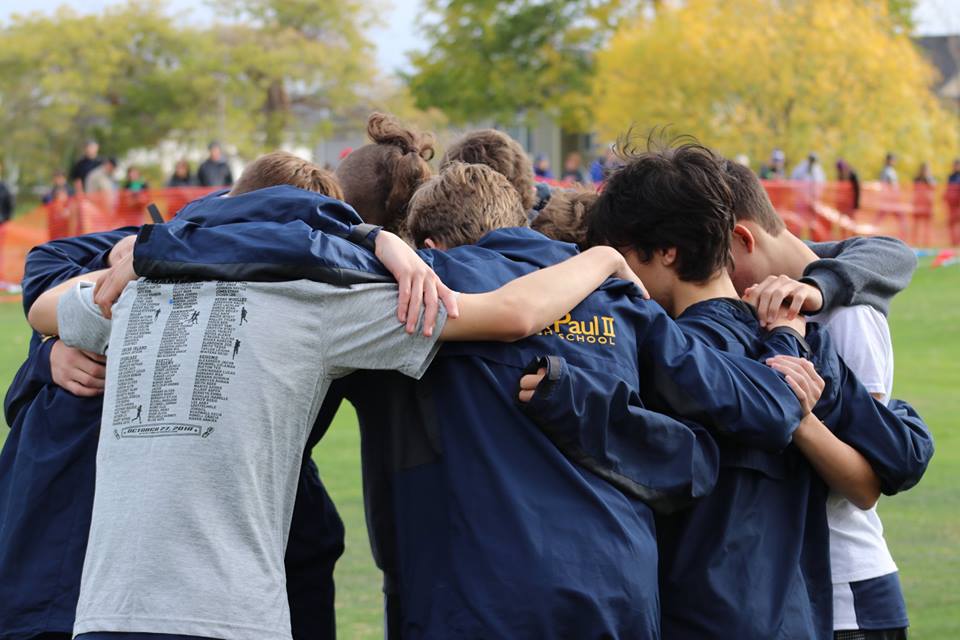 Support Programs (sometimes called "Ancillary Programs") Like Running and Track &Field Help Students Reach Their God-Given Potential.  

Parents generally choose Christian schools that focus on strong academics and Christian character development. While parents are also concerned about safety and staff, classroom learning outcomes and character development remain mission-critical to a Christian school's success. 
Investing in the quality of this character plus skills combination is job number one for schools.
Beyond formal classroom learning, though, how important are other school programs? Can ancillary programs support and enhance classroom learning and contribute significant value to students, parents, and the fulfillment of the school's vision and mission?
Yes! …If they are appropriately integrated and aligned with your school's classroom- and character-based goals and outcomes.
Mission-aligned programs reinforce learning lessons in the classroom and help build student skills that last a lifetime, including teamwork, strong character, goal setting, overcoming obstacles and barriers in life, and so much more.
In addition to supporting a school's mission and vision, strong and meaningful student-centered ancillary services can also assist in keeping school enrollment and retention strong.
In many ways, enrollment and retention strategies reflect the Golden Rule discussed in Matthew and Luke. "Do unto others as you would have them do unto you…." 
Treating people like we want to be treated is always a good way to think about the best ways to serve others and design best-practice education systems that are Christ-centered.
We should give our all to the people we serve in every area of the organization, including ancillary services.
Why Ancillary Programs Are Needed In Christian Schools More Than Ever 
First, let's clarify our terms. Merriam-Webster Dictionary defines "ancillary services" as "providing something additional to a main part or function." In other words, ancillary services support the main functions of an organization; they are not the main functions. Sports, for example, are a subsidiary activity to classroom learning. 
Unfortunately, the ancillary services side of the academic equation is often an afterthought in the strategic planning process of many schools each year. Yet intentionally devoting more time and energy to ancillary services each year is likely to yield good things for students, parents, and staff in the school for years to come.
With formal strategic plans in place to fully integrate and coordinate co-curricular activities with the school mission, students can take advantage of some great opportunities and a chance to go after their God-given potential even more. 
Making ancillary services the best they can be can change lives for the better forever.
Some schools miss excellent opportunities to increase visibility in the crowded education marketplace when ancillary services are not considered essential or are never fully developed. In general, parents (both inside and outside your school) see sports, music, drama, and other co-curricular activities as a part of developing the whole child. People notice if a school pursues excellence and raises the bar in these areas.
On the other hand, if a school doesn't reflect excellence in ancillary areas, what message does that send?
In an increasingly competitive environment for students, it is imperative that a Christian school's support services are robust, high-quality, and carried out with a purpose — just like your classroom learning. Well-executed, mission-aligned programs help to attract new families and motivate students to lace up their shoes each day and attend class.
At the risk of repeating myself, let me say without ambiguity: Ancillary services in Christ-centered, results-oriented, and people-focused schools are no longer simply desirable; they are necessary if you're going to offer the best programs possible to help all students reach their God-given potential.
Intentional Mentorship And Discipleship 
Discipleship is a crucial part of what we do daily in our running programs.
Parent Satisfaction survey after survey shows that discipleship is super important to parents in Christian school environments and is key to the school's long-term success. Discipleship is also essential as it is part of my life mission. You better be passionate about helping others get closer to God through whatever your gifts are if you want to make a meaningful difference in the lives of others.
Mentoring and discipleship of students are a core values in all Christian education. Therefore, like other ancillary services, our running programs must provide unique opportunities to disciple students daily.
Christian schools that focus on discipleship not only survive; they thrive. Years of evidence-based survey data support this critical point. Discipleship-based schools are stronger in the long run than schools that primarily focus just on more evangelistic matters.
Discipleship – helping student-athletes develop their faith – is the primary reason I coach. Many studies show that students are much more likely to keep their faith in college and beyond if they attend Christian schools. Some evidence-based data even indicates that the high school years are critical for students' faith formation just before heading to college or the workplace. Said another way, if a child attends a Christian high school (or homeschool), they are more likely to retain their faith as adults.
After doing detailed research on this crucial subject, I chose to coach and use my gifts at the high school level.
Supporting Classroom Learning, Strong Academics, And Faith
Before the cross-country race season each year, we set spiritual, academic, and athletic goals at the team camp. I tell the kids what I think their potential as a team is, and then the Captains of the girls and boys have a goal breakout session where they discuss their team and individual goals for the season. I don't set the goals for the teams; team members set them after a group discussion with their peers in breakout sessions.
Inevitably, the teams set high academic, athletic, and faith goals each year. Each team member agrees to go after their goals during this annual camp. Individual and team accountability is established at this session among peers. However, much more than simple accountability results from these sessions. Belief, confidence, and faith in the team and individual goals grow stronger as teams bond.
For example, our girls' team set high standards in all areas mentioned above in the summer of 2021—spiritually, academically, and athletically. They all agreed to the goals and came up with ways to support each other through thick and thin to reach their goals. Each day and week, the team prayed together, worked out together, and encouraged each other verbally and with specially written encouragement notes or small "secret sister" gifts at times.
The girls' team won the state academic championship for cross-country in their division in 2019, 2021, and 2022 and they won the state cross-country running title. The team GPA of our girls in 2021 was 3.96.
Winning state championships in academics and athletics takes work. The girls leaned on the Lord, worked hard, had strong faith, and encouraged each other all season long. Many life lessons surface when students go after an important goal as a team.
Team members also talk about growing in their faith at camp each year. This often involves praying for each other, praying as a team, praying for other teams, and discussing strengthening their relationship with Jesus. Working in a team environment also builds character, teaches sacrifice for teammates and others, and encourages each student to lean on the Lord through all of the season's trials, mirroring the challenges in life.
The point in bringing these things up is that the running program supports and reinforces academic achievement and other parts of the school's vision and mission as an "ancillary program," a support function. Having formal ways to "live out" the school's mission is essential, especially in high school.
We reinforce and do our best to support the strong academics, classroom learning, and, most importantly, spiritual growth outlined in our school's mission throughout the season and school year.
Keeping Emotional, Social Health, And a Strong
The benefits of a running program go far beyond winning ribbons at a competition. It can lead to higher test scores. 
Research shows a strong, positive correlation between aerobic exercise (such as running and swimming) and learning. In short, aerobic exercise increases body circulation, improving brain functions.
This academic benefit is different from a theory to me. I've seen and documented the positive connection between running and classroom outcomes year after year. Aerobic exercise and a solid academic focus go hand in hand.
Regular aerobic exercise also helps with ADD, ADHD, and even depression. I've had many ADD and ADHD students who benefitted from our running programs over the years.
Other reasons to consider running and aerobic exercise in school support programs include helping students…
·        Sleep better at night
·        Find relief from anxiety and stress
·        Connect socially with friends
·        Get a boost in energy and productivity
·        Cope better with daily frustrations
·        Develop confidence and self-esteem
Aerobic exercise through running helps students stay on track with more than competitive goals. Aerobic exercise helps students in many aspects in and outside the classroom. Even though it seems small, working out daily is another way ancillary services can help support the school's mission.
Teaching Barrier-Breaking Performances
As future leaders, learning how to become a barrier breaker is essential. Learning specific strategies for changing the status quo is vital for leadership in all careers. Sports, including running, can help students break through personal barriers that instill confidence and leadership skills for a lifetime.
I like to tell my students the story of Roger Bannister, who ran the first sub-four-minute-mile and how this accomplishment was not his greatest accomplishment. 
The story of the first sub-four-minute mile serves as a stepping stone to help our students break their barriers and realize that when they have a breakthrough personal performance, it is not just about them; they can inspire others to break through their barriers as well.
Strong leaders don't accept and manage the status quo; they change things for the better.
The Roger Bannister Story
"A few decades ago, track-and-field experts arrogantly declared that no runner could break the four-minute-mile barrier. The experts argued that humans couldn't run that distance that fast. The "experts" conducted profound studies to show why it was impossible to beat the four-minute barrier. They had very detailed scientific data at the time that indicated a sub-four-minute mile was physiologically impossible. And for years, the experts were right. Nobody ever ran a mile in less than four minutes.
But one day, a young runner who didn't believe the experts' opinions came along. He didn't dwell on their studies about why it was impossible to break a sub-four-minute mile. He refused to let all the negative words and data points control his mind and spirit. Bannister did not surrender his thoughts and leadership to outside foes or forces.
The young man trained hard, believing he would break that record. Sure enough, he went out on a cloudy day in England and broke the four-minute mile barrier. He did what the experts said was impossible. Roger Bannister made his name that day in running history.
The Bigger Story
The bigger story behind the first sub-four-minute mile is what Bannister did for others. It wasn't just about him. He inspired others to break through their barriers as well. By not giving up on his goal, he helped others in unimaginable ways.                                                                      
About ten years after Roger Bannister broke that record, 336 other runners also broke the four-minute mile! When you give up on your goals, you're not just giving up on yourself.  You're robbing others of the opportunity to be inspired by what you've accomplished!
Wow! Something sure changed in the minds of the runners during that era.
Think about what Bannister accomplished for just a moment. For hundreds of years, as far back as we have records, nobody ran a mile in less than four minutes. Then more than three hundred people from various countries do it within about a decade.
What happened? It's pretty straightforward. The barrier to running a four-minute mile was lodged in the runner's minds and pierced into their hearts. For all those years, runners believed what the experts were saying. Most runners thought running a mile in less than four minutes was impossible.
Bannister was the one who believed sincerely that a sub-four-minute mile was possible. He overcame an incredible mental and emotional barrier that all runners had previously struggled with. More importantly, he helped others break their long-standing barriers through his example.
We teach students always to appreciate the power of breaking their own long-standing personal barriers and how their example can positively impact those around them to break through their barriers. Becoming a barrier breaker in life is one central educational theme we try to instill in student-athletes.
On a practical level, our teams have become barrier breakers. They won the school's first-ever state athletic championship, first-ever statewide athletic and academic championships, and several other "firsts" that opened the doors for others to follow.
Intentionally trying to break barriers for something greater than self is an incredible life skill to learn.
Our leaders of tomorrow need to know that "All things are possible through Christ who gives me strength," as outlined in Philippians 4:13.                                                                                                 
By learning how to have the confidence to break long-standing barriers early in life, students may make discoveries in their future careers that more fully help and serve humanity.
Being intentional about breaking significant barriers in life can help others in unimaginable ways at first, similar to the Roger Bannister story. You can always do more than you initially believed.
As an ancillary service to the classroom, we can help teach and support leadership and barrier-breaking skills to our future Christian leaders in a learn-by-doing model.
Some Final Words
In summary, being strategic and intentional about ancillary services can support and encourage the fulfillment of a school's vision and mission. By taking these services seriously, many kids will have more opportunities to move closer to their God-given potential. Our school will have additional ways to serve the surrounding community more fully.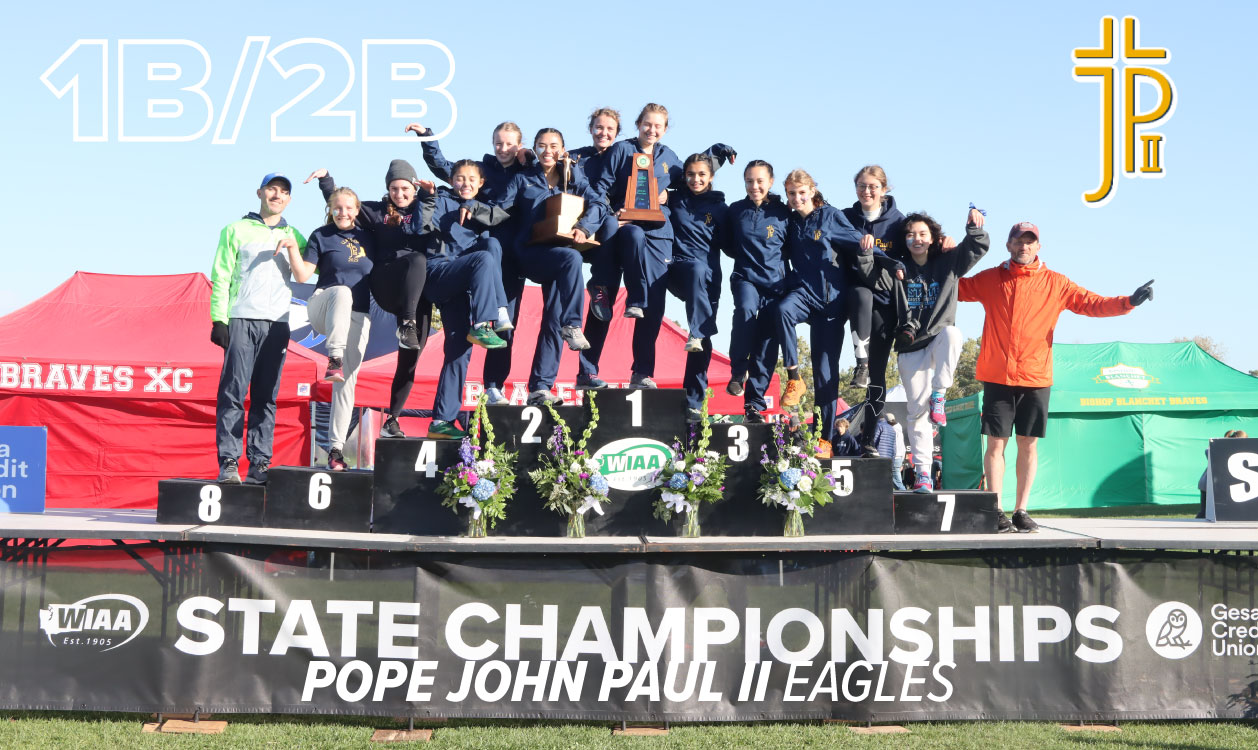 The JPII girls team has won three consecutive state cross-country championships.
The JPII boys team has placed second overall four consecutive years at the state cross-country championships, and finished first in their 1B classification all of those years.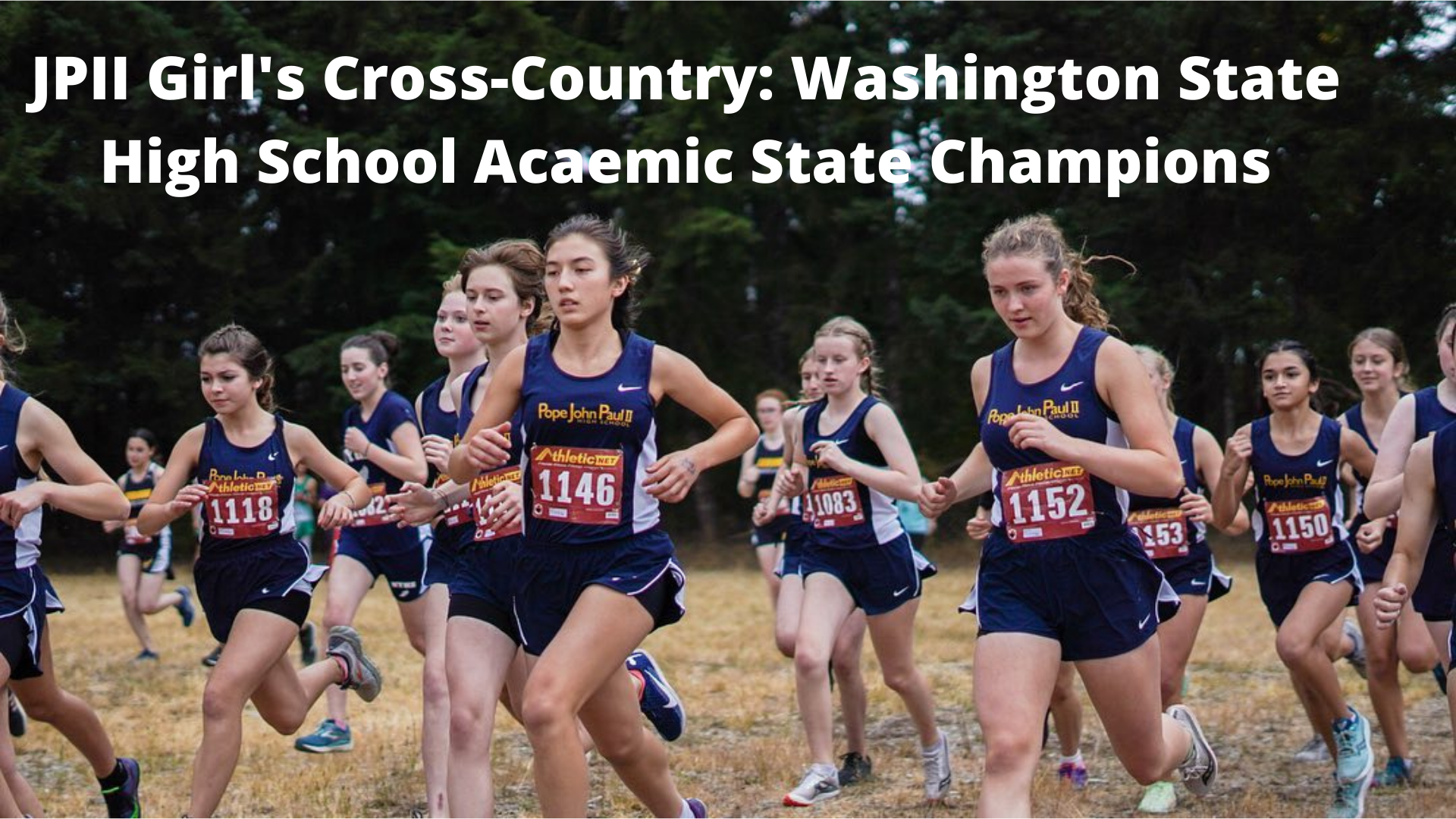 The JPII girl's cross-country team finished as Washington State Academic State champions in their division in 2019, 2021, and 2022 meaning they had the highest team GPA of any team in their state division.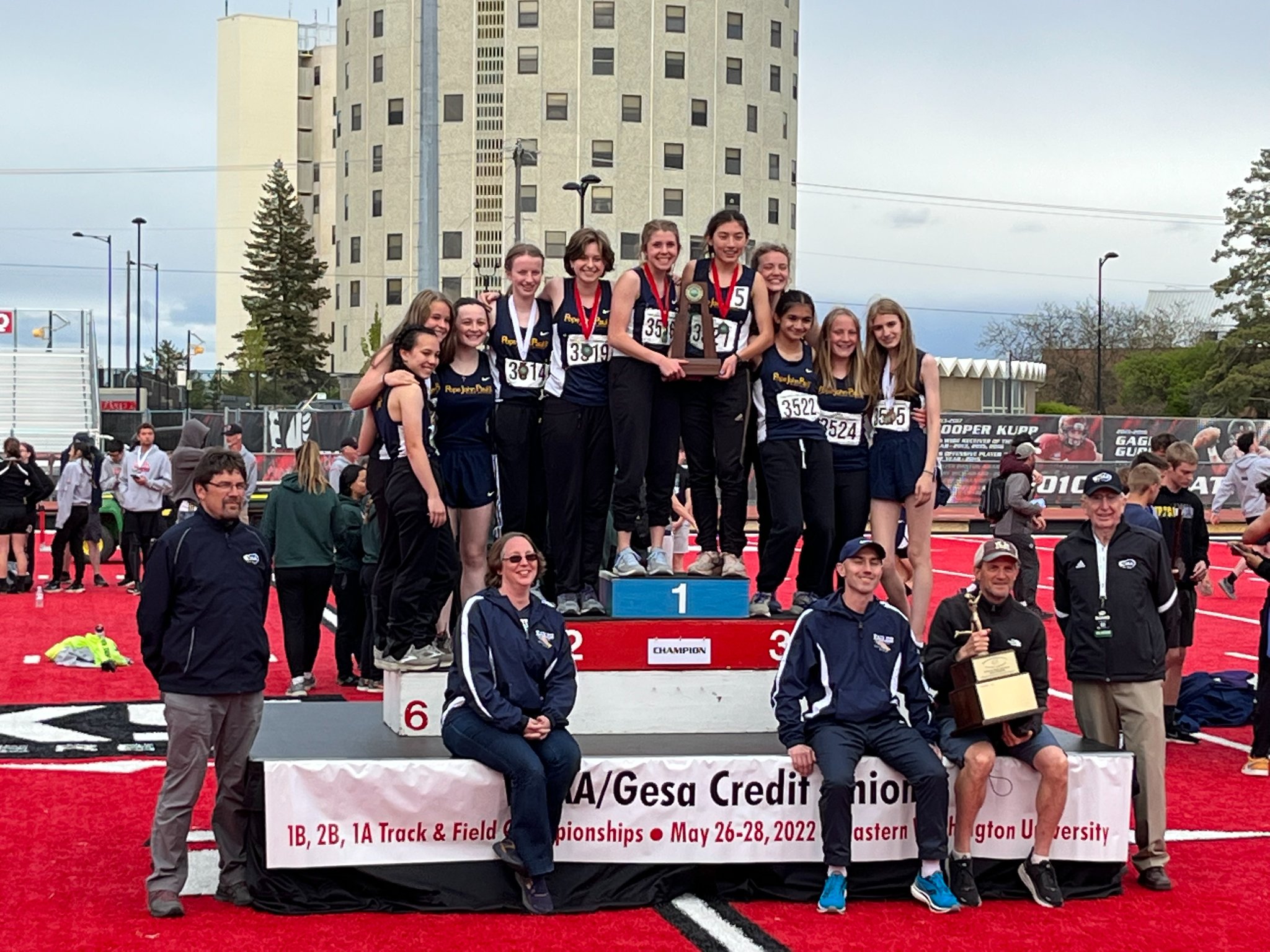 The JPII girl's team won the state track and field championship in 2022, and the boys finished third.