A Boy Named Patch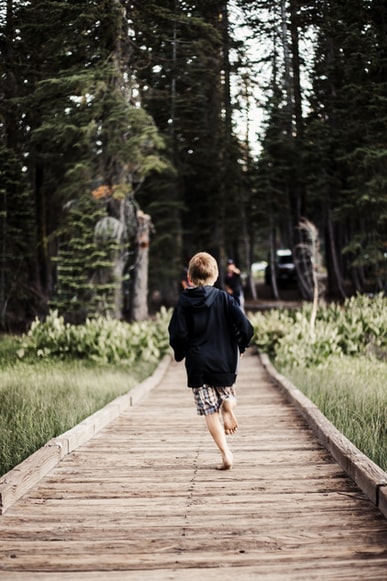 "Patch" found Out He Could Run. His Gift Changed His Life For The Better, Forever.
Photo Credit: Japheth Mast
Patch was a make-believe character in a children's book who learned he could run fast when he was a young boy.
Patch's life dramatically changed for the better after he found his gift of running. The story about Patch was a book in elementary school libraries decades ago. The fictional tale of Patch turned out to be an authentic prophetic look into the future for one young boy.
Like Patch in the children's story, there was a ten-year-old boy who was quiet, reserved, and off the radar to his classmates. In other words, this young boy had few friends and lacked some confidence.                                                                                                       
The boy's demeanor was anything but outgoing, and he kept to himself. He was just average or a little below in school work and rarely participated in activities because of his shyness. He was not musically or artistically inclined and was bullied a lot, contributing to his low self-confidence. He had few places to fit in.

One day, this boy was asked to run in a foot race against the entire school. A teacher encouraged this young boy to give running a try. To the boy's delight, he won his first-ever race by a large margin.                                                                                                   
The boy's classmates were amazed that this quiet boy who sat in the back of the class could run that fast. The entire class picked the boy up and carried him around the playground that day as a respectful and encouraging gesture.

A teacher at the boy's elementary school noticed his talent and connected him with an area summer track coach after contacting the boy's parents. His parents had the foresight and vision to sign the boy up for a summer track program that was a life-changing experience.

The boy's grades started to pick up due to his newfound confidence, and he also began to come out of his shell. He even began to stick up for himself and ask for help when the bullies came knocking due primarily to his newfound confidence through running.           
The elementary teacher, his parents, and the summer track coach recognized and encouraged this young boy's God-given talent, and the rest, as they say, was history.
The boy became a state track and field champion. He finished second in the United States National Junior Olympic Championships in Ithaca, New York, beaten only by a new national record.

The boy also went to college, mostly paid for by athletic and academic scholarships. He became the first child in his immediate family to go to college. In addition, he graduated from college with honors and won an outstanding student-athlete award during his senior year in college. He became a nationally ranked runner, winning various collegiate conference titles and other championships as a post-collegiate runner.

Don't underestimate the power of good teachers, coaches, and other educators who help improve lives. A few moments in life, like the boy in this story, can genuinely change your life for the better, forever.   
I am incredibly grateful for those coaches and educators who saw those moments in my life and took the time to make the best of them. When someone truly believes in you, the sky is the limit.
You see, the boy in the story is me. The caring attitude of some of my past teachers and coaches is why I'm still involved in Christ-centered education and coaching today. Helping all students reach their God-given potential regardless of ability level is what I am called to do every day.
Thank you, Mr. Springer, for seeing my talent and getting me connected to summer track.

Thank you, Mom and Dad, for signing me up for summer track on that warm and windy day.

Thank you, Coach McDonald, for taking me all over the state in your van to run races year in and year out.

Thank you, Coach Anderson, for running a great high school program.

Thank you, Coach Dobosz, for your help through the wind and rain each training day. Thank you, Mom, Dad, Mr. Springer, and Coach McDonald, for pushing me to reach for my dreams as a young boy.

Sports like cross-country and track & field are more important than many realize, even in today's world. Like education, sports can change lives for the better forever. For many of us, sports were game-changers, transforming life forever in magnificent and life-giving ways.
As the dawn of a new cross-country season approaches, I can't help but think there is another "Patch" out there waiting in the wings to unleash their gift.
I want to be the coach who finds and helps the next Patch reach for and attain their dreams.
Blessings,
Coach Weber
Philippians 4:13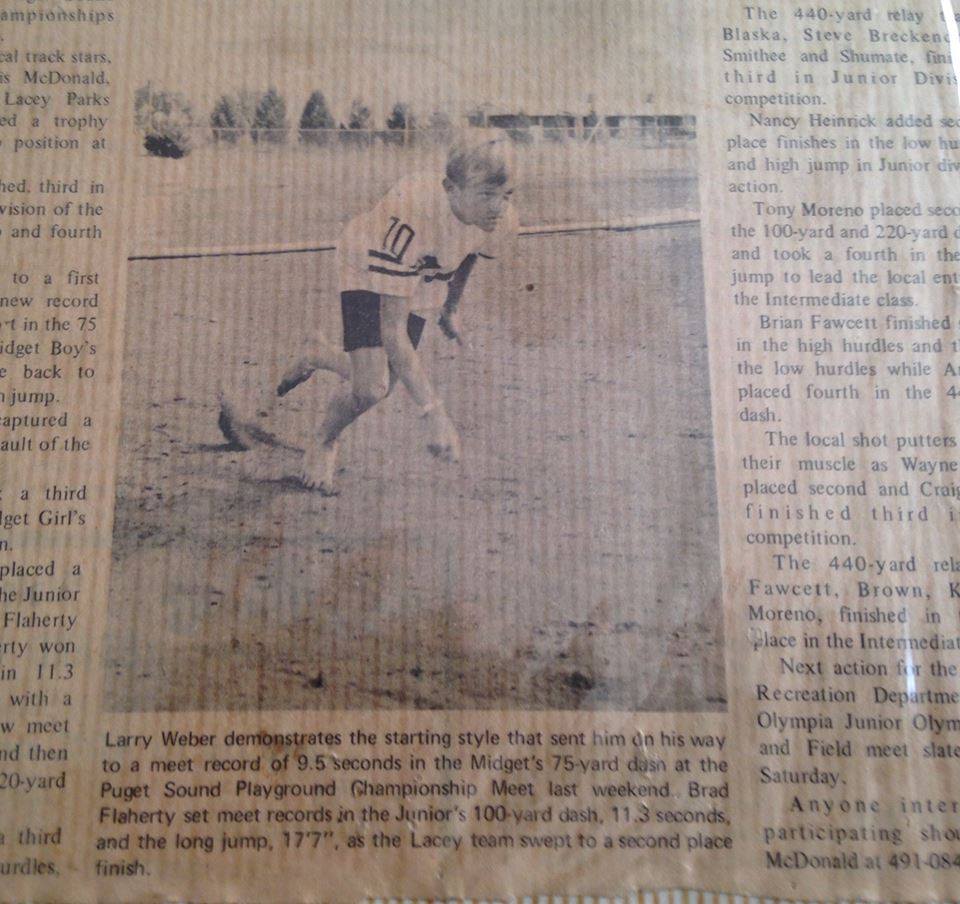 I was ten in the picture above. It was my first time in the paper as a young boy. Like Patch in the story, my life improved that year. 
I  read the story about Patch several times in Elementary school. The book was a motivator for me and an excellent reason to read. I don't remember the exact title of the book. I am trying to locate the book for a project I am working on, but so far, I've not been able to locate it.                                                                                                       
The children's sports book gave me hope as I suffered silently from the impacts of bullying and other challenges. I dreamed of becoming more like Patch. In Patch, I saw hope.
The track in the picture is the old North Thurston High School track. And, yes, I ran barefoot for several years as a boy. I refused to run in shoes. I won the state Junior Olympics in my elementary age group running barefoot.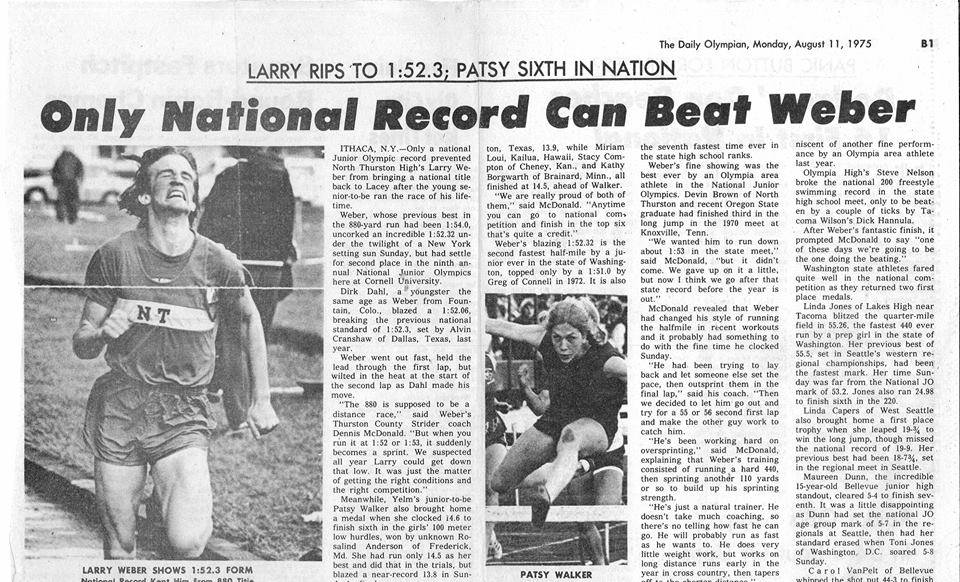 Thanks to my coaches, I finished second in the nation in the 880 (800 meters now) in high school. I ran 1:51.7 for 800 meters (converted from 1:52.3 for 880 yards) which has stood as the area high school record for 48 years.