The first U.S. Olympic Marathon Trials for Women In Olympia, Washington
The start of the first women's Olympic Marathon Trials in Olympia, Washington, on May 12, 1984      
Photo Credit: Dick Milligan
Thurston County Running History: The first ever U.S. Olympic Marathon Trials for Women Were Held In Olympia, Washington.
I always was interested in history as a child. I thought about majoring in history in college but did not see a way to support a family long-term with history as a way to make a living.
So, I settled on volunteering to write local running history.
What I've found in documenting events is somewhat profound.
When you experience something historical, it is much more meaningful to you.
In other words, if you lived the event, you remember it more, greatly appreciate what you saw, and connect more deeply to its long-term significance.
The 1984 Women's Olympic Trials were a watershed moment in women's running in the United States.
I was blessed to see and work at this unique historical event.
Our hometown of Olympia, Washington, in Thurston County, held the first U.S. Olympic Marathon Trials for women on May 12, 1984. I can't believe the first trials were 39 years ago! I vividly remember that fantastic day in women's running history as I volunteered and watched the race.

The first women's marathon trials were historic on many levels. ABC Wide World of Sports was here to cover this great event. Joan Benoit went on to win the Olympic trials and the first-ever Gold medal for a woman in an Olympic marathon in 1984.
I knew many runners who ran in the marathon trials that day. I was at the peak of my running career, so I knew many Trials participants from various running events, many of whom were my age.
I volunteered to pick up participants from the Sea-Tac airport and transport them to Saint Martin's University (Saint Martin's College back then) in Lacey, Washington. Some runners stayed in the college dorms for several days while waiting to compete.
When trial participants arrived at Saint Martin's College, they were warmly greeted by race volunteers and made to feel at home.
Every participant was given a specially made pillow commemorating the trials. This is just one example of how the welcoming committee tried to make everyone feel welcome.
On a side note, the high school team I coach trains on the trails nearly every day at the same place where the Olympic Trials participants ran their final workouts before the trials.
The women's marathon trials event was extra special to many runners for different reasons. Many pioneers in women's running had waited for this historic and breakthrough day for decades.
Famous runners like Doris Brown Heritage (top American Olympian at 800 meters and five-time world cross-country champion) from just up the road in Seattle were on hand to watch this historic race.
Doris was limited to running 800 meters at the Olympics in her Olympic era. There were no longer events for her to run in the Olympics of her day.
At one time, it was thought women could not run over 800 meters in a world-class competition like the Olympics. This marathon trials race and other similar races during this era proved all the skeptics wrong.
There were no 5000 meters, 10,000 meters, or marathon races to run in the Olympic Competition, as strange as that seems now when Doris was at her peak.
Doris would likely have won an Olympic Gold medal in one of the long-distance events due to her world cross-country titles if longer distances were included in the Olympics during her peak racing years.
I was fortunate to work near the finish line of the trials race with Doris and some other women's running pioneers on race day. As the race unfolded, I could see the deep significance on the faces of many women's sports pioneers and the running community.
I was among the many early advocates of women's running in our community. The limitations placed on women's running by some people in that era in various fields were ridiculous.
I spent the day cheering on the runners as they crossed the finish line at what is now Marathon Park in Olympia and cherishing this special event.
I still have many fond memories of the 1984 trials—too many for one Facebook post. I must write them all down before I forget the historical moments of that great day in 1984.
One memory that stands out to me, besides Joan Benoit winning the race just days after surgery, is the fantastic running of Sister Marion Irvine. I watched this incredible woman race at the trials.
Sister Marion Irvine qualified for the U.S. Olympic Trials at age 54! She ran slower than her Olympic trials qualifying time of 2:51 on race day, but barely. Sister Marion Irvine ran about 2 hours and 52 minutes at age 55!
Sister Marion never ran in her youth. She took up running in her late 40's. She was an inspiration at the time to many people in mid-life who wanted to get back into shape.
I remember the crowd cheering for Sister Marion as she sprinted across the finish line at Capital Lake in Olympia that day. We were all amazed at how fast she could run.
Sister Marion was the actual " flying nun" for those who remember the old television show with Sally Fields. Sister Marion ran her last competitive race in 1993.
Sister Marion is now 93 years old.
The full results of the first-ever U.S. Olympic Marathon Trials for women are here.

Blessings,
Coach Weber
Thurston County Running and Track & Field Historian
Philippians 4:13
The start of the 1984 Women's Olympic Marathon Trials. Photo credit: Dick Milligan
Photo Credit of Sister Marion: Olympic Trials Legacy Committee
If you like running history, check out the Olympic Trials Legacy Page.
https://www.facebook.com/.../Olympic.../100057686370435/
Blessings,
Coach Weber 
Philippians 4:13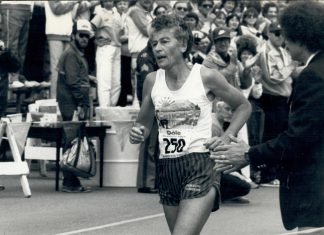 Sister Marion Irvine running in the trials at age 54                                                                 Photo Credit: Olympic Trials Legacy Committee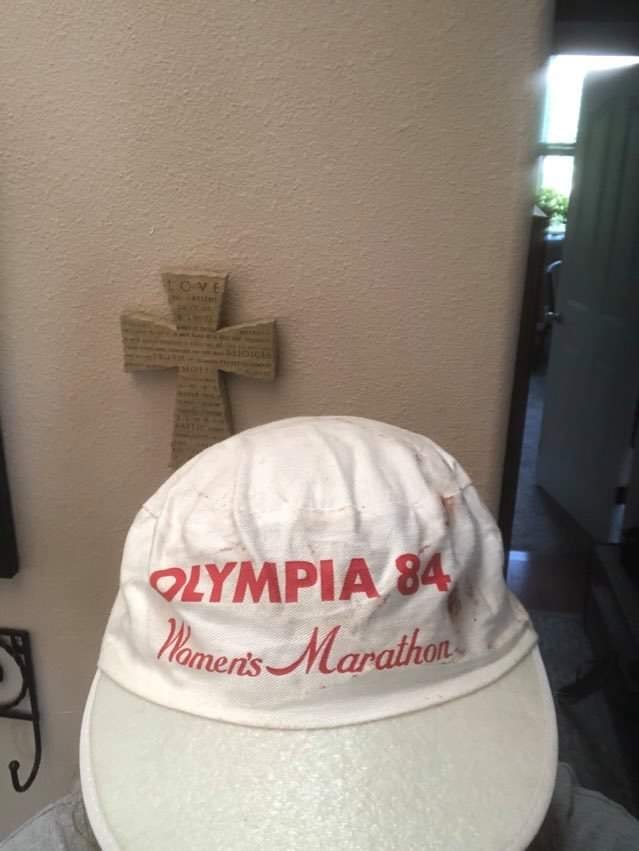 One of my friends from Olympia still has her commemorative hat that was given to volunteers and others who worked at or attended the historic Olympic Marathon trials in Olympia in 1984.