The Journey Of One Incredible Young Man: Morgan Shadrack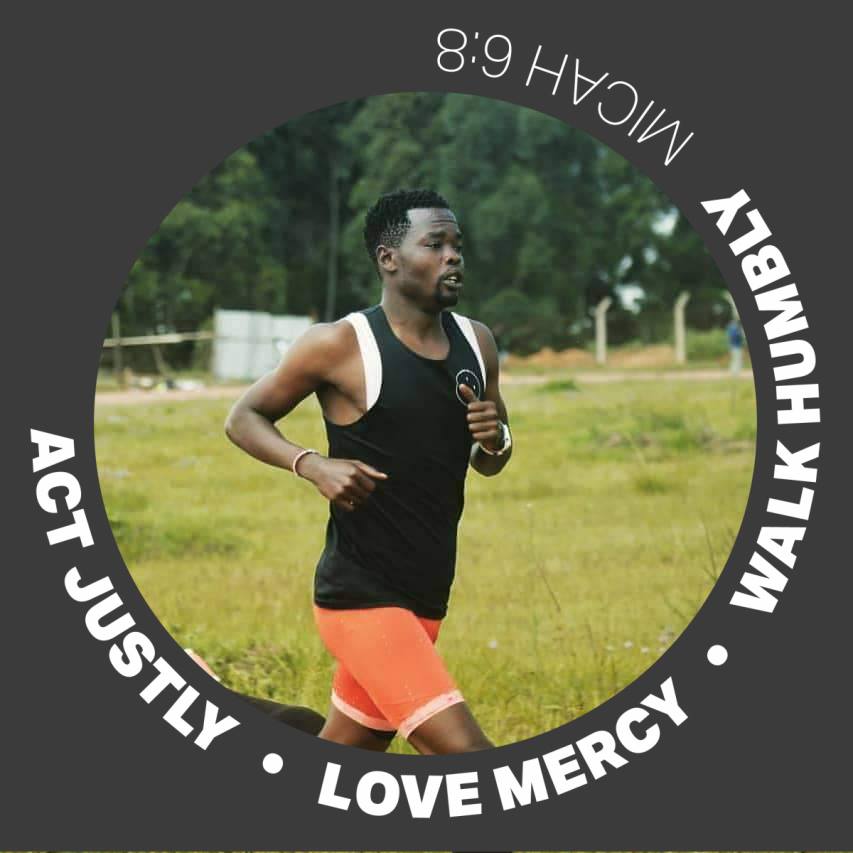 The Unimaginable Happens
Imagine losing both your parents to death early in life. Now think about the pain of losing your father while he defended his farm against what most people in the world would not believe is possible any longer, cattle rustlers.
Your family depends on cattle for survival in a poverty-stricken culture. Out of the blue, your father is killed for no reason other than someone who wanted to steal his cattle.
A couple of years later, your mother dies of an illness as you take her to the doctor. And your younger brother is killed amid horrific circumstances. How much pain can one person endure?
The thing that gets you through such calamity is your strong faith in God and the outlet of running. And, through the years, somehow, you forgive those who killed your father, the enemies of your soul. How is that even possible?
Who in this life can rise above the ashes, the pain, and discomfort of such tragedies that most of us will never know or can even relate to because they are so egregious?
How do you get back on track after the tragedy in your poverty-stricken country? How will you provide a better life for yourself and your siblings? What is the doorway to a better life in a sea of pain and lack of opportunity? How do you cope?
You lean on your faith, and you run. The simple act of running fast is the way out of poverty and pain.
Overcoming Tragedy Through Forgiveness
Morgan Shadrack knows a lot about tragedy and experienced all of the above. He knows about sleepless nights, poverty, and no parents to fall back on as he navigates life as a young adult.
Most miraculously, Morgan somehow came to a point where he forgave the unforgivable. Only through the power of God is this possible.
Morgan is mostly on his own, except for his strong belief in God to see him through the incredible pain of his life. And a few friends like former NCAA 800-meter champion Edward Kemboi to train with each day.
After hearing Morgan's story and after being asked by him to coach him, there was no other option but to volunteer to help this young man. I am coaching him remotely now.
The simple act of trying to help this 1:46 800-meter runner go after his dream of a better life for himself and those around him was the only option and its own reward.
I am sharing Morgan's story, hoping others will help sponsor him.

More On The Running Side Of Things
Morgan Shadrack is an up-and-coming middle-distance runner with the potential to make a significant breakthrough in his training and racing. His current bests are 46 for 400 meters and 1:46 for 800 meters, although I believe he can go faster. I don't rule out the 1500 meters either for Morgan at this point.
I talked to former two-time NCAA Division I 800-meter champion and 1:44 800-meter runner Edward Kemboi about Morgan, who trains with him in Kenya. Edward said, "Morgan is a great athlete...". Edward had other good things to say about Morgan as well.
Edward has also graciously agreed to help translate training and other information, when needed, with Morgan.
Morgan has a great heart with few resources to help him in his journey. I aim to help change that this year.
As mentioned above, life is generally more challenging in Kenya than in the U.S. Even though I am coaching Morgan remotely, I expect to communicate with him close to daily and to help him navigate the challenges of training and living in an environment with minimal resources and significant poverty.
I am excited to see Morgan run to his God-given potential.
On a technical note, according to Edward, you can't find Morgan's times on World Athletics because most of his races are in Kenya (local), and they don't update or put them online.
One of the goals is to have Morgan race more outside of Kenya so he is seen on the world stage.
Morgan is an amazing young man who is trying to do his best.
Through hard work and dedication, I believe he can become of the best 800-meter runners around.
More importantly, Morgan will impact others for the better because of his love for God and others.
Many blessings,

Coach Weber
Philippians 4:13
Copyright January 2023
Update in June 2023: Morgan qualified for the Kenya National Track and Field Championships for the first time in the 800-meters!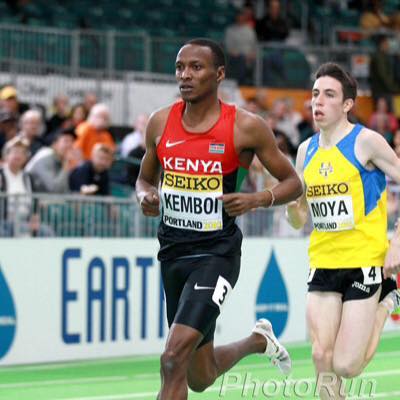 Morgan trains with former NCAA 800-Meter Champion Edward Kemboi, who lives in Eldoret, Kenya. Edward ran at Iowa State before returning to Kenya.  Morgan travels from Iten, Kenya, to Eldoret to train with Edward when he can.
I communicate with Edward and Morgan almost daily right now (1/4/2023).
Photo Credit: PhotoRun picture of Edward Kemboi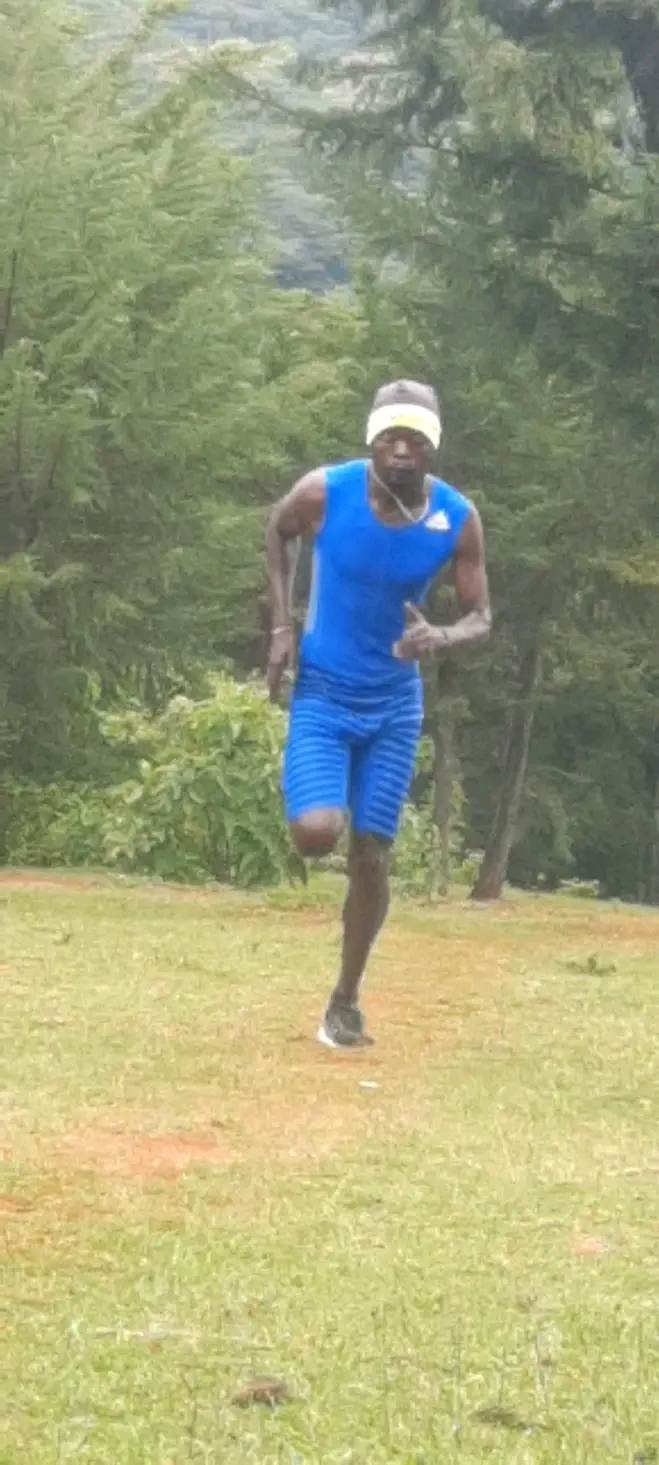 Morgan on a training run. Morgan's birth name is Shadrack Koiyala.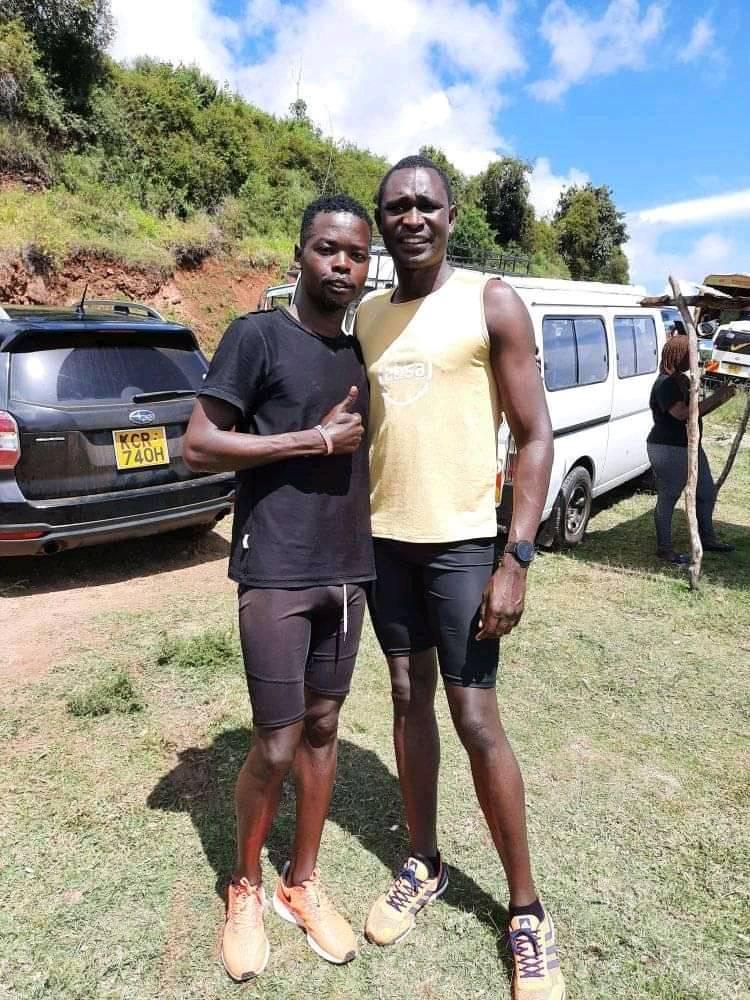 Morgan with 800-meter Olympic Champion and world record holder David Rudisha.