Molly Zepeda, a True Servant Leader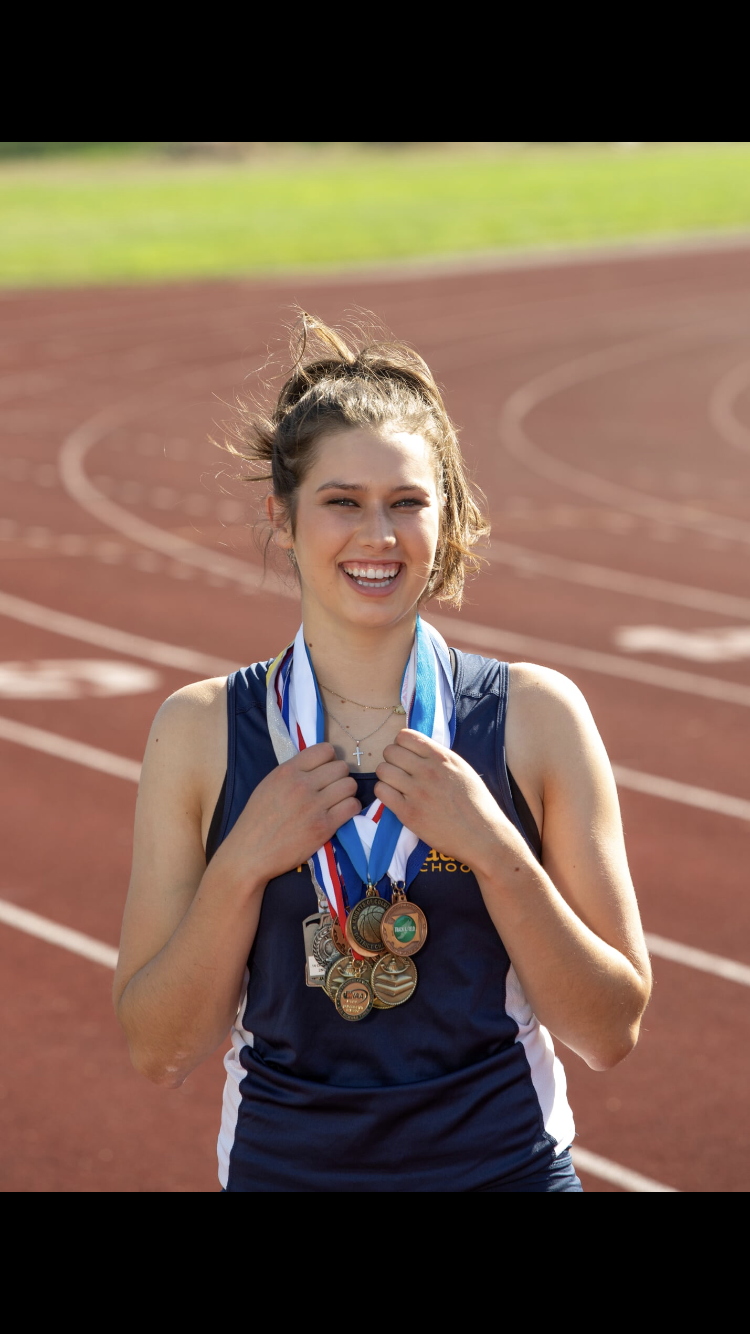 Once every decade or so, you work with a student-athlete who makes a lasting mark in multiple sports and in all key areas off the field as well. The student-athlete is also highly respected and admired by all her peers and adults alike. You just know this person will take their skills and make a difference in this life for others that far exceeds anything they did in academics or on the athletic field. You say to yourself that this person is a world-changer who will make an incredible difference in the lives of others.                 
Molly Zepeda is "this" person. She is one of the hardest working and multi-talented student-athletes I've met in my lifetime, at any level. Her heart for others though far exceeds even her amazing academic and athletic accomplishments.                   
Molly will do great things in this life not just because of her athletic and academic talents or likable personality. She will do great things in this life because of her incredible heart for God and her innate ability to place the needs of others before her own. Molly is a servant leader in every sense of the word. Just look at what this young lady has done. 
Molly  is a leader of  many firsts at Pope John Paul II High School (JPII) in Lacey, Washington. Any good manager in life can maintain what they've been given. It takes a real leader to establish new activities from scratch with a blank piece of paper and no roadmap. Molly is just such a leader. 
When we organized the first-ever girl's full cross-country team at JPII, Molly helped lead the team. Her leadership on the Cross-country team was not without sacrifice. She was a dual-sport athlete playing volleyball and running cross-country at the same time while helping the new program get up and running. Try competing in two sports at the same time folks and doing both of them with excellence. This young lady was amazing.         
Molly helped lead the JPII girls cross-country team to the school's first-ever sports Academic State Championship in just their first year with a girls' cross-country team. Molly set the tone with her 3.9 GPA in a college prep school. 
Molly also qualified for state as an individual in cross-country and was a part of the Eagles state-qualifying team in their first year with a full team in 2018. They were the first sports team in school history to qualify for state.  Excellence in one sport is a rarity. Excellence in two sports at the same time is a once in a generation occurence. 
Molly also led her Volleyball team to a successful season and finished as an all-conference selection on the court in 2018. And oh, did I forget to mention that Molly was a four-year letterman and four-time captain of the JPII volleyball team? She was also a two-time Sea-Tac League Volleyball MVP and was voted all-state honorable mention two times in her athletic journey. 
The cross-country team that Molly helped start at JPII won the Washington State Girls Cross-Country State Championship in their second year as a team in 2019. The state championship was the first sports state championship in school history. Molly did not compete that year but she supported the girls on the team while still playing some amazing volleyball.
On the track, Molly was a founding member of the first-ever JPII track and field team her sophomore year. She competed for Olympia High School in track and field her freshman year because the Eagles did not have a track team yet. Molly once again displayed her leadership and can-do attitude by playing a key role in organizing the first-ever JPII Track and Field team throughout her sophomore season.     
In just two years on the track, Molly earned six medals on the podium at the WIAA 1B Washington State High School Track and Field Championships!       
Molly was in contention for multiple state championship medals in 2020 before the track and field season was canceled due to the Pandemic. Molly was one of the favorites to win some individual events at state and was poised to help lead her team to challenge for the Washington State Track and Field State team championship. 
Molly was also the Sea-Tac League MVP in the sprints and jumps her Junior year and she won the JPII team MVP award twice. I can say more about Molly's athletic accomplishments and leadership on the field but I am sure you get the picture of just what a great career Molly had a JPII. To be more precise, Molly had a Hall of Fame type of career at her alma mater. 
Molly's accomplishments off the field were equally                        impressive. She was recognized by the Archdiocese of Seattle's Northwest Catholic as "Student of the Month" in November 2019 for Catholic character and academic and athletic excellence.
Molly served as an ASB representative and secretary during her tenure at JPII. She also served as a team captain of the JPII State Knowledge Bowl team that qualified for the State Championships twice, and she was a member of the National Honor Society in her "spare time".  Whew, it makes me tired just thinking about all that Molly accomplished in her academic and athletic career at JPII! 
As a volunteer, Molly went on a mission trip to Juarez, Mexico, served at St. Vincent de Paul with the ST. Michael Parish, and helped out at the Table of Grace Feeding Ministry at the First Baptist Church. Molly was also involved in campus ministry at JPII and spent some volunteer time at the Little Red Schoolhouse project. This young lady sure has some energy!     
As one of Molly's coaches, I will remember her for much more than being a great student-athlete. I will remember Molly for being wise well beyond her years and for her heart of gold. I will remember how humble Molly was and how she took the time to mentor and care for others.                                      
I will also remember the really good talks I had with Molly about her next chapters of life and how she intentionally strives to serve the Lord every day of her life. I will remember the personal sacrifices Molly made to help multiple teams and groups at a small school succeed despite her sleep-deprived nights while she was sacrificing for others.  I will remember Molly's Christ-like behavior in loving, caring for, and serving others.
Molly, words fail me as I write this final salute to you in a season cut short. I am so sorry you could not complete your senior season. However, the legacy you left behind will be felt by your family, teammates, and our community for years to come. Your servant leadership heart will live on in the people you helped, served, and mentored along the way. 
Most of all Molly, I will remember how you strived each day to accomplish the two most meaningful things a person can do in life—you loved God and others with all your heart, mind, and soul. I am proud to have known you, Molly Zepeda! 
Now take those God-given abilities of yours Molly and go become the world-changer in the next chapter of life that we all know you will become! 
 Blessings,                                                                                                   
Coach Weber
Philippians 4:13
Special thanks to coach Scott Carter who coached Molly her sophomore and junior years in Track and Field at JPII. Thanks to Coach Schultz and his assistant sprint and jump coaches Dr. Tracy Russell and Mr. Kondrat as well for working with Molly and others during this shortened Track and Field season.