Martin Ranney's Inspiring Journey
When you see him run, you see a man on a mission. When he steps on the track, I think back to the first Rocky film.  I can't get that Rocky song, "Gonna Fly Now," out of my mind when I watch this man stride around the track. He trains alone, is focused, and is giving it his all. He is not on the national radar yet.  He is the underdog in his fight to be among the best in the U.S., for sure, but don't count him out. This man is no stranger to overcoming adversity.
Martin Ranney is one of those people you like immediately. He is a committed family man, very humble,  serves the community in leadership as a Firefighter, and is just an all-around great guy. He is the kind of person you want to help by going the extra mile. As his coach, I see up close and personal the outstanding character of this man.
Martin is from Bellingham, Washington originally. Raised in a single-family home, Martin had his own set of challenges to overcome early in life. Fortunately, his mother saw Martin's many gifts, one of which is running super-fast.  Martin said his mom noticed that he enjoyed running when they went on walks and hikes.
Martin's mom astutely signed him up for Parks and Recreation Track and Field when he was six or seven years old. Martin tried all the events, but he shined in the middle and long-distance events. By late middle school, he was winning races and getting more serious about getting faster.
In high school, Martin made the podium at state running the 1600 meters in a great time of 4:15. Martin had a lot of success during the high school years. Martin also ran the Boston Marathon as an adult and had the pleasure of racing at the great Hayward Field in Eugene, Oregon.
Although Martin ran well in college, he felt that he never reached his potential during the college years.
Martin learned essential life lessons from his college running experience. Here is what Martin had to say:                            
"The biggest disappointment in my running career was not fulfilling my potential as a college athlete.  In my first couple of years, I was not as consistent or committed to my training as I was in high school.  With running there isn't anybody to carry you like in other sports.  If you don't put in the work or keep focus and racing suffers, that's on the individual.  In my last couple of years, I got some consistency, focus, and commitment back.  I achieved some improvement and PR beyond my high school mile time, but those first two years hindered my progress.  With that, I learned a great lesson that I've applied to other opportunities in my life.  That experience taught me to get the most out of myself in whatever I'm trying to achieve; I need to commit and stay focused on the task at hand consistently.  Solely relying on a little bit of talent is not acceptable".
Martin learned those lessons well and applied them to this day. As a Master's runner, he is focused, dedicated, and works hard while balancing his running with family and his firefighting career. Martin's consistency and attention to detail in his training are super impressive.
The Pandemic has played a part in Martin's search for excellence as well.                                                                                                             
Martin stated that "before the Pandemic, I took races for granted and as a guarantee always to be around.  When the Pandemic started, I started to get out and run consistently for overall health and well being.  In my daily runs, I began to think about Master's running more and more.  Training on the track again has been a great way to focus on something positive, and I want to see what I can get out of myself as a middle-aged runner because it feels like there's still something left".                             
Martin has some unfinished business to attend to; it's called becoming one of the best Masters' runners in the nation at 1500 meters and the mile. 
Martin plans to compete at a high level this summer at the Master's national championships. He also has some significant mile improvement goals over the next couple of years at 1500 meters and the mile. I would say that as Martin's coach, he is well on the way to his dreams. Martin loves pushing his limits and challenging his pain barriers. Martin's focused attitude is rare air in the running world and elsewhere these days. 
Perhaps Martin's most significant accomplishment in life is not related to running at all. His family life is at the top of the priority list in his life. Martin is quick to point out that his most important blessings are his awesome wife and two hilarious kids. Growing up in a single-parent household for most of his life has driven his most important life goal—to be a good husband and father.
Ever gracious, Martin also considers it a privilege to be a public servant at a local fire department. It is something he never takes for granted. Martin is a throwback to another era when the duty to others consistently outweighed personal goals in favor of the community.
Yes, the Rocky song, "Gonna Fly Now," is undoubtedly the right metaphor for Martin's life. He is a man on a big mission who has his life priorities in order. He is a quiet, humble man who leads by example on and off the track. And, he is ready to fly like never before.                                                                                                                   
Blessings,
Coach Weber
Philippians 4:13
If you are not familiar with the song "Gonna Fly Now", here it is:
https://www.youtube.com/watch?v=ioE_O7Lm0I4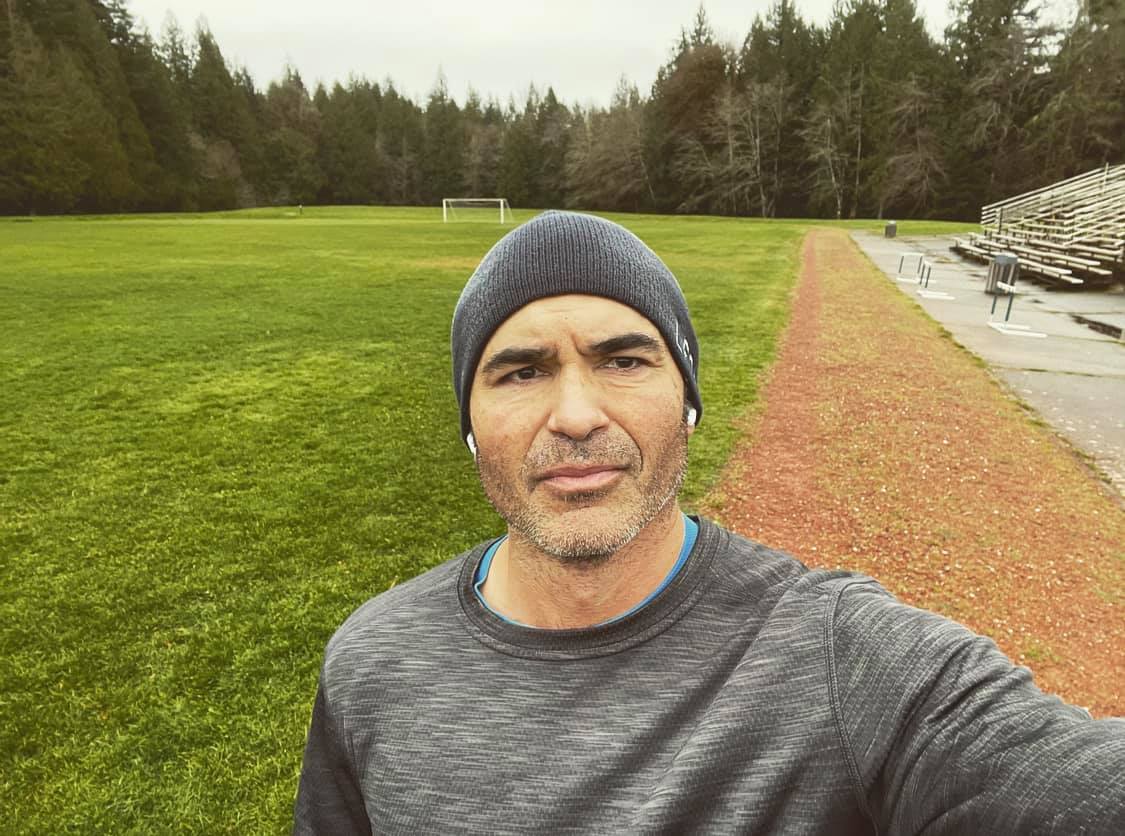 Martin today getting that focused look on before his workout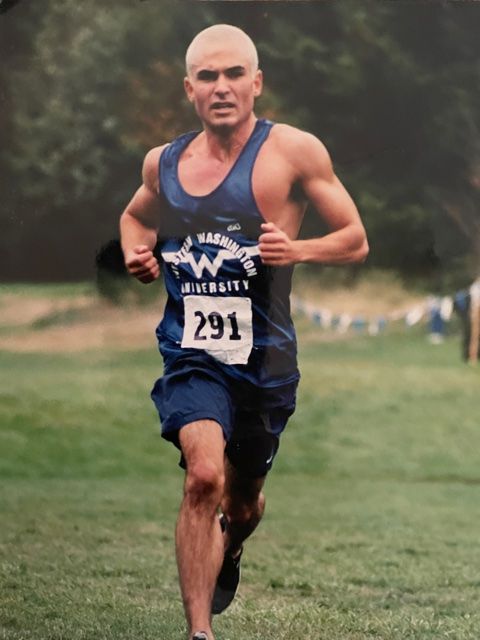 Martin, in his college days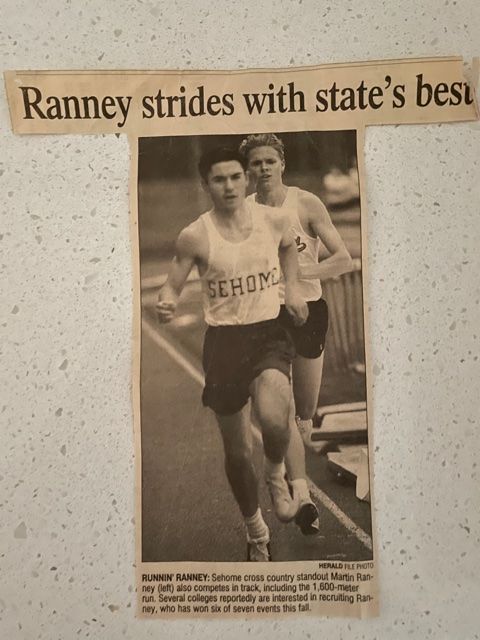 Martin showed great promise in his high school days running 4:15 for 1600 meters