Linda Huyck Makes It A Three Peat
Linda Huyck is pictured above with Olympic Gold Marathon Winner Joan Benoit Samuelson at the Capital City Marathon on May 19, 2019. Benoit-Samuelson presented the overall female marathon winner's trophy to Linda. 
She is becoming an inspiration to the over 40 crowd.  Then again, she inspires younger runners as well.
She did it again. Linda Huyck won her third Capital City Marathon today at age 47. That's three overall wins now at over 40 years of age!
After 22 years of coaching Linda, I am still amazed at her toughness and ability to come through in the pinch. She was not the favorite in the race today. In fact, it's been three years since she has run a marathon. To say Linda  made a comeback today is an understatement. On low mileage for her, Linda came through once again.
I got to follow Linda's race in my car. I checked in to see her progress at miles 4, 7, 9, 13, 18, 20, and 21. Linda was back in second or third place most of the race. A group of three ladies were battling it out for the lead until about mile 18.
Linda gapped the second-place runner by about 17 seconds from mile 18 to 19. Incredibly, Linda increased her lead by an additional 30 seconds on a downhill portion of the course at mile 21.
After cheering Linda on at mile 21, I drove to the finish line to wait patiently for her finish. Well, maybe I wasn't that patient! I nervously talked with some running friends to pass the time.
Well, Linda came through once again for her third Capital City win. Her training has been limited the last few years because of multiple factors. It was so good to see her come through with a come behind win. It was an emotional day in a very good way.
Linda' win was especially meaningful today. The Capital City Marathon  team was celebrating the 35th anniversary of hosting the first ever U.S. Women's Olympic Marathon Trials in Olympia, Washington. Several past Olympic Trials participants from the first ever trials were in town to help celebrate the 35th anniversary of the trials including the winner of the first ever U.S. Olympic Marathon Trials, Joan Benoit Samuelson.
I don't know what the future holds for Linda in her racing career. I do know that she is an inspiration to young and old alike. She is one of the strongest people mentally I have ever coached.
Congratulations Linda on another fantastic race!
You can read more about Linda's career here: 
https://www.coachweber.org/Linda-Huyck-Marathon.html?unique=16025536169059235

Blessings,
Coach Weber
Philippians 4:13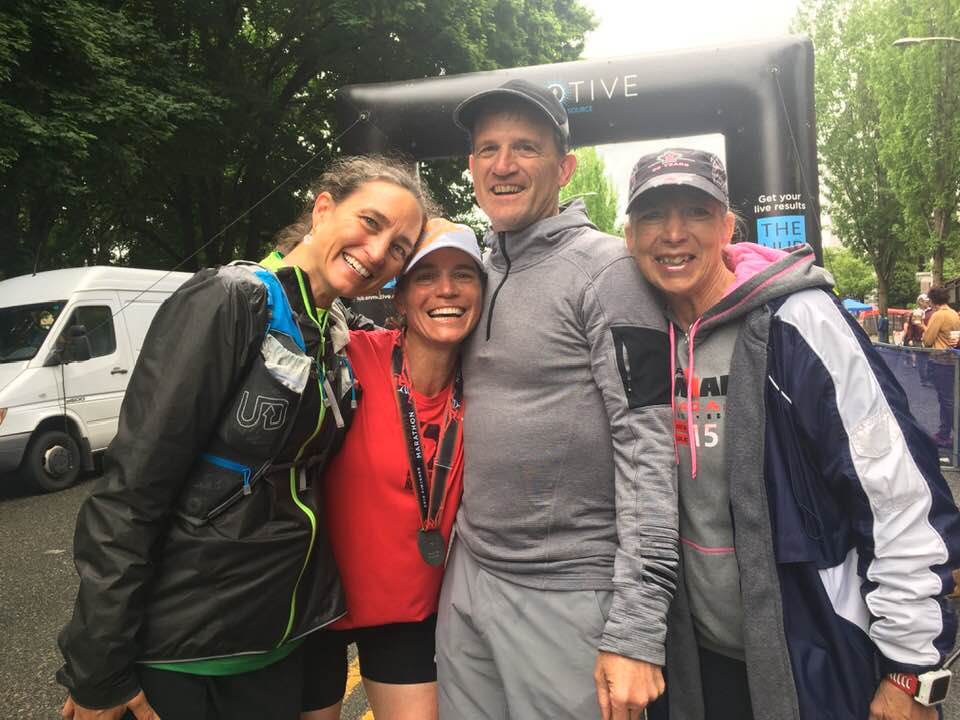 Linda's Support Crew from Left to Right: Good friend Heidi Perry. Linda. Coach Larry Weber. Athletic Trainer and Physical Therapist Diana Roberts.