The first state champion in JPII School History: Kobe Deutscher opened the doors for others to follow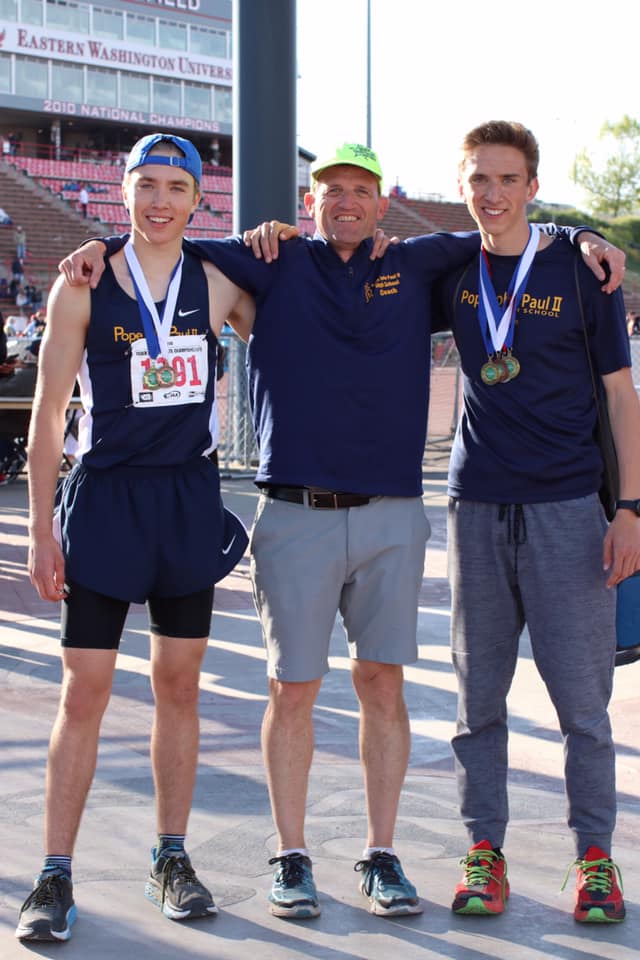 Caden Deutscher, Coach Weber, Kobe Deutscher at the state track and field championships in Cheney, Washington
I never got to properly acknowledge Kobe Deutscher's first ever school state championship a few weeks ago. The Sophomore from Lacey, Washington won the 1600 meters at the 2019 Washington State Track and Field Championships. A couple of days later Kobe won the state championship in the 800 meters followed by a second-place finish to brother Caden in the 3200 meters. Both brothers ended up state champions.
There will never be another "first person" to win a state championship at Kobe's school. As Kobe's coach, I cannot be more proud of him. This young man has a bright future ahead of him. Kobe will always have the honor of being the first person to break through the state championship ice. 
The significance of any "first" in life is that it opens the doors for others to follow. The greatest thing that comes out of any "first" is the ability to inspire others to go for their own dreams and goals. When a long-standing barrier is broken, permission is unconsciously given to others to break through their own perceived limitations and barriers in life.
Congratulations Kobe for not only being a state champion but also a barrier breaker.
Pope John Paul II High School (JPII for short) will be ten years old this year and is located in Lacey, Washington. 
Blessings, 
Coach Weber   
Philippians 4:13