Kobe Deutscher Finds Success On And Off The Field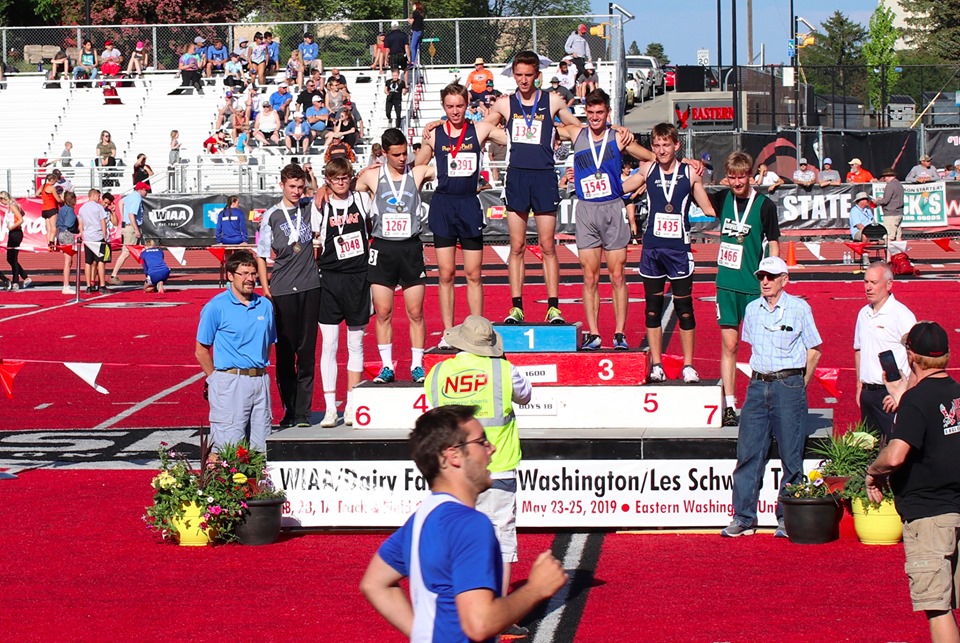 Kobe earned the distinction of becoming the first running state champion in school history as a sophomore when he won the 1600 meters at the 2019 Washington State Track and Field Championships at Eastern Washington University. Kobe is seen in this picture with brother Caden who finished second in the 1600 meter race and the other state placers. Kobe went on to win the 800 meters at the state championships and finish second to brother Caden in the 3200 meters. 
He is one of the most talented high school runners I've ever coached. Compared to his peers elsewhere, he is a low mileage runner. He has increased his intensity and mileage slowly so he can perform his best in his collegiate years and possibly beyond.
Kobe's intentional long-term developmental approach is part of his story to run to his God-given potential over the long run. Kobe has a lot of upside potential in performance as he enters his senior year and into the college years.
In the spring of 2019 as a sophomore, Kobe Deutscher won the state small school track and field championships in the 1600 meters, 800 meters, and was second to brother Caden in the 3200 meters. For his efforts, Kobe was named the small-school Washington State runner of the year by "The Runner" in 2019. The Runner covers high school cross-country and track extensively in the State of Washington.                                               
Kobe also ran one of the fastest cross-country times ever recorded in the 1B classification in Washington State High School Cross-Country history last cross-country season as well. He was the league and district cross-country champion and was part of the "sportsmanship team of the year, as voted by the Sea-Tac League coaches.      
As team Captain, Kobe led his team to a second-place overall finish in the Washington State High School Cross-Country Championships in the combined 1B/2B division. His team finished as the number one team among the smaller 1B schools at the Washington State Cross-Country Championships in 2018 and 2019.
Kobe has what it takes to reach huge goals in life on and off the track. His work ethic is outstanding, he is an amazing student, and he is a strong and courageous leader beyond his age. These traits greatly contributed to Kobe being selected team captain and led to his selection as team MVP as well.                                        
I have rarely seen anyone at Kobe's age be so gracious to others yet take a strong stand on issues when needed at the same time. Kobe's character, strength, and people skills indicate he will go extremely far in this life. Self-sacrifice and self-discipline are more than mere words to Kobe, they are a way of life. He is a humble young man who cares deeply for others. He leaves nothing at the finish line of his goals.
Kobe has attained an unweighted GPA of 3.942 in a tough college prep school. Even more impressively, Kobe's weighted GPA is 4.311. He intentionally takes the hardest classes possible each year to challenge himself and to prepare for his future.   
Kobe's tenacity, focus, and no fear attitude in the classroom carry over to the track when he steps to the line. Kobe's ability to focus on the task at hand is very impressive on and off the track. Tuning out distractions and giving it your all at the moment of truth is an incredible gift from God and is the mark of a champion. Kobe has this incredible God-given gift.
What amazes me about Kobe is his calmness in the storm. His personality is such that he is able to walk into stressful situations with grace and courage. He comes out of a stressful situation as a better person. When you face challenges in life you can become bitter or you can become better. Kobe chooses the last option.
Placing yourself in new, difficult, and uncomfortable situations is the way to grow. Kobe has tried many new things during his high school career thus far. He was a member of Future Business Leaders of America (FBLA), played in the Jazz Band, participated on the basketball team, and served as an ASB class officer. He also served on the Lacey youth council.
Kobe's volunteer work includes working many hours in the youth migrant Project administered by St. Michaels Church in Olympia, Washington. He has also volunteered in the Olympia soup kitchen.      
One parent wrote to me and had these kind words to say about Kobe last summer when he was leading other young people at the migrant youth project: "Kobe was so good with the young people helping out at the camp. He was like a big brother to them". Kobe truly cares about others and their development on and off the field .
Kobe is more than ready to go to the next level in his senior year. I hope there is somewhat of a normal cross-country season so Kobe can challenge himself once again to take a big leap in his performance. I believe he has the potential to become the fastest high school athlete I've ever coached. He has all the tools necessary to reach his God-given potential going into his senior season.
I will end with another thing I love about Kobe. He is one of the most congenial and thankful people you'll ever meet. After almost every single workout, I hear the words "thank-you coach".
No, thank-you Kobe! Thank you for the incredible honor to help you go after your God-given potential. You are a blessing.     
The sky is the limit for you Kobe. Leave nothing at the finish line of your dreams in 2020 and beyond!
Blessings,
Coach Weber
Philippians 4:13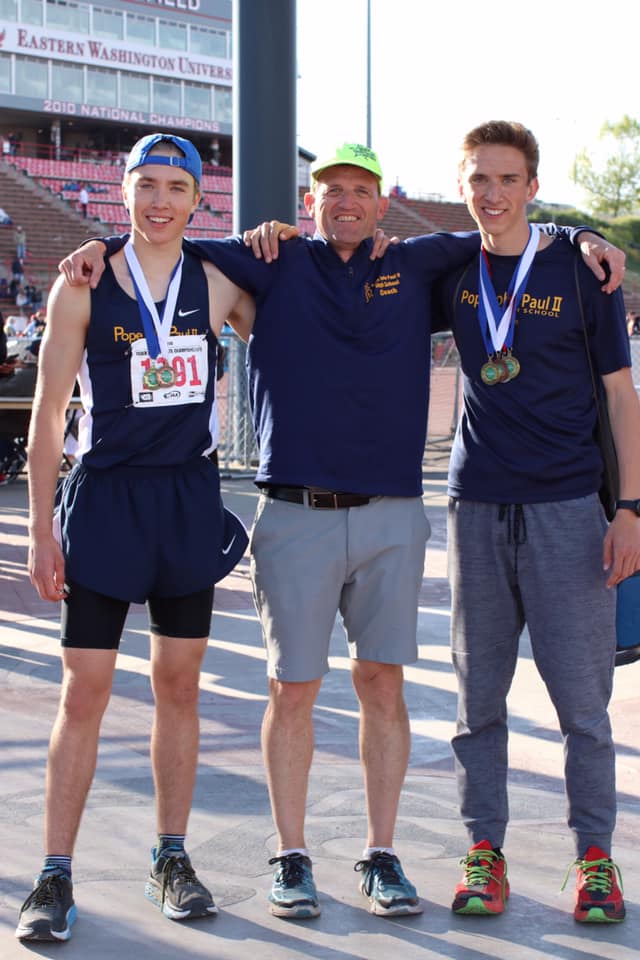 Caden Deutscher, Coach Weber, and Kobe Deutscher after the Deutscher Boys State Championship runs.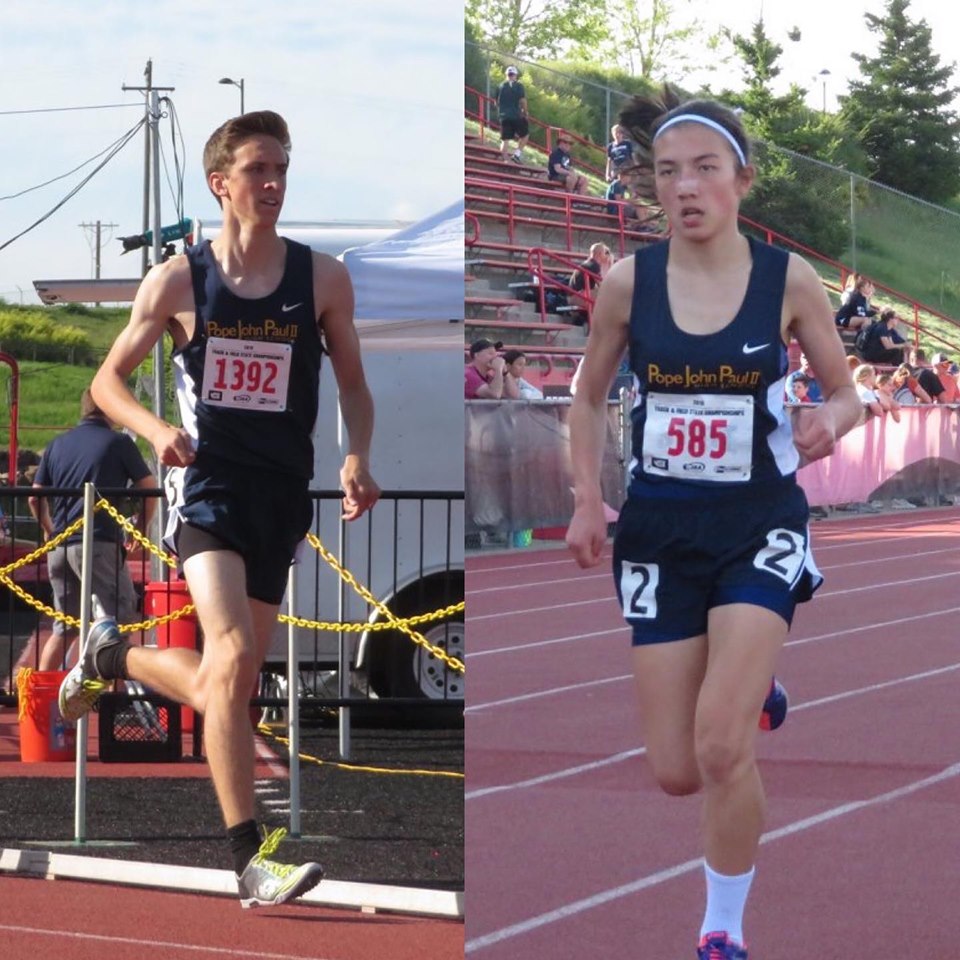 Kobe with teammate Vivi Kondrat last year at the State Championships. Both were favorites to win state titles in 2020.