The Joshua Braun Story
         Josh won the American Revolution's Daughters (DAR) 2021 Scholarship
          Photo Credit: Dan Ashe
I got to know Joshua during the cross-country season his sophomore year. You could tell at that point that his future was in sprinting and jumping. He had a spring and a bounce in his step that stood out from the crowd.                                                   
When he was young, Joshua participated in Gymnastics. He was good in cross-country, but his niche was sprinting and the jumps in track and field. This young man is multi-talented.
Joshua's gymnastics background helped in more ways than one. Gymnastics certainly gave Joshua the initial skill set to succeed in track. His background also provided a way for him to help others. Joshua coaches kids in gymnastics from age 5 to 14. 
Josh's goal is not only to teach technical skills to kids but also life skills. Joshua is, without question, a coach at heart. He gives back to his community in so many ways. Josh is a man on a mission that is much greater than himself. It is evident that he cares and wants to help others in many meaningful ways in all aspects of his life.
Josh serves others in other areas besides sports. He helps out at our school community common farm, volunteers in the Special Olympics Volleyball, and served at the Saint Vincent De Paul thrift store. The great heart of this young man is undeniable.
When Josh is not studying, participating in sports, or volunteering, he finds time to serve as a class representative, the 2020-2021 yearbook editor, and a STEM club member. In the Stellar Explorers Space challenge team at school, Josh and his team members have done well locally and nationally in competitions. Josh also finds somehow finds time to be the editor of the school yearbook.
Joshua works hard in the classroom and has a goal to obtain an engineering degree in college. Joshua is very analytical and thinks things through well. His goal someday is to serve his community with his engineering skills. Josh stated, "my goal is to solve transportation problems for my community."                   
Like everything he does, Josh is a man on a mission with a clear outcome in mind. Helping others is at the root of his goals in life. Josh was rewarded recently for some of his efforts by winning the American Revolution's Daughters (DAR) 2021 Scholarship.
On the sports side of the equation, Josh's goals are just as focused and direct. His goal in college someday is to qualify for the Division 1 Track and Field Championships.
Josh is stepping closer to his long-term goals each week. As of this writing, Josh leads the entire State of Washington in the triple jump regardless of state classification. Josh also leads our state division in the long jump, triple jump, and 110-meter hurdles in our state classification, the smallest classification in Washington.   
For athletic classification purposes, Pope John Paul II High School has about 75 students in grades nine through eleventh. Pope John Paul II athletes compete at the IB level in sports.   
Although early in the season and marks will change, Josh has already accomplished a lot in the early track and field season, especially since he is still learning the hurdle and jumping events.
Josh had some great jumps during his indoor club track and field season as well. I believe this trend will continue in the outdoor season. You can tell by watching Josh jump that he is ready to fly higher and further than ever before.
When Josh is not volunteering, going to school, participating in athletics, he loves to play his guitar and hike with family and friends.
Never count Josuha Braun out; he is a man on a mission who sets and attains big goals for himself in life.  Josh is one of those rare individuals who gives everything he has to what's important to him in life. It's been a complete joy to see how Josh has grown in all aspects of his life over the past four years.
Josh, we wish you the best in your life journey beyond high school. Your tenacity, hard work, and incredible heart will inspire others for years to come.  Our joy is seeing how you continue to love God and others in everything you do each day.
Your passion for life is contagious!
Blessings,
Coach Weber
Philippians 4:13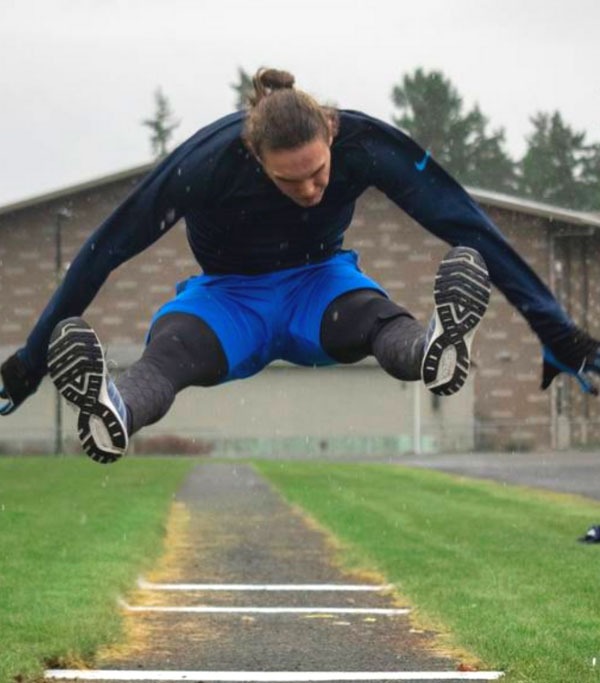 Josh continues to soar to new heights and distances this year
Josh is in the middle picture at a recent meet. He is surrounded by his JPII teammates in the other pictures.