The Thurston County Track and Field High School Athlete Of The The Year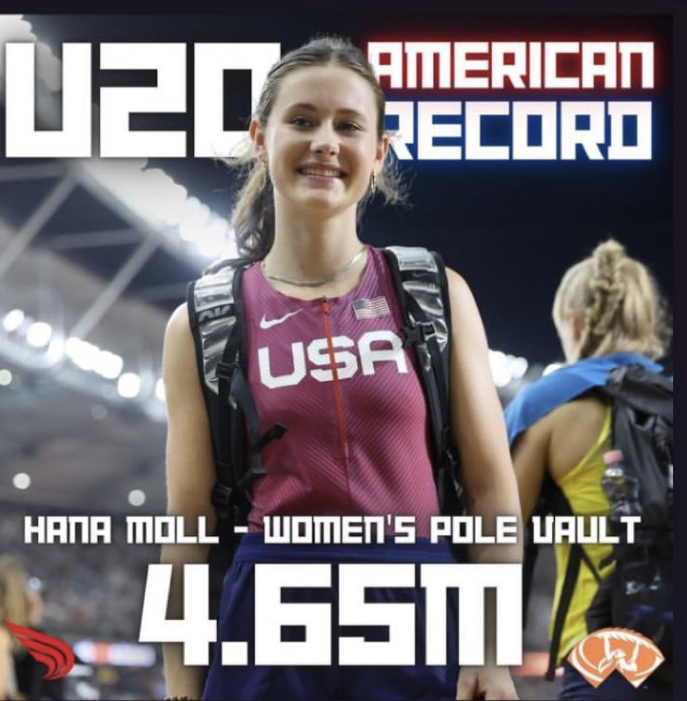 Image Credit: Photos by Kirby Lee/Image of Sport, Kim Spir
Background
Once every quarter of a century or so, someone comes along in your community who makes it to the world stage in a big way.

Beyond becoming world-class, they become the best in your community, the nation, and even the world for their age or at the world or Olympic level. There is something extraordinary about seeing greatness in action. 
That greatness is recognized not only by members of the school the student-athlete attended but also by the entire surrounding community and, in exceptional cases like our athlete of the year, around the nation and the world.
The High School Track and Field Area Athlete Of  The Year And The 21st Century 
Hana Moll has gone further than any high school athlete, and for that matter, anyone in our area's history on the world stage at 18. She is an incredible pole vault champion.
Hana is my selection for the Thurston County High School track and field student-athlete of the year and the 21st Century. She has also gone further on the world stage than anyone in our area, including high school, college, and pro athletes.
Her achievements and her incredible twin sister Amanda's accomplishments will live in high school track and field lore for decades to come. Amanda Moll, Hana's sister, is also one of the best to come out of our area and nation.
Hana Moll is a 2023 graduate of Capital High School in Olympia, Washington.                                                                                                           

She began her record-breaking summer by setting the American U20 and prep all-time outdoor performances of 15-1.50 (4.61m) on July 9, 2023, at the USATF Outdoor Championships at Hayward Field in Eugene, Oregon.               
Amazingly, Hana made the USA World Athletic Championships as a member of the USA Team in Budapest by finishing third at the USA Track and Field Championships as an 18-year-old.
At Budapest's World Athletic Championships (also called the World Track and Field Championships), Hana became the youngest person in World Athletics History to make the pole vault finals. Simply amazing.
Moll finished ninth in the world in the World Athletics Championship finals.
Her vault of 15-3 at the world championships was also an all-time world U20 and Prep All-time mark. Her mark also eclipsed the U20 and all-time Prep indoor mark of twin Sister Amanda's 15-1.50 at the Pole Vault Summit in Reno, Nevada, in January of 2023.
Placing Hana's Accomplishments In Context

I want to set the stage the best I can to explain what Hana has done in her young career for people who don't fully understand or who follow track and field. Describing how incredible Hana's high school career played out is vital to the area's sports history and legacy.
Using other sports examples, let me set the context for Hana's extraordinary athletic accomplishments.                                          
Hana's high school track and field career, is the equivalent of a high school basketball player going straight to the NBA out of high school or a high school baseball player skipping the minor leagues and going directly to the big Leagues.
Hana's accomplishments are in the unprecedented category and rare air for a high school athlete.
As an area running and track and field historian, I have never seen anyone from our area accomplish what Hana did this summer at such a young age.
To add to her accolades, Hana became the youngest Pole Vaulter in history to reach the World Athletics Championships finals! 
Hana set the new all-time prep and world best under 20 clearances of 15 feet 3 inches (4.65 meters) at World's to cap off her historic year.
Hana has chosen to compete in college. Still, she is undoubtedly already at the pro level after making the United States Track and Field World Athletics Championship team and placing well in the world championship finals.
What's Next For Hana

Tim Reilly, the founder of the NW Pole Vault Club, LLC, and Mike Strong, a local legend track and field coach and Hall of Fame coach, have done a fantastic job with Hana and Amanda Moll.
These fantastic coaches have helped the Moll sisters reach their potential.
Coach Strong had this to say after Hana's performance at the World Championships: "The Last two competitions this year of Hana's amazing climb to the top of the High School and age vaulting summit is indicative of her great talent, fortitude, and intention to arrive at the world stage. The year was long, but she mastered it with grace and joy".
Hana is well positioned to excel at the next level, as is her sister Amanda. Both will attend the University of Washington this fall.
If the past few years are any indication, watch for Hana and her sister Amanda to continue to do great things at the University of Washington and on the world stage. Congrats to Hana Moll and Amanda Moll for stellar high school careers. 
Congrats to Tim Reilly, Mike Strong, and others who supported the Moll's journey, and most of all, the twin's parents for their raising and supporting these two incredible young women.
Blessings,
Coach Weber
Philippians 4:13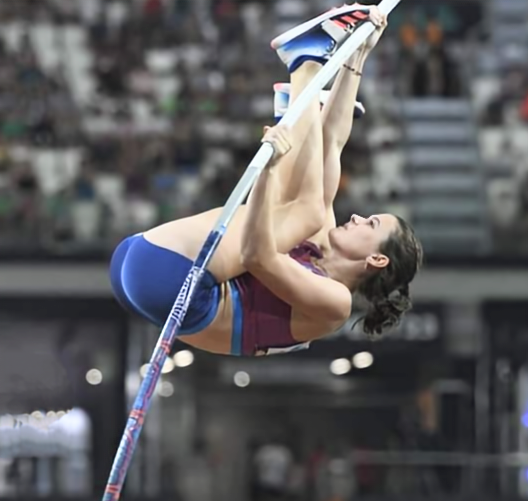 Hana showing the pole vault for that has made her one of the best in the world.
Image Credit: Photos by Kirby Lee/Image of Sport, Kim Spir