With Great Mentors, You Truly Can Help Change The World
Left to Right: Tony Volpentest, Ross Perot, Bryan Hoddle, and Larry Weber
My wife Julie and I owned a small company called Physically Able Sports. We worked with five of the top Paralympic Track athletes in the world from 1995 to 2000.
We were the first company to represent Paralympic Athletes exclusively. Our job was to help Paralympic athletes become professional athletes, just like all other sports. We were involved in many barrier-breaking events and moments for Paralympic athletes on the world stage.
Mr. Ross Perot sponsored one of our athletes, Tony Volpentest, the fastest disabled athlete in the world. Tony won gold medals in the 100 and 200 meters at the Atlanta Paralympic Games. Bryan Hoddle coached Tony to two gold medals and a world record in the Paralympic Games.
After his coach and my good friend Bryan Hoddle moved on to other pursuits, I coached Tony to a world record in the 200 meters and two gold medals in the 100 and 200 meters at the 1999 world Paralympic championships.
Many people probably don't know who Ross Perot is today. Mr. Perot was a billionaire who ran for President of the United States in 1996. During those years, I got to know Mr. Perot and worked with him on several projects simultaneously while he was running for President. He did a lot of work for veterans behind the scenes during those days. Mr. Perot died in 2019 at the age of 89.

Most people will never know how much Mr. Perot admired and fought for active duty and military veterans. I admired what he did for veterans behind the scenes. Mr. Perot never sought credit for the fantastic work he did for veterans.
I considered Mr. Perot a mentor in some business and political areas, even though we differed on some political issues.
Mr. Perot was amiable and kind to us when we worked with him. He helped us navigate many challenging situations in the business world without doing any work for us. His approach was to give suggestions and let us sink or swim.
When Mr. Perot would call me at our home on business, Julie would say, "you answer it." She was a bit in awe of the man at the time. However, he, indeed, was like the guy next door. He was easy to talk to, had a great sense of humor, and was very humble. He carried around a 20-year-old briefcase even though he could afford a lot more at the time. He was straightforward and a tell-it-like-it-is man.
Mr. Perot was all in when it came to helping us learn how to break challenging barriers, including barriers in the media.
Julie was outstanding in navigating with CBS, CNN, and other world media to promote the Paralympic movement on the business side of things. We had a fantastic team committed to breaking down long-established barriers that stood in the way of Paralympic Athletes reaching their potential. Just being around and talking with Mr. Perot about his experiences helped us a lot in having the confidence to navigate new areas.
We also set up the one-to-one challenge between Neil Fuller and Tony Volpentest in Toronto, Canada, through our business, Physically Able Sports. The one-to-one challenge was the first event of its kind in the world.
Working around Mr. Perot taught me to go for big dreams and goals. I found that it never hurts to ask for anything in life.
For example, I asked the meet promoter in Toronto to create a special undercard event for the much-heralded Johnson and Bailey million-dollar sprint race. I proposed an undercard event between Tony and the second-fastest Paralympic sprinter in the world, Neil Fuller from Australia. 
The meet promoter agreed to the terms of my proposal. The race between Tony and Neil became the first major Paralympic undercard event in the track and field world.
The main event, of course, was between Michael Johnson and Donavan Bailey. Johnson was the Olympic Champion and world record holder in the 400 meters and 200 meters, and Donavan Bailey was the 100 meters Olympic Champion. They raced at 150 meters to determine the fastest non-disabled runner in the world.
In the undercard race before the main event, Tony out leaned Neil Fuller from Australia. The crowd exploded in appreciation of a great race. The race was a success and seemed very interesting to the crowd that day.
That day, Michael Johnson pulled a muscle and did not finish the race against Donavan Bailey in the main event.
The crowd came primarily to see Johnson and Bailey in the million-dollar race but left in awe and appreciation of Tony and Neil in many ways.
What I remember most about our Paralympic days was how hard it was to get sponsorships for Paralympic Athletes. We were blessed to break down many long-standing barriers that stood in the way of Paralympic athletes securing sponsorships as professional athletes. It was always helpful to know that Mr. Perot was in the background, cheering us on from the sidelines.
The moral of the story is to find great mentors who can help you serve others in ways you never thought were possible. You can save years, sometimes decades, if you find qualified people committed to helping you reach your goals and dreams. A good mentor is worth their weight in gold.
On another note, StarMentors is currently making a movie about Tony Volpentest's life story. You can learn more about their film here:
https://starmentors.com/2019/11/25/tony-volpentest/
Blessings,

Coach Weber
Philippians 4:13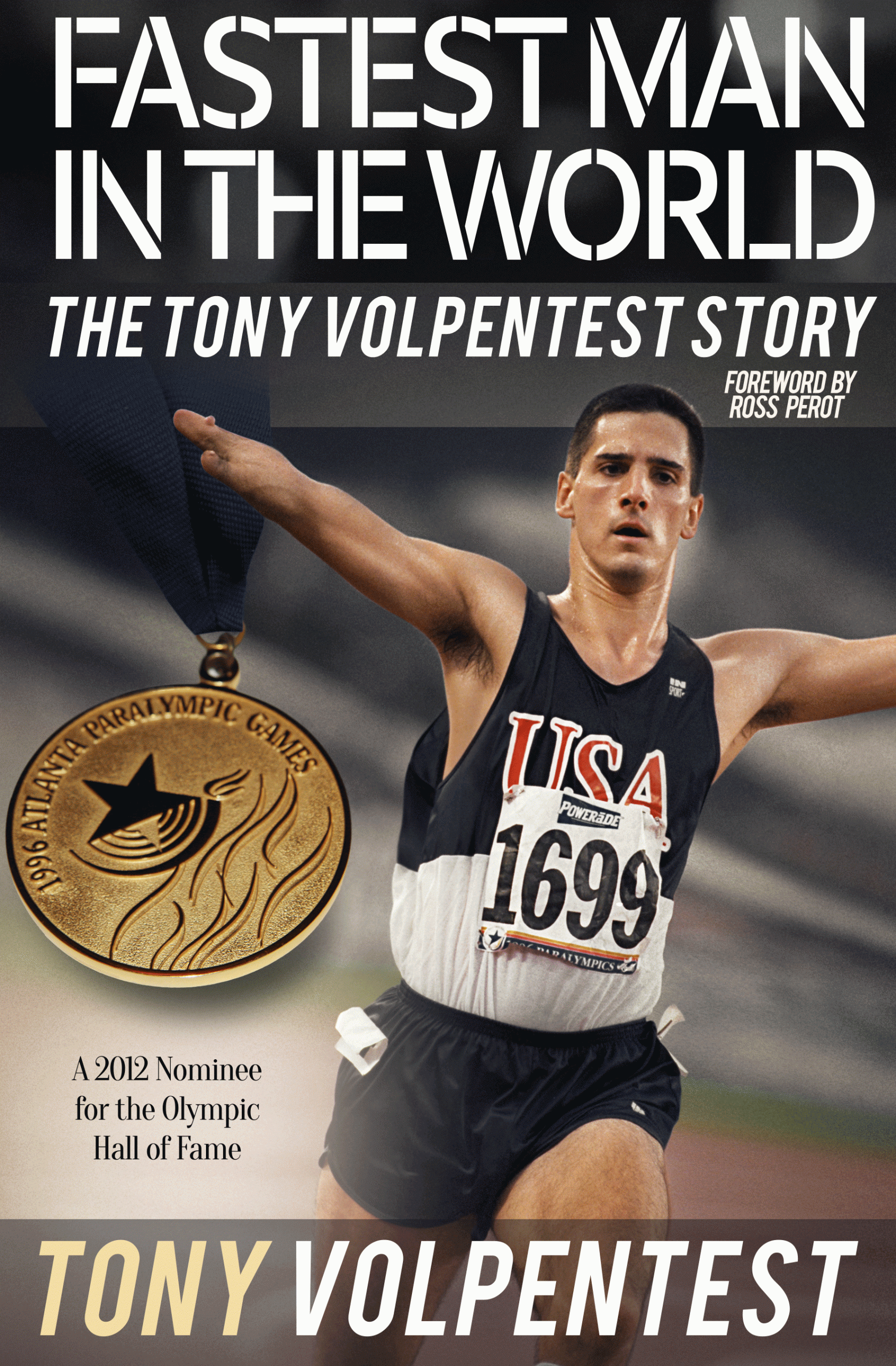 You can buy Tony's book at https://www.amazon.in/Fastest-Man-World-Volpentest-Story/dp/1940784077
                 Ross Perot and Larry Weber speaking at a press conference in Atlanta