JPII Running Senior Spotlight: Elena Valpiani 
Image Credit: The Valpiani Family
In our programs, we discuss going after your God-given potential often.                          
Reaching your God-given potential has a different meaning and purpose for every person because each person has unique gifts given to them by God. 
We all have different but equally important roles at home, school, and the workplace. It's up to us to use our unique roles and gifts ultimately for the benefit of others.
You've entered the land of champions when you give it your all using your unique gifts for others.   
Let me tell you about one incredible champion who found her gifts and gave her all to help, serve, and love others these past four years on our team.
The Making Of A Champion
This champion's name is JPII senior Elena Valpiani.
Elena is rightfully proud of being a varsity member of the first-ever state championship athletic team at JPII.
In 2019, the JPII girls' cross-country team won the school's first athletic state championship by upsetting the three-time state champions when she was a freshman.
Elena went to state that year as one of the top nine varsity runners on the 2019 team.
There is only one first in various categories of life. Elena will always be remembered as part of the first state championship team at JPII.
On a highly competitive team, Elena would not make the state championships again, at least not in the traditional way.
Living Her God-Given Potential
Elena's legacy is much more than participating in another state championship event. Her impact was significant in other ways.
Elena reflected on her athletic experiences in JPII running recently. She said, " Early in my running career, I came to accept that I would not be helping the team to bring home trophies or earn points, and I understood that my role on the team was as a leader and mentor for young and new runners.            
I didn't run incredible races worth noting in Thurston Talk or The Runner, but I learned to take the underclassmen under my wing and show them how to get started. I led drills, took them on new trails, encouraged and celebrated every small victory, and gave advice from the perspective of a seasoned runner and product of the "Coach Weber Program for Achieving Your God-Given Potential."
Elena became a leader and mentor to new runners on the team for three years after her initial cross-country season in 2019. She stuck with cross-country and track during the tough times of COVID, running with and encouraging others faithfully through one of the most challenging times in recent American history.
Elena became a  different kind of champion.
Rather than letting discouragement set in because she was not in the top nine on the state team again, Elena took the high road of service, encouraging others and giving it her all to help others to reach their God-given potential with her words and actions.
Elena even drove with her mom to the State Championships in Pasco, Washington, to cheer her teammates on each year.   
Elena left the strongest legacy one can have, loving and caring for those around her with her God-given gift of encouragement and servant leadership.
As Elena so eloquently said, "I have been thinking about this for a few months now, since the end of cross-country, and I have come to be proud of what I was able to accomplish, even if it wasn't in the form of medals, ribbons, or trophies."
Yes, Elena, there is much to be proud of these past four years.                                                                                  
You did something much more powerful than winning more ribbons, medals, or trophies. Living your life for others planted seeds of inspiration and hope during a time of great affliction in our culture. Your impact will last long after you graduate.   
Your love, care, and encouragement in the midst of one of the most challenging times in recent memory are what I'll remember about you.                                                                                 
You fought the good fight; you persevered; you won the race.
The Next Chapter
As you move on to the next chapter of life, perhaps the words of your amazing mom are all you need to hear.
"Prior to Elena's participation in athletics at JPII, I had never heard the expression "God-given potential," at least not pertaining to the realm of sports and athletics.
"For the past four years, those words have given rise to Elena's spirit of positivity both with athletics and within the classroom. Met with challenges over the years, Elena has never given up on herself or on the idea of the potentiality of reaching all that God has created her for and in active cooperation with His designs.
Elena has grown in patience and humility through these years, and both her Dad and I are incredibly proud of these virtues within her.  
As Elena prepares herself to move forward from JPII, and in whatever it is that Elena finds herself drawn toward, both academically and professionally, I know that she will never stop reaching for her "God-given potential,"; an expression that has left an incredibly beautiful mark and given her (and us, her parents) a deeply supportive way of thinking of oneself against the highly competitive culture we live in. She will thrive within herself. Always supporting herself and her own efforts, knowing that God has given her potential in every area of life, her own potential".
The heartfelt words of a mom and her obvious love for her daughter will carry this amazing young woman in the next chapter of life to help, lead, and love others through her God-given gifts.
We are proud of you, Elena, and can't wait to see what the next chapter brings.
Blessings,

Coach Weber
Philippians 4:13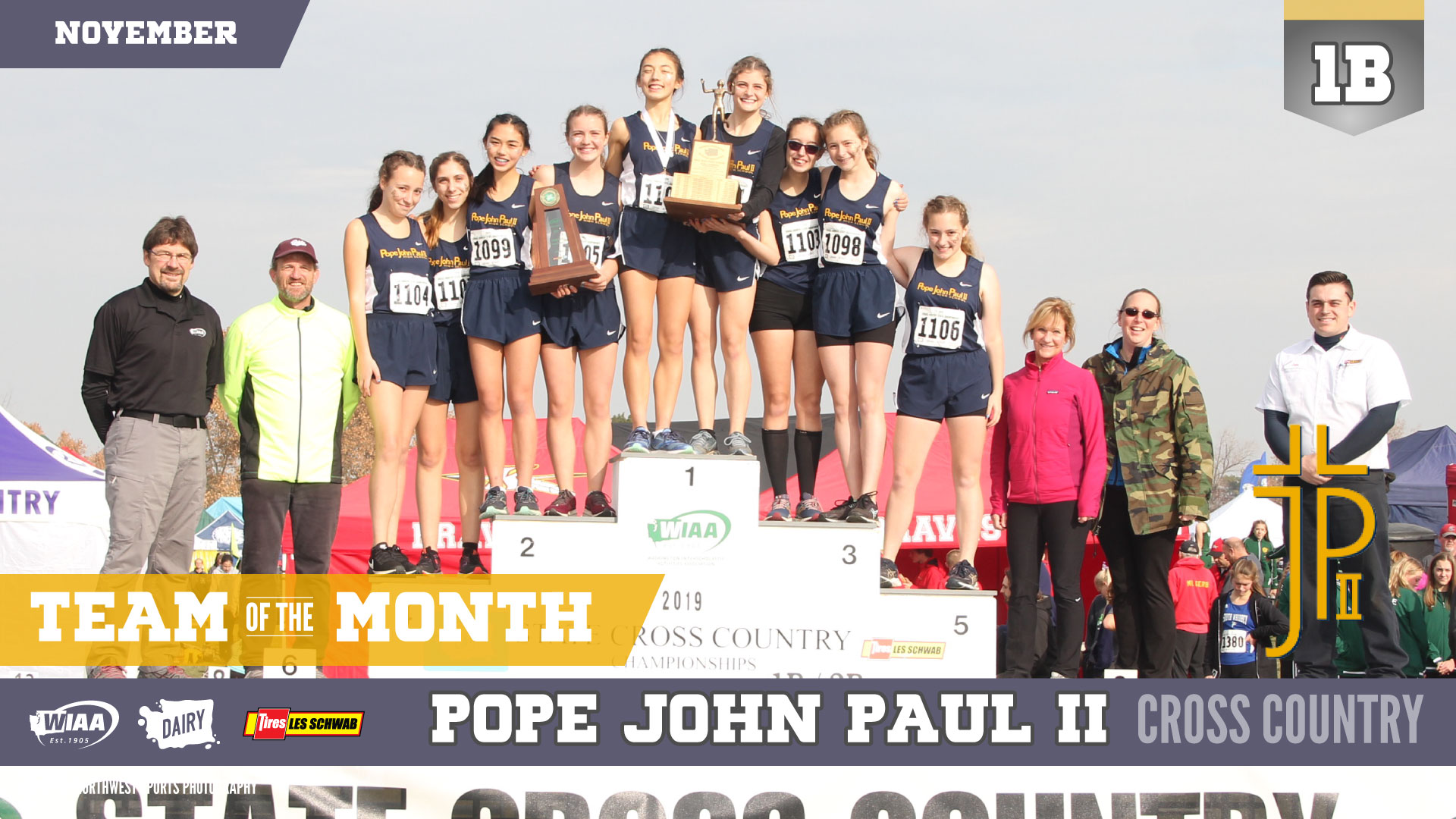 Elena is number 1106 on the far right in this picture. Her cross-country team won the first state athletic championship in school history.