Dwight Midles, The Best Field Event Athlete In Thurston County History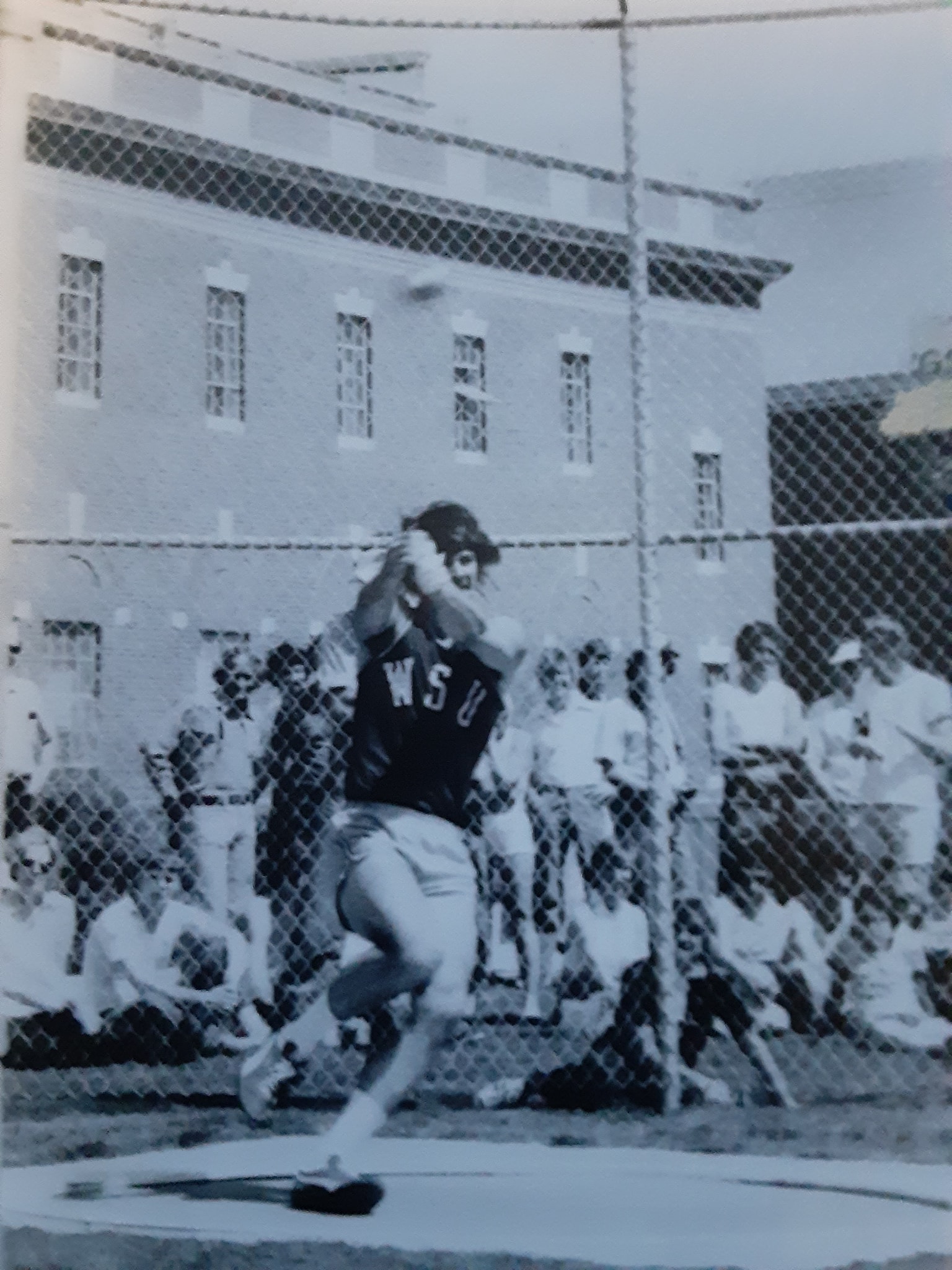 Dwight Throwing the Hammer for Washington State University
As a local running and track and field historian, he is my pick for the best male field event athlete in Thurston County Track and Field History. This man took his craft further than any field event athlete in our history at the national level. He finished 7th in the U.S. Olympic Trials in 1980 and once had the 11th-best Hammer throw ever in American history. He also took what he learned from the track and field world and is now teaching others the details of his incredible gift.     
Let me share part of Dwight's fantastic story.  As you will see, Dwight has been through a lot. He has overcome a lot of adversity and continues to do so to this day.                                                                                                           
Dwight gives credit to his brother Brian for helping him get started in Track and Field: "My introduction to Track and Field began when my brother, Brian, won the 1964 State discus Title for North Thurston High School. I believe he was North Thurston's first State Champion in Track and Field".  Dwight also had this to say about his humble beginnings, "my little brother Henry and I use to throw a shot put in our cow pasture at our Long Lake home. My family had five children (4 boys and one girl). Although we did not have much money, due to my father's death very early in our lives, we considered ourselves rich in the pleasures of living in an old farmhouse on Long Lake". 
As he grew up, Dwight's older brother Brian introduced him to the discus. He also had the privilege of having some wonderful men in his life (George Roswell and Dennis McDonald, to name a few) providing encouragement, support, and coaching him and his brother Henry during their introductory years to the sport. Like most young people, Dwight says he took these coaches for granted at the time (thinking all coaches were like them). Little did he know how much extra they gave of their time to him and others for their love of the sport and coaching.
Dwight's story from humble beginnings to national-class athlete took some interesting and challenging twists and turns along the way. For example, Dwight's physical development came later in life. He did not achieve as much athletically until his junior year in High School. He was a member of Timberline High School's (Lacey, Washington) first graduating class of 1972. Dwight says he had a bad day at the State meet his senior year, but he still managed to set the Timberline School discus record, which still stands today almost 50 years later!                                             
After high school, Dwight joined the military and chose to serve our nation. When he left the Army, Dwight still desired to compete in track and field at the collegiate level. Dwight enrolled at Everett Community College shortly after leaving the Army. Dwight recalls his freshmen year at Everett being a disaster, mostly because he lost so much size and strength in the Army. He decided to take a Red Shirt year after his first year at Everett to build himself up physically and evaluate where he wanted to compete for his remaining three years of eligibility. 
Dwight desired to compete at the PAC 10 Level, but he knew he was not good enough to compete at that level in the discus. However, as fate would have it, Dwight was introduced to the hammer by his older brother Brian while considering his competition options.                           
Brian Midles told Dwight the hammer was an event that few people knew anything about or how to coach. It was very difficult to learn, but for those willing to take the time to learn it, presented a great opportunity.                 
With no coach to teach him about the hammer, Dwight opened an encyclopedia, saw a picture of a hammer thrower, and tried to model his form from the picture he saw. He began to throw at a homemade hammer circle in his cow pasture while Red Shirting that same year. He then wrote letters to the University of Washington, WSU, Oregon state, and the University of Oregon expressing interest in their programs.                                                 
When he visited WSU, they were the most welcoming to Dwight. John Chaplin, the Hall of Fame coach at WSU, even offered him a small scholarship for one year on a trial basis. Chaplin told Dwight, "son, you will have to significantly improve to retain this scholarship." Dwight told him he would do his best and thus began his college experience at the D1 level.     
During his Sophomore year at WSU, Dwight took 7th at Conference in the hammer, and his scholarship was increased slightly. In his Junior year, he took the Bronze Medal at the Conference meet and 11th at NCAA Division 1 Nationals, and his scholarship was improved to a full ride.     
Dwight saved his best for his senior year, winning Bronze at Conference again and capturing 4th at Nationals to earn All-American Honors at the 1977 Outdoor National Championships with a throw of 204' 10".Due to his success at Nationals after only three years of throwing the hammer, Dwight decided to continue to train while in graduate school at WSU with a goal of making the 1980 Olympic Team.         
In 1978 Dwight improved to 211,' and in 1979, he threw 224' 10" at the Peller Invitational at Eastern Washington University. At the time, the 224' 10" throw was the #11 all-time mark in U.S. History and set a Peller Invitational meet record which still stands today, 40 years later.             
During Dwight's career, he set numerous other meet and stadium records (One example is a stadium record he still holds at Central Washington University).                                                                                                                     
Unfortunately for Dwight, the 1980 Olympic Games were boycotted by President Jimmy Carter, so he never had a chance to compete for the US Olympic Team. They did hold the Olympic Trials in Eugene, Oregon in 1980, where he made the finals, placing 7th, but there were no Olympic berths on the line due to the boycott. The motivation just was not the same before or after the meet. The boycott was a tremendous blow to Dwight, who decided not to continue training for another four years. He retired from throwing when he left the Olympic Trials in 1980.                                                                 
Dwight remembered thinking as he left the trials that he would never experience anything as exciting or fulfilling as his career throwing the hammer. He was wrong. The joy of helping his children and others far exceeded anything he did personally.         
"I told myself, if I ever had children, I would teach them how to throw the hammer at a young age, should they have an interest."   
Dwight had four children, 3 of whom expressed an interest in the hammer and other throwing events in track and field; the discus and shot put.
His three children (Adam, Zack, and Olivia) had great success in the hammer, discus, and shot put, winning numerous meets, a state title, and even setting state and National High School records while attending Capital High School in Olympia. All three of them earned full-ride track scholarships to USC (Adam), U of W (Zack), and Eastern Washington University (Olivia).             
Adam and Zack earned multiple NCAA Division 1 All-American Honors and placed at Nationals, and Adam qualified to compete at the 2008 Olympic Trials in the hammer throw. Adam threw the hammer beyond Dwight's lifetime best his senior year at USC.   
When his three children completed their high school careers, Dwight thought his hammer coaching days were over, but God had other plans for Dwight. He got a call one day from a High School Track coach who asked him to coach his son in the hammer. Dwight hesitated for a moment but then consented. Since that day, Dwight has been helping others learn to throw the hammer in one way or another. Many athletes he has helped over the years have earned college scholarships.                                                                                                         
Dwight was also instrumental in the organization and starting of the Washington State High School State Hammer Championships beginning in 2001. John Schultz (Honorable Mention All-American Collegiate football player, track and field athlete, and member of his high school Athletic Hall of Fame) and his brother Henry were also instrumental in helping Dwight with the development of the State High School Hammer Championships.
In 2016, Dwight started coaching the indoor weight and outdoor Hammer for men and women at Saint Martin's University. Dwight enjoys working with student-athletes at the college level. So far, he has coached one scoring All American (Kirby Neal), 3 National qualifiers, and 4 GNAC Conference Champions between the hammer and indoor weight throws.                               
In 2020 a local athlete, Johanna Zilla from River Ridge High School, will join Josh Eiland (Centralia) and Elliott and Ethan Clary (Yelm) as other local athletes on the SMU team.                                                                                               
Every year, Dwight starts the college season with each athlete telling the group their goals for the year. He also tells them his goal, one of which is to beat all of them in a conditioning drill exercise over the course of the upcoming year!  As a 67-year-old grandfather of 7, that may seem like a difficult goal, but Dwight typically stacks the deck a little in his favor by conducting the drills he participates in at the end of the practice when they are all tired and worn out. For the last four years, Dwight has always achieved his goal a few times over the course of the year.           
This year his goal will be the same, beat every one of his college athletes in at least one conditioning drill. But this year, it will be more difficult for Dwight because he was diagnosed with Cancer and underwent major surgery in April to remove it. Unfortunately for Dwight, the cancer spread outside the organ it was discovered in. He is now undergoing Chemotherapy every two weeks through the end of October 2020. As Dwight says, "Chemo for Cancer is not fun, but I plan to beat it and continue coaching for a few more decades.  I also plan to beat my athletes this upcoming year in a few conditioning drills or die trying, LOL".                                                                                                                     
Never bet against Dwight Midles. He is a man on a mission who has proven over and over again that he is a champion in every sense of the word. We are praying and pulling for you, Dwight! What an amazing career you've had to this point! We can't wait to see the champions you will help create in the future. You are an inspiration to all of us.     
Blessings,
Coach Weber 
Philippians 4:13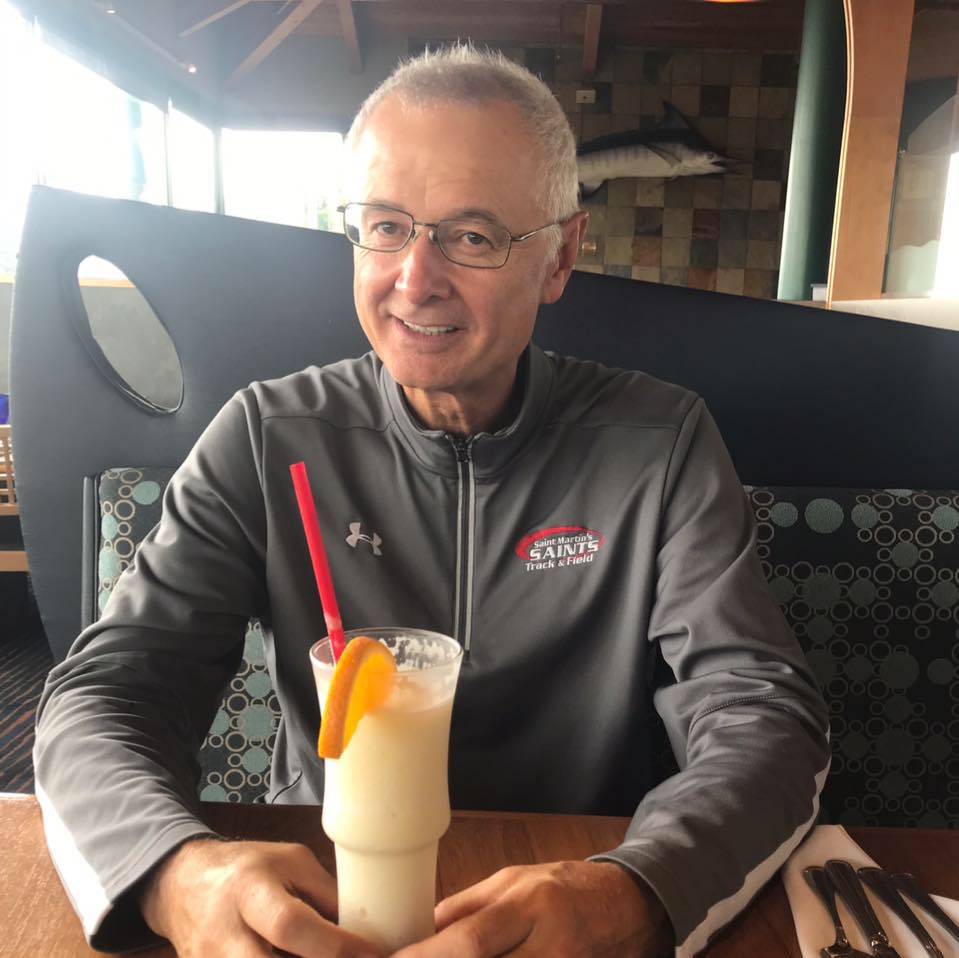 Dwight Celebrating
                            Dwight with one of his athletes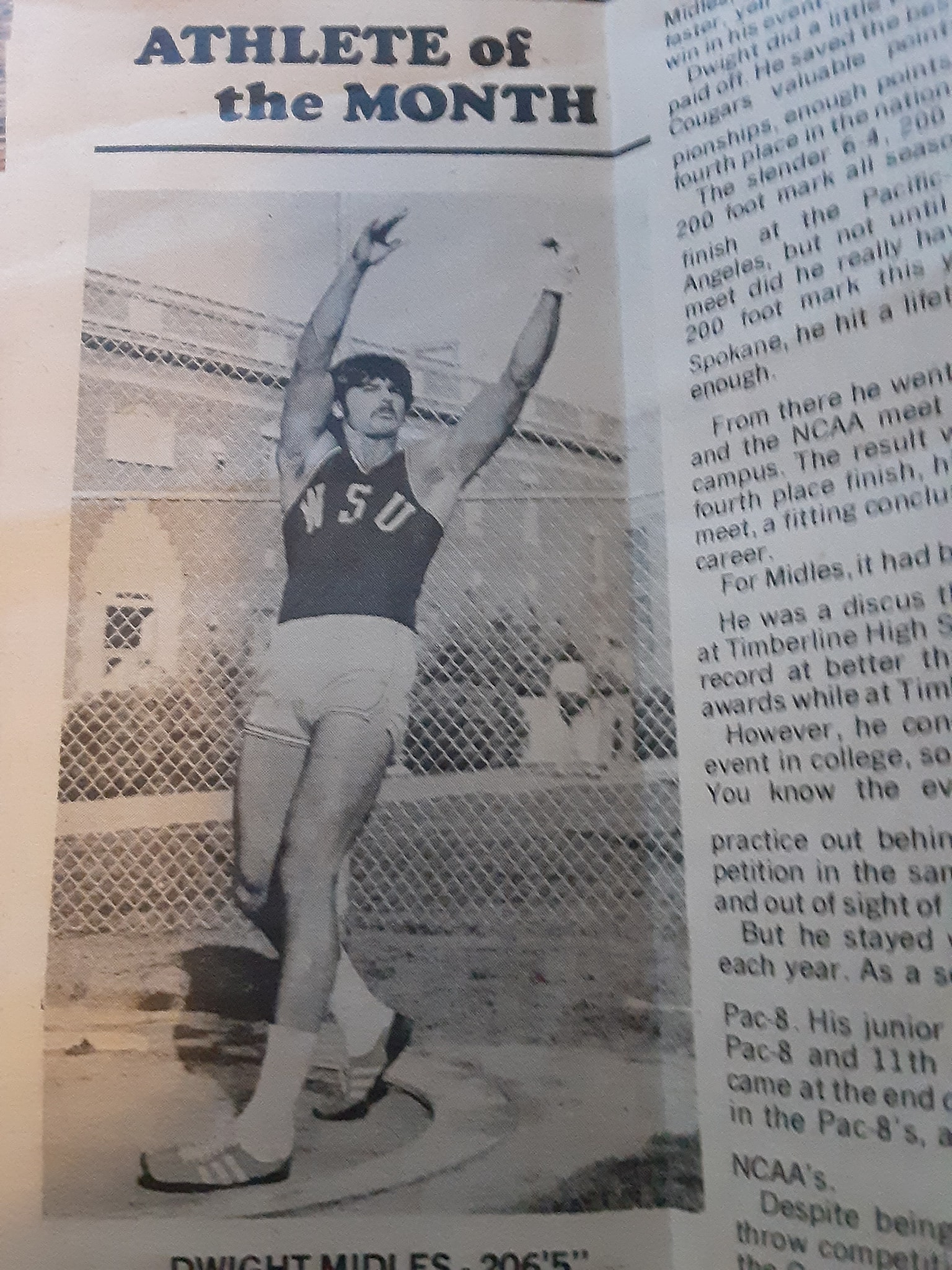 Dwight throwing for WSU and winning the athlete of the month award back in the day