Thurston County Running and Track and Field: The Top Influencer In Thurston County Running And Track and Field History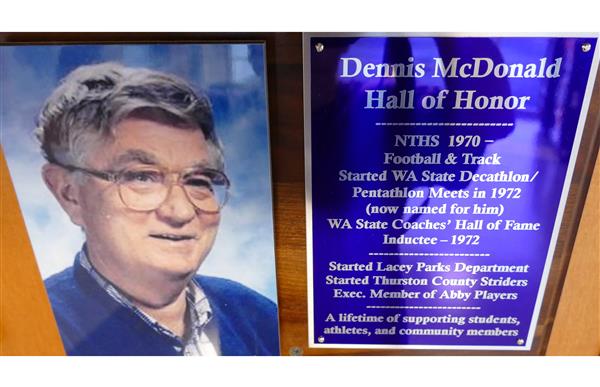 I saved this article for the last day of Thurston County Running and Track and Field History month. This award is the highest honor I can think of to give someone who spent a lifetime serving others in our sport.                   
My selection for the all-time top influencer in Thurston County Running and Track and Field history was selected for multiple reasons. First, he was the T.C. Striders Track and Field Club director with many of the best all-time performances in Thurston County History, the state, and nationally.   
Coach McDonald also created several first-ever events in our community and the United States. His first-ever events are part of why he is in the Washington State Coaches Hall of Fame.
Most importantly, Coach McDonald's legacy continued long after he passed from this world. Many of the people he helped along his journey became coaches themselves and have gone on to help others in many different ways. 
They say that the actual test of leadership is what the people you mentored or set an example for did to help and serve others once you are gone. Coach Dennis McDonald fulfilled this demanding criterion for long-term success on all accounts.         
The more detailed reasons that Coach McDonald is my pick as the top track and field and running influencer in Thurston County History are below.
Coach McDonald was the creator of first-ever events and organizations locally and nationally.                      
The Thurston County Striders Track and Field Team (T.C. Striders) team won state titles consistently in summer track meets when clubs competed against each other during the summer Track and Field season.  Many athletes in the club either placed in state championships or national competitions, including national high school or college level champions. The club system of that era was outstanding. The striders were based in Lacey, Washington, and had student-athletes from all area High Schools.
Coach McDonald also founded the Washington State High School Decathlon and Heptathlon Championships. The Decathlon and Heptathlon (Pentathlon back then) was the first high school championship in the United States. Other states followed McDonald's lead. Several of the first national high school decathlon champions hailed from Washington State partially due to the innovative state championships located in Lacey, Washington, that McDonald founded.
Coach McDonald founded the Lacey Parks and Recreation Department as well. The first organized activity of the Parks Department was the founding of the Thurston County Striders Track and Field Team. 
Along with his wife, McDonald also created various first-ever swimming and Synchronized swimming events in the area during his excellent coaching and event management career.
Coach McDonald also served for many years under the leadership of another coach Brian Anderson, during the regular high school track and field season and at the height of the T.C. Strider's success. He was busy coaching or organizing some events all year long.
Many of coach Mcdonald's athletes in the T.C. Striders became Coaches themselves, and their area records still stand today decades later.
The Thurston County Striders produced more summer track champions than any other program in the history of our area. Some examples of athletes who competed for the T.C. striders are below. 
Patsy Walker went on to win the heptathlon at Division 1 national collegiate championships. Also, Patsy made the USA World Championship Track and Field team in the heptathlon. Patsy competed for UCLA and the University of Houston. Patsy Walker amazingly beat Olympic Gold Medal Heptathlon winner Jackie Joyner Kersee at one time and was the U.S. Olympic team alternate in the heptathlon. Her school records and some state classification records still stand 43 years later.
At Yelm High School, Patsy Walker-Pointer won the Girl's state track and field championship all by herself! She is one of the few athletes in America to win a school state championship all by herself. Patsy was inducted into the Washington High School Hall of Fame in 2018.  
Patsy competed for the T.C. Striders each summer under the leadership of coach Mcdonald and her event coach Mr. Modris Petersons. Patsy, of course, like other athletes on this list, developed their skill set under their area high school coaches at the time as well. Don Backman was the coach at Yelm when Patsy became an award-winning athlete. 
Patsy is a Washington State High School Track and Field Hall Of Fame member.
The best man at our wedding, Bryan Hoddle, became a world-class coach after winning the state 400-meter championship during his high school years. Bryan coached too many high school sprint state champions to count and served as the United States Paralympic Track and Field Team coach. Bryan served as an assistant coach on the USA World Junior Track and Field Team. Bryan is still on the all-time Washington State High School 400-meter last, 43 years later. Bryan was also named a person of the year by Runner's World Magazine for his work with soldiers and Paralympic Athletes.
Bryan has coached Paralympic athletes to world records and still works with wounded warriors across the United States in his retirement years in Arizona. He is recognized as the "soldiers coach by the national veteran community. Bryan also educates pro football players who want to improve or maintain their speed and trains coaches nationwide in sprinting, hurdling, and jumping.
Charlie Shugart became one of the best high school pole vault coaches in the state and nation. Charlie has quietly been doing great things for pole vault specialists for decades now. He has helped Zach Shugart (University of Washington Pole vault star) since the 6th grade. He was vaulting around 17 feet several years ago now.  Three of the kids' Charlie coached in high school competed for the University of Washington. He has sent student-athletes to Duke and Baylor as well. Charlie pole vaulted for the T.C. striders and also sprinted on our team.
Jeff Ramsey won the national Junior Olympics running in the low 47s for 400 meters back in the '70s. Jeff was a state 400-meter champion who still holds the Olympia High School record for 400 meters after all of these years. Jeff went on to place fourth in the NCAA  Division 1 600 meter indoor championships while competing for Washington State. Jeff is back in the Thurston County community after living out of state for many years. Ramsey ran the 100 meters, 200 meters, and 400 meters for the T.C. Striders.               
Ramsey is a member of his high school Hall Of Fame.
Janet Henrich (Knight now) from the Thurston County Striders and Olympia High School married North Central High School (Spokane) coach Jon Knight. North Central has won more state 3A boy's cross country titles than any other school in Washington State History and won a national championship. N.C. also holds the all-time boy's consecutive state cross-country championships at 11 titles. Janet is a part of that excellent coaching legacy at North Central as she supports the program and her husband, Jon.
Janet was a star 400- meter hurdler (she would have qualified to run in the 400-meter hurdles at the National Junior Olympics, but the event was not in the Junior Olympics at the time) in her days with the Striders. She ran great times that would still win meets today. Her daughter Katie Knight became one of the best high school distance runners in Washington State High School history. Katie ran in the 15s for 5k in college and in the low 17s on the state  5k cross-country course in high school. 
Wayne Christensen was a star pole vault champion who competed with Patsy Walker at Yelm High School. Wayne went on to coach Washington High School teams at Tumwater, Yelm, and Rainier High Schools. Wayne coached state champions and many state placers. Wayne currently coaches in Arizona after retiring from teaching in Washington State. Wayne has coached High School Track and Field for nearly 40 years.
Larry Weber finished second in the nation in the 800 meters (880 yards back then) at the National Junior Olympics, beaten only by a national record at the time.  He ran the fastest time in the nation in the steeplechase for his age and the fastest time for his age in the 1500 meters in a Decathlon in America. His time in the Decathlon was the sixth-fastest time in the world by anyone, regardless of age, when he was 17 years old. His 1:51.7 800-meter high school time set 46 years ago still stands as the Thurston County record. He was Washington State Champion in the event. 
Weber became a two-time Big Sky 800-meter champion, collegiate conference and school record holder, USA Track and Field Championships competitor, and winner of the Original Ultimate Runner Competition (10k, 400 meters, 100 meters, a mile, and marathon, all on the same day). As a coach, he has coached Twelve Washington State High School Cross-Country Team Championships and was named Washington State High School Cross-Country coach of the year five times.  Weber has coached athletes to the U.S. Olympic Trials and currently coaches two Kenyan 800-meter runners with lifetime bests of 1:44 and 1:46, respectively. He started with the Striders in elementary school.                                     
Weber is part of his high school Hall Of Fame.
Russ Armstrong threw over 230 feet with the old javelin in high school. Armstrong threw the old javelin threw further than any other athlete in Thurston County History. He was the best javelin thrower in our era with the striders and one of the best high school throwers in the United States. I remember Russ throwing many nights hard at summer practice.
Julie Shattuck was a high jumper on our summer track team who competed in the high jump for NCAA Division 1 Washington State University. Julie shared her passion for track and field, including the high jump, with her son Dion. Dion became a Division 1 High Jumper and Decathlete at the University of Arizona. Julie resides in California now and still runs road races for fitness.
Jenny Dunn, daughter of legendary local Olympia football coach Bob Dunn, was a top sprinter on the T.C. Striders for several years. The great coach Modris Petersons' daughter, Astrida Petersons, also competed for the T.C. Striders.                        
Craig and Sean McDonald, Coach McDonald's sons, were also a part of the Striders team at one point or another. Sean went on to teach and coach High School Track and Field as a profession.
Sean is a successful high school track and field coach. Sean remembers being at practice almost every day with his dad. His dad's influence got Sean into coaching. There is no higher praise from a son to a father than that. When you talk to Craig, Sean, or sister Tori, their love is apparent for their dad.
Devin Brown placed third in the National Junior Olympics in the long jump. Devin went on to compete at Oregon State, jumping over 25 feet back in the late '70s. He was one of the best in the country during his day. His 25 foot plus long jump is still one of the best jumps in Thurston County history as a collegiate athlete.
Brown is part of his high school Hall Of Fame.
Dwight Midles was a great collegiate athlete and finalist in the hammer throw at the USA Olympic Track and Field Trials. He is the highest placing field event athlete at the U.S. Track and Field Trials in Thurston County History. Dwight has helped many athletes qualify for the NCAA Track and Field Championships in the throwing events. 
Dwight has helped an incredible group of throwers in our area and has coached state champions and national best throwers. Dwight is also in his high school Hall of Fame. Dwight's children became state champions/state-ranked and nationally ranked track and field athletes.  Dwight's son and daughter still hold the Thurston County records in the hammer throw.
Dwight Midles is in his High School Hall of Fame and continues to coach at Saint Martin's University, where he has helped athletes qualify and place in national competitions.
Midles is part of his high school Hall Of Fame.
Greg Champlin longed to jump nearly 24 feet in high school and almost made the Seahawks a wide receiver without ever playing college football. He was also a great college basketball player.
After forty-plus years, Champlin still holds the long jump record at Timberline High School. His record set in 1973 is the oldest field event record in Thurston County History. He is also a member of his high school's Athletic Hall of Fame. He long jumped and ran the sprints for the striders for a short time.
Champlin is part of his high school Hall Of Fame.
Ed McCallister went on to run the 400-meter hurdles for the University of Washington. He still holds the school record in the 4x400 meters with his teammates at his high school after 45 years.
John Schultz, the great former Centralia High School football coach, and one of my best friends in high school, became one of the best throw coaches in the state, if not the nation. I was at John's wedding party decades ago. Coach Schultz has one of the best win/loss records in Centralia High School Football history. His team finished the second year in the Tacoma Dome at the state football championships.
Schultz's son was the national champion in the hammer and was a collegiate All-American. His daughter was one of the best in the nation in the hammer throw. Coach Schultz is a member of his high school Hall of Fame.
John was an Honorable Mention All-American football player during his college years. He became a high school principal and administrator and is now retired but still helps out at a local high school in football and a local University in track and field.
Schultz is part of his high school Hall of Fame.
Paul Kelly was a national collegiate hammer thrower qualifier who has helped coach area throwers for decades now. Paul placed in the top ten in the nation twice as a collegiate athlete in the hammer throw. Paul was a  dedicated coach who helped many athletes reach their potential. Paul is a member of his High School Hall of Fame. Coach McDonald personally got Paul involved in the sport of Track and Field. Paul passed away in 2021.
Ken Pitman is another throw coach who has coached for decades now. In 2019, Coach Pitman coached Washington State Shot Put Champion Tim Sellars at Pope John Paul II High School in Lacey, Washington. Tim threw further than any shot put thrower in his state classifications history.

Wrapping it up
It was fantastic to train and race with friends from other high schools in our area with the T.C. Striders. There were some great friendships and bonds created during those years that still exist today. Those friendships would have never happened without McDonald's Leadership and commitment to students through the many events he founded and managed.
We had a lot of fun in the summer months together yet worked hard each night at practice. All the coaches on the summer team of that era were very dedicated to our success. They ran us around the state in their cars and vans many times at their own expense. Many of my best life memories resulted from participating with the T.C. Striders Track and Field team.
The athletes on the T.C. Striders Track and Field club left a significant footprint in Thurston County athletic history partially due to the summer programs and other activities like the state decathlon/heptathlon organized by Head Summer Track and Field Coach Dennis McDonald.   
Thanks to his summer coaches, Mr. Modris Petersons and Mr. Bill Collins, for spending all of those summer nights helping us reach our God-given potential as well. We will never forget any of you. You live in our hearts and minds. You all helped coach and develop one of the most outstanding summer track and field programs in Thurston County and state history.
Many other athletes made their mark on the track or roads during the Mcdonald's era. I will add them later to the T.C. Strider All-time best performers list.
Well, maybe a few final thoughts...
At a minimum, some track or athletic complex in our area needs to be named after Coach Mac. He indeed influenced the lives of others for the better, forever. His influence was far-reaching, as described above. His legacy is intact through the work of others who now carry the torch handed off from him to each of us.
Coach McDonald deserves nothing less.
Blessings,
Coach Weber
Philippians 4:13