The Greatest Male Runner in Thurston County History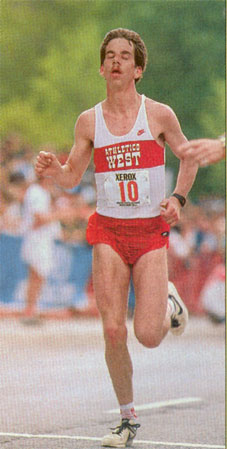 Dave Gordon near the finish line of his great Olympic Trials Marathon run
Photo Credit: Unknown
He was my teammate at the University of Montana where he was an All-American. He went on to become the first American finisher at the Boston Marathon one year. He made the USA world championship team in the marathon and finished about nine seconds from making the U.S. Olympic marathon team.                  
Dave Gordon is the best male runner and track and field athlete in Thurston County History. He has gone further than any runner in our sport in the history of our community. 
Dave Gordon's marathon time of 2:11 is still the fastest marathon time of anyone in Thurston County running history. So is his 10k time.                                         
One year, ABC wide world of sports highlighted Dave Gordon as one of the elite marathon runners in the United States. It is rare to have someone from our community highlighted on the national stage.
Dave is a graduate of Capital High School in Olympia, Washington, and still lives in the Olympia area. When we ran together, Dave only had one gear, fast.
Dave was the Olympic team alternate in the marathon and had a PR of 28:14 for 10,000 meters on the track. Dave also ran 13:41 for 5k on the track. He was an NCAA Division I All-American in Track and still holds the all-time marathon and 10,000-meter records in our area after more than 30 years.   
Even though Dave ran at such a high level in the marathon, he is rightfully proud of his 13:41 5k as well. Dave acknowledges that he was much more of an endurance runner with limited speed. To run a 5k so fast with limited raw speed is another one of Dave's incredible accomplishments.
On somewhat of a side note, we had an amazing middle and long- distance team at the University of Montana during the coaching era of Marshall Clark. Dave had some great training partners at Montana most notably Tom Raunig who ran 28:24 for 10k and 2:12 for the marathon. Running with a guy like Tom no doubt helped Dave's development as a world class runner. Dave also had some good coaches over the years to help him reach the world class level as well. 
Marshall Clark was the head cross country coach at Stanford University for many years before becoming the head coach at Montana. He coached marathon Olympians Tony Sandoval and Don Kardong when they ran at Stanford.                 
Our cross-country team at Montana included Dave who ran 2:11 in the marathon, Tom Raunig who ran 2:12 in the marathon and in the 28's for 10k, and Mike Brady who ran 2:15 in the marathon. Five of the top runners on our team in that era eventually ran in the 29's or under for 10k on the road or track.
The great coach Bob Sevene also played a key role in Dave's success during his post-collegiate years.
Dave finished ahead of Boston Marathon champions Bill Rodgers and Greg Meyer at the 1984 U.S Olympic Marathon Trials. For those of you who don't know, Bill Rodgers was a four-time winner of the Boston Marathon! Dave also finished ahead of 1980 Marathon trials winner Tony Sandoval in his 1984 trials race.  
While Dave just missed the Olympic team finishing fourth, our University of Montana teammate Tom Raunig was also in the mix, finishing tenth in the same Olympic trials marathon race. It was pretty cool for Dave to run with Tom at Montana and also on his Post-Collegiate team, Nike's Athletic West Pro club.
After Dave's incredible running career, he became a national class cyclist. Dave is still active in the biking community. More importantly, Dave is an amazing person and a great guy. His legacy will inspire future runners in our area for years to come.
Blessings,
Coach Weber
Philippians 4:13
The official results from the 1984 Olympic Marathon Trials are below. Dave missed the U.S. Olympic team by a mere 9 seconds. He served as the Olympic Team alternate and was ready to run in the Olympics if anyone on the team was injured. 
1. Pfitzinger, Pete (NY) 2:11:43   2. Salazar, Alberto (OR) 2:11:44   3. Tuttle, John (GA) 2:11:50   4. Gordon, Dave (OR) 2:11:59   5. Matthews, Dean (OR) 2:12:25   6. Sandoval, Tony (NM) 2:12:41   7. Meyer, Greg (MA) 2:13:29   8. Rodgers, Bill (MA) 2:13:30   9. Vega, Sal (NM) 2:14:18   10. Raunig, Tom (MT) 2:16:02   11. MacDonald, Duncan (HI) 2:16:56   12. Hinz, David  2:17:18   13. Avrit, Doug  2:17:45   14. Weidenbach, Bill (WA) 2:17:45   15. Wills, Herb (FL) 2:17:54   
You can watch Dave at the 1984 Olympic  MarathonTrials Race in the link below.
https://www.youtube.com/watch?v=2waANko4YLg&fbclid=IwAR0_QvF92rJdPoulTMoRSz5yJGh7qP10ht-8GGPHSIfn_Z-QRzqjZztdakw

Note: Thurston County is located in the State of Washington about 60 miles south of Seattle.

Copyright Larry Weber 2020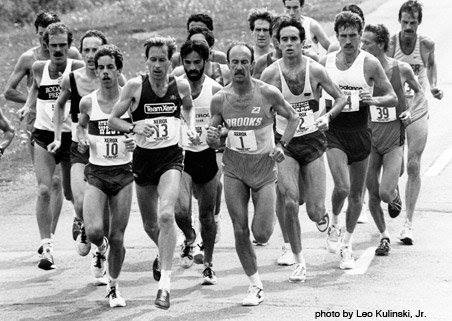 University of Montana and Athletics West star Dave Gordon is number 10 in this picture. Dave finished ahead of Bill Rodgers, Greg Meyer, and many other great runners in the U.S. Olympic Marathon Trials. He just missed making the Olympic Team by just nine seconds. Dave's University of Montana teammate Tom Raunig was tenth in the same Olympic Trials race. Dave is from Olympia, Washington.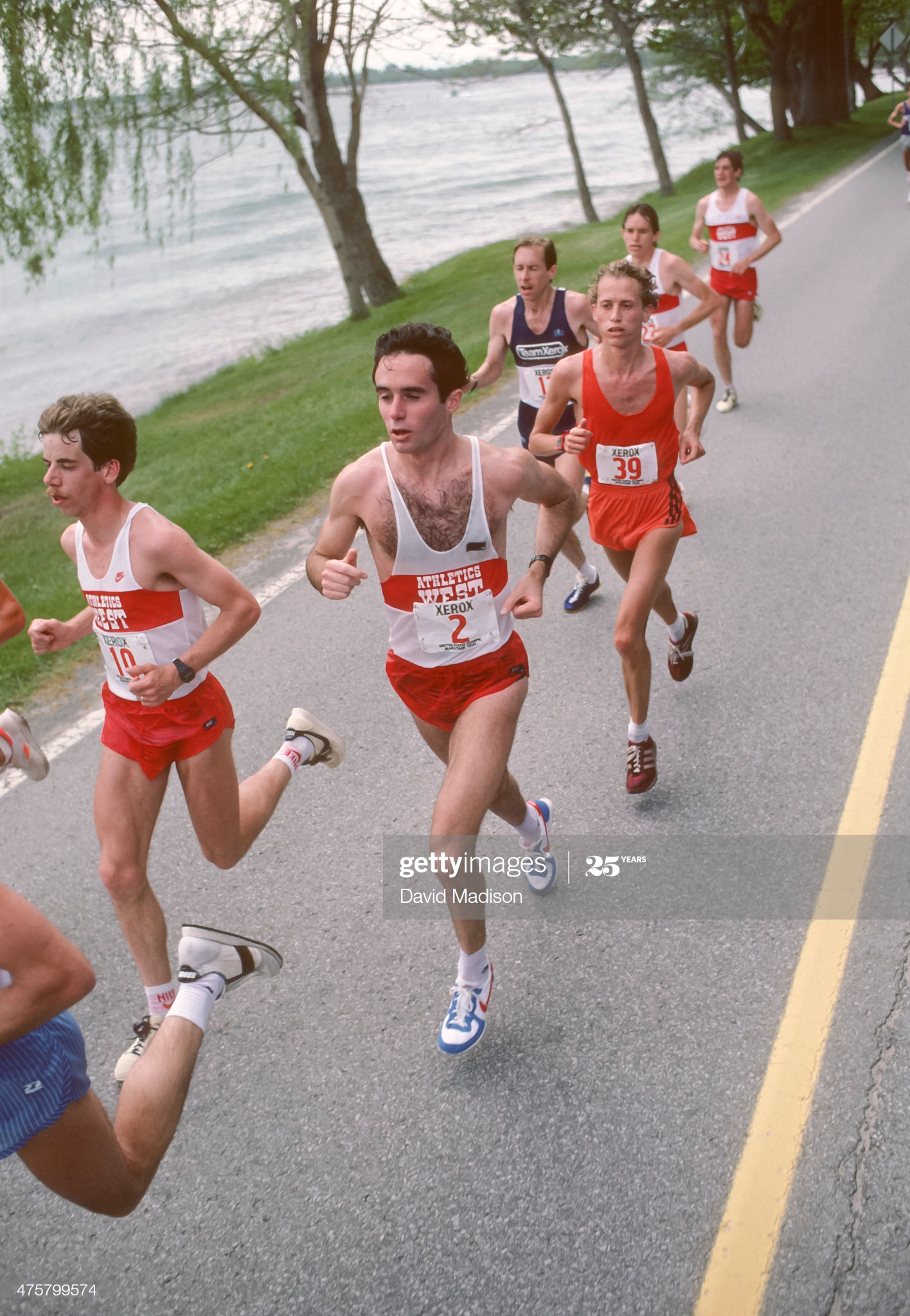 Dave (number 10) in the lead pack at the Olympic Trials with running legends Tony Sandoval, Bill Rodgers, and Alberto  Salazar among others.
Photo Credit: Getty Images, David Madison
One more great shot of the lead pack in the 1984 U.S. Olympic Marathon Trials.
Photo Credit: Unknown (possibly David Madison but the photo is not labeled)
Bob Sevene and Dave Gordon in Eugene discussing a workout.
Photo Credit: Nobby Hashizume, Five Circles