Unjust Criticism Is Part Of The Deal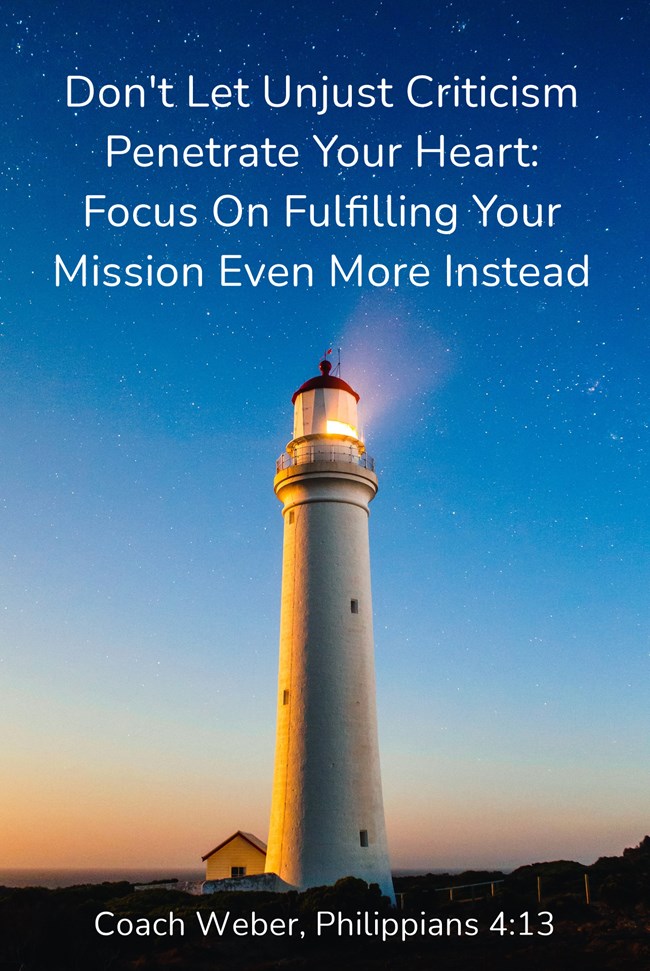 When you are successful and do good in any endeavor,  you'll attract some enemies and critics, guaranteed. This seems to be a universal rule for all professions.
Sometimes, the people who criticize or oppose you are people inside your organization. Other times these challenging folks are external to your organization or team. I've had both sets of critics, internal and external, along my journey. And so will you.
The reasons for the attacks by your critics vary. Still, usually, the grounds include a lack of understanding about your role,  envy, jealousy, loss of control, not seeing what you do as a priority, pride, arrogance, or sometimes the unfair critic is just overly legalistic in their approach to life. Fear and anxiety drive their decision-making or leadership style. 
Sometimes unfair treatment is a combination of some or all of the abovementioned factors. Regardless of why you are attacked, the best strategy to respond to your critics is usually the same. Before I get into solutions to handling critics, I need to mention one crucial point.
Always listen to constructive advice from well-meaning people who have proper motives and genuinely want to help you. Just never let the gossip or lies of your critics and enemies pierce your heart.
Then, how do you handle undue criticism, slander, and backbiting from your critics?                                    
Let me share a story to illustrate how to approach the people who try to take you down in life.
David would only be known as a Shepard boy without Goliath stepping in front of his path. Sometimes an enemy or unfair critic is brought into our lives to move us closer to God and our destiny. All things work together for our good.           
Your critics and enemies can bless you through their unfairness, gossip, slander, or undue criticism. Let them bring out the best in you, not the worst in you. Don't let them push you down. Rise to new levels for the greater good.

Everyone has Goliaths in their life path. The greater your dreams, the more Goliaths will show up in your life. Light a new fire, get a backbone, and still serve others regardless of the hurdles that stand in your way.
Your critics and enemies should fire you up in the right way. Never go for revenge, don't entertain bitterness, forget the pride and self-serving goals. Your enemies and critics can give you something much better and sacred.
Your critics and enemies should give you the holy determination to get even better, to touch more lives, and to go where no man has ever gone before. These folks can bless your life by pushing you into a new and even more meaningful life story. In other words, intentionally do good to counter the bad done by unfair critics and enemies. 
You need to think about writing a check to your critics and enemies! They are doing you a huge favor. Their opposition makes you stronger, more determined than ever, and more daring than ever before.
Forget the pity party. Jump into new dreams, create new hope and love, and find ways to help and bless others like never before within your mission in life. Pray for your critics and enemies. However, let them motivate you to do more incredible things within your mission and life purpose. Turn what was intended for evil into something good.
Let the evil or poor decisions of your critics and enemies motivate you to do the right things regardless of the short-term curve balls thrown by them at you. Do what you know is right and good without reservation. Create even more meaningful goals to offset the negative actions created by critics and enemies. 
For every adverse action created by your critics, there is an opposite good positive reaction that will transform lives for the better, forever. Spend your time and energy identifying the most favorable solution to your critic's negative stance in life.
And yes, you sometimes suffer at times for choosing to do good during unfair situations. Unjust criticism is part of the deal in life, no matter how hard you try to do the right thing. The test is always how you respond to an unjust situation.
Choose to do remarkable things in life during an unfair battle. Let your purpose and mission win over your short-term frustration and disappointment with critics and enemies.
Blessings,
Coach Weber 
Philippians 4:13
                                        My Favorite Quote About Critics