The Journey of Connor Johnson: He Has Only Just Begun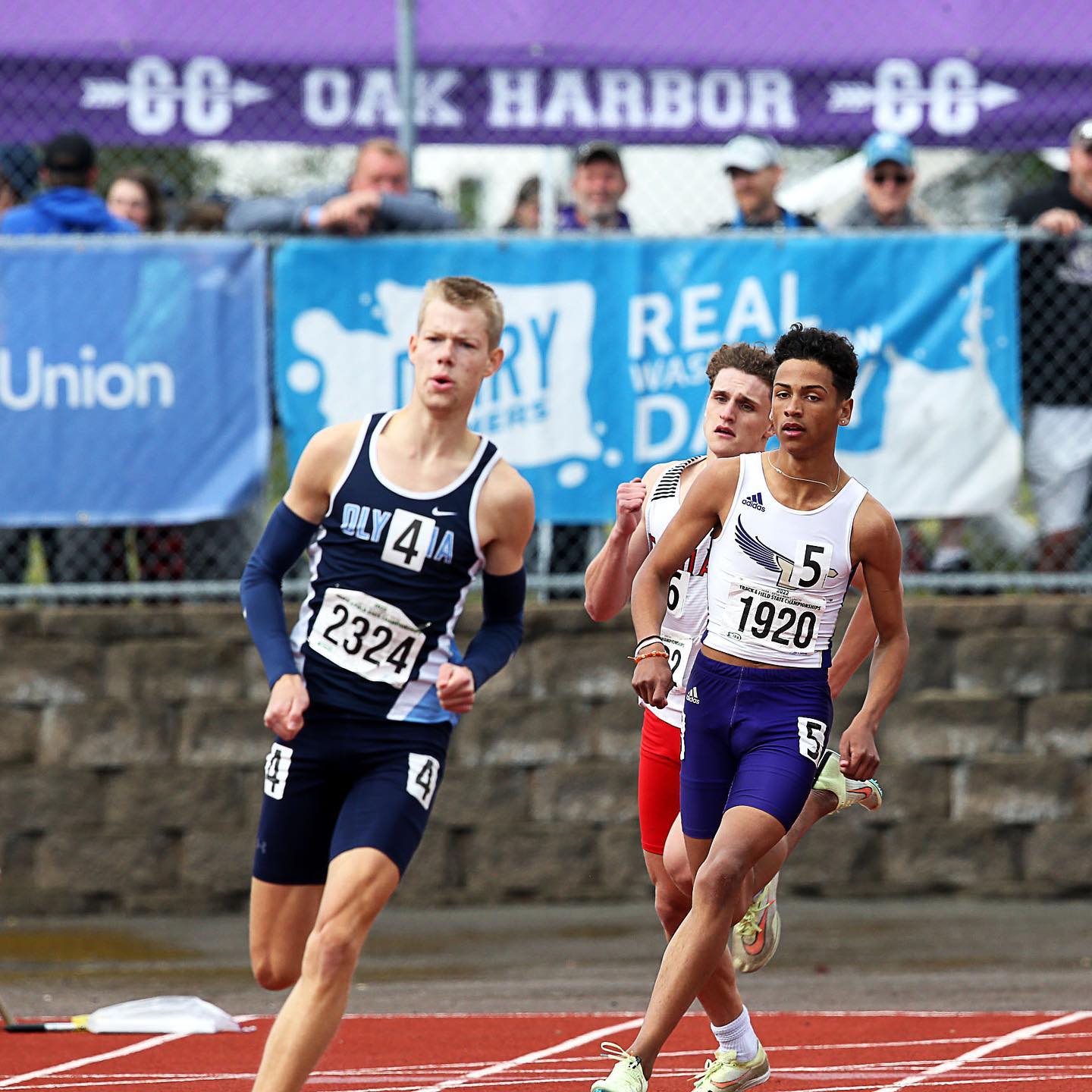 "To Do Less Than Your Best, Is To Sacrifice The Gift"

-Steve Prefontaine
Background
As a coach, you meet a student-athlete with incredible untapped talent waiting to surface once a decade or so.

The student-athlete typically tries track and field or cross-country late in their high school career because they were involved in other sports growing up. If you are truly blessed as a coach, you can see a glimpse of national and possibly world-class potential waiting in the wings.
Along with great talent, you may also see an off-the-charts work ethic, a coachable athlete, and much more importantly, a wonderful human being who is polite, thankful, bright, other-centered, and an all-around great person.
All of these things describe a wonderful young man named Connor Johnson. Remember that name.
Connor is the definition of Steve Prefontaine's quote mentioned above. He leaves it all on the track. Connor just completed his Junior year of high school and his first full season of Track and Field.
I work with Connor Johnson in the off-season. I told Connor in the off-season before the track and field season last spring that I thought he could run 48.6 in the 400 meters in his first full year of track and field.                                                                                               
He looked a little funny after I told him about his first-year potential.  I am not saying he did not believe me, but it seemed like quite the stretch goal to him then!
Connor went on to win the 4A title in the 400 meters in his first entire track season in 2022.                                                                       
He ran 48.6 in the Washington State High School Track and Field Championship prelims.  Running a 48.6 PR so soon in his career is pretty remarkable.
What is even more remarkable is his potential in other races as well. Connor can become a tremendous 400-meter Division I runner in college, no doubt about it after watching him run.
However, his long-term potential also includes other races.
Here's why.
Connor played basketball and football during his Freshman, Sophomore, and Junior years. He has never focused on track before. As mentioned, 2022 was his first entire season of track.
Connor has a significant upside because of his inexperience in training and racing. In other words, he is still learning how to train and race. And, he certainly is not burned out. He loves to practice each day.
There is a lot more in the tank in this young man!
The Potential I See In Connor
The scope of my discussion in the rest of this article focuses on Connor's training and race potential in college running and beyond. I hope it is a helpful tool for potential college coaches.
In 40-plus years of coaching at various levels, I have never seen a high school student-athlete with the range of Connor so soon in their career.
400 Meter Progression
Connor's progression since he started running the 400-meters is something like 54, 51, 49, and 48 in the 400 meters. Pretty fantastic improvement in a short time.
With more top-end speed work, Connor can drop his high school times further in the 400 meters before the college years.
Connor's Potential in Other Events 
400 Meter Hurdles
Watching Connor run, and based on my coaching experience at many different levels, it is apparent with good hurdle coaching, he could run well in the 400-meter hurdles.
I coached a master's athlete to an American record and national championship in the 400-meter hurdles. Connor has the raw tools to hurdle.
I can see that Connor has potential in this event with good hurdle coaching because of his coordination and work ethic and because he is a quick study. He picks things up fast.
Fast Time in VO2 Max Intervals
I witnessed Connor's eye-dropping times in longer intervals this summer on minimal training compared to most high school athletes.                                                                                                                   
I have never seen a high school 400-meter runner with the strength of Connor. Connor bumped his overall mileage from roughly 12-15 miles a week during the regular track season to about 20-22 miles a week in June and part of July to test his endurance at 800 meters in practice sessions, an event he had never ran before.
I did not want to give him a lot of miles to kill his speed or injure him after his first entire track season, yet, I wanted to see how he responded to a few more miles a week and to test his potential at 800 meters.
800 Meter Run
I see a similar progression for Connor that he had in the 400 meters if he trains and races against others in the 800 meters.
With just a few weeks of training after the regular season, Connor ran under 1:59 in the 800 meters with no competition in one low-key all-comers meet and looked strong.                           
The film of his finish in the last 100 meters of the low-key event is pretty remarkable. He did not go into any oxygen debt and looked like he could keep going at that pace for at least 900 meters.
He also ran under 2:00 a couple of times in practice by himself when I timed him! He looked like he could run much faster if he had a competition against him. He had a lot left in the tank and finished strong.
Check out the video of Connor running in a local all-comer meet in the last 50 meters of the race when he ran 1:59.
Connor also ran one 800-meter time prediction workout that many 800-meter runners use to project their times.   
Former 1:42 800-meter runner Nick Symonds explains his 800-meter time projection methodology in this video.
Connor ran his 3x400 meter reps with 4 minutes of rest, just like in Symonds's Video. I ran Connor through an 800-meter time prediction workout precisely as described in the video (for those who know 800 projection models, I believe the workout we used is more or just as accurate as the KOSMIN test based on my coaching experience).

Connor ran 3x400 meters with 4 minutes or a bit less rest in 58.21, 56.79, and 56.88. He went out conservatively on the first rep.
Averaging the three reps gives you the time he should be able to run for 800 meters.
Connor projected out in the high 1:54s to high 1:55s in the 800 meters in his current fitness.  We could not find an 800-meter race late in the summer with competition, but with only a few weeks of training, Connor is ahead of any high school athlete I have ever worked with.
As Nic Symonds says in the video outlining how to run this test, the only way to honestly know you can run a specific time is to go out and do it in a race. However, this young man is on the right track to bust one in the 800 meters.                                                 
I hold the high school area record still where Connor lives. I ran 1:51.7 back in 1975.
The record has stood for 47 years. I believe Connor has the potential to break that record if he trained for the 800-meter event. He is a better runner than I was at that age.
Remember, he just finished his first full track and field season in May 2022! Connor will enter his senior year this fall.
Connor's current training times also match top-notch high school 800 and 1600-meter runners in longer intervals on very little base training and with little experience with longer intervals.
Remember, this guy has only run for a year and never ran even a time trial longer than 600 meters until a few weeks ago. 
Key Conclusions

Connor can run Division 1 in the 400-meters college. He will improve further by working on his top-end speed during his senior year. He also seems coordinated enough to learn the 400-meter hurdles if that is a path he and his coaches consider.
Connor can handle more mileage and intensity if he becomes an 800-meter runner in the future. He shows great potential in the event, as shown this summer.
Connor runs most of his short aerobic runs at a 6:30 to 6:40 pace. It is hard to get him to slow down on his short road runs because of his extraordinary aerobic capacity for a "400-meter runner".
Connor ran 3x1000's fast with a minimal training base after the school season, running 3:06 to 3:07 on the first two reps (again, with no experience in longer races, limited mileage, and limited experience running true intervals of  three to five minutes in duration.) This shows Connor has mid-distance abilities even beyond 8oo meters.
College coaches, take note of this young man; wow!
And oh, in addition to his athletic talents, Connor is a 4.0 student!
Connor's most outstanding qualities are not his athletic and academic talents. He is one of the nicest people you will ever meet on and off the track!
Some Final Words
In summary, Connor has excellent potential in several events. He is a rare athlete with speed and endurance mixed into his DNA. 
It's up to Connor, his high school coaches, future college coaches, and maybe even his pro coach someday to match his unique gifts with his best event.                                                                 
I appreciate the opportunity to offer my observations about Connor based on my first-hand experience working with him.
I can't wait to see what Connor and his dedicated coaches decide to pursue in the future. Whatever direction they go, I wish them all the best and Godspeed!
Blessings,
Coach Weber
Philippians 4:13