A Lifetime of Observations, Reflections, and Gratitude from over 50 years of Running and Coaching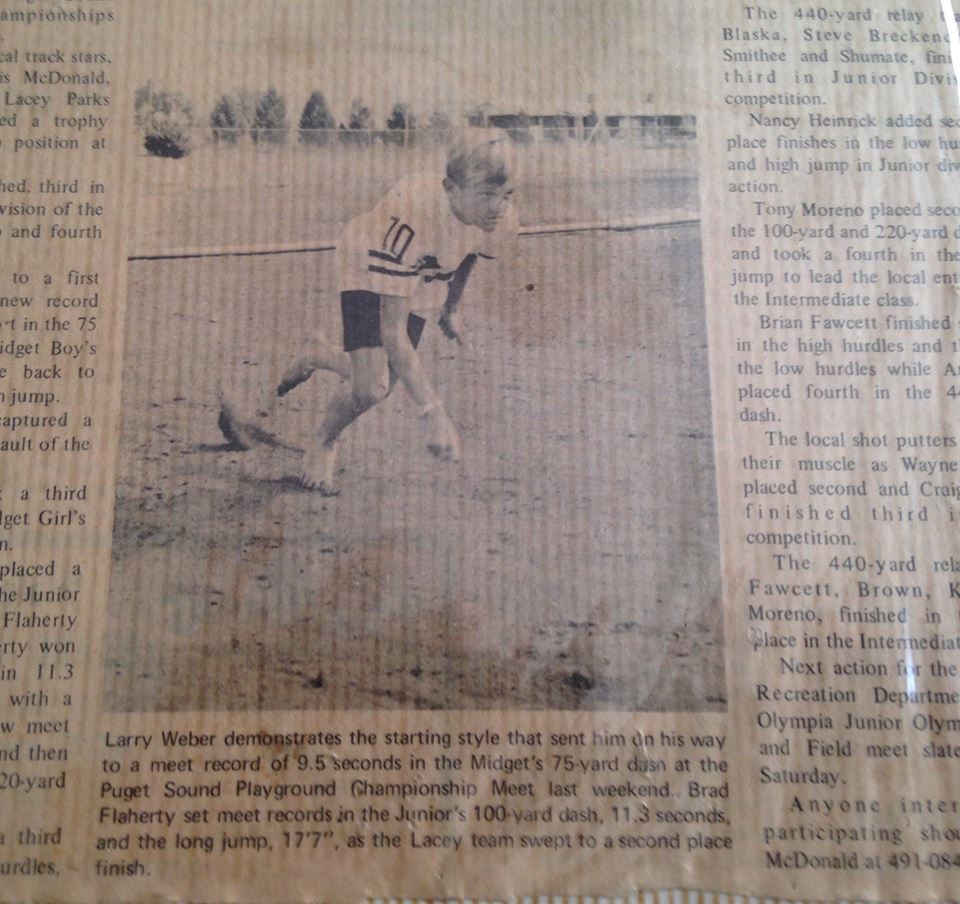 I was ten years old in this picture running with no shoes. It was my first time in the paper as a ten-year old young boy. I still owe so much to those teachers and coaches who invested their time and energy into my life. Thank you!

Introduction
My most important thoughts from over 50 plus years of running and 40 years of coaching are captured in the new book I am writing. I got serious about writing down my thoughts and observations in early 2015 but was never happy with how the writing project was going. I have rewritten the lessons many times. Only a writer will understand why it takes so long to finish a book. Like a work of art, you are rarely satisfied with the finished product.
The pandemic of 2020 gave me the opportunity to slow down and focus on finishing my book. The challenges of the pandemic helped clarify my thinking even more about the most important life lessons I've learned through coaching and running. And, I don't care about striving for the perfect product any longer. The chapters of life are getting shorter. It's time to finish what I started.
Running and coaching have taught me many valuable life lessons over the years. Running is the ultimate teacher, there are so many parallels to everyday life as you will soon see.
My observations and reflections are written more like proverbs and stories rather than a doctorate thesis. My thoughts and observations are organized in simple description headings for simplicity's sake and they are in no particular order of importance.
Each running and coaching lesson stands alone and is important because every running and coaching lesson, translates into a life lesson.
The life lessons I've learned through Running and Coaching excellence do not fit into nice little linear sequential chapters or step by step guides. Life does not work that way. Rather, the lessons learned are more like a smorgasbord of ideas that others can choose from depending on the stage they are in on this journey called life. Many of the lessons I have learned along the way resulted from testing ideas, failing, and getting back up on my feet again.
I've tried to write down the most important lessons I've learned from my running and coaching career in a simple and easy to access way. And, I still have a lot to learn. Therefore, Lord willing, I will update my book periodically as I learn more about this running, coaching, and life journey.
After looking at everything I've written over the last few years, I have enough material for at least a couple of books. I've decided to publish one chapter a week or so of my book in my blog for your review and feedback. You will get to see me finish my book online, in real-time. Feel free to send me comments and suggestions through my contact page. Once I have your feedback, I will make corrections, find an editor, and finalize my book. Carpe diem!
Life Lesson: Sports can alter the course of a child's life for the better, forever
There was a ten-year-old boy who was quiet, reserved, and off the radar to his classmates. In other words, this young boy had few friends and lacked confidence. His demeanor was anything but outgoing and he kept to himself. He was just average or a little below in his school work and rarely participated in school activities because of his shyness. He was not musically or artistically inclined. He had few places to fit in at school.
One day this boy was asked to run in a foot race against the entire school. A teacher encouraged this young boy to give running a try. To the boy's delight, he won his first-ever race by a large margin. His classmates were amazed that this quiet boy who sat in the back of the class could run that fast. In fact, they picked the boy up and carried him around the playground that day as a respectful and encouraging gesture.
A teacher at the boy's elementary school noticed his talent and got him connected with an area summer track coach after contacting the boy's parents. His parents had the foresight and vision to sign the boy up for a summer track program that ended up being a life-changing experience.
The boy's grades started to pick up due to his new-found confidence and he also started to come out of his shell. The elementary teacher, his parents, and the summer track coach recognized and encouraged this young boy's God-given talent and the rest, as they say, was history.
The boy went on to become a state track and field champion, and finish second in the United States National Junior Olympic Championships in Ithaca, New York.
From there the boy went to college that was paid for by athletic and academic scholarships. He became the first child in his immediate family to go to college, he graduated with honors and won an outstanding student-athlete award his senior year in college. And, he became a nationally ranked runner winning various collegiate conference titles and later as a post-collegiate runner, he won one of the toughest races in the world.
You see, the boy in the story is me. The caring attitude from some of my past teachers and coaches who helped me as a child is the main reason why I'm still involved in Christ-centered  coaching today. 
The life lesson is clear. Don't ever underestimate the power of good teachers, coaches, and other educators who help change lives for the better through sports. 
There are a few moments in life that truly change your life for the better, forever. Some people call these moments, moments of truth. One small moment like winning a simple race can alter the course of a life in amazing life-giving ways.
I am incredibly grateful for the coaches of my youth who saw something in me that I did not see in myself. When someone truly believes in you, the sky is the limit. All things are possible for those who believe. Sometimes it takes someone else in our journey to help us believe and find that one thing that will unlock our God-given potential.
Sports are super important for many kids. Sports help unlock the potential of many kids that is simmering just below the surface of their lives waiting to be released. Like education, sports change lives for the better, forever.   
There are many young people out there who are still waiting to unleash their gifts. I want to continue to be one of those coaches who helps a child discover what they are capable of doing in life. It is my way of paying forward what was so graciously given to me decades ago.
Questions for prayer and reflection
1. How can positive sports experience change a child's life for the better, forever?
2. Where are the programs located in my community that can best help my child best reach their God-given potential in all areas of life?
3. How can sport experiences improve and support academic pursuits?
Read Philippians 4:13 to learn more about reaching your God-given potential