Hard Work Pays Off For Catelin King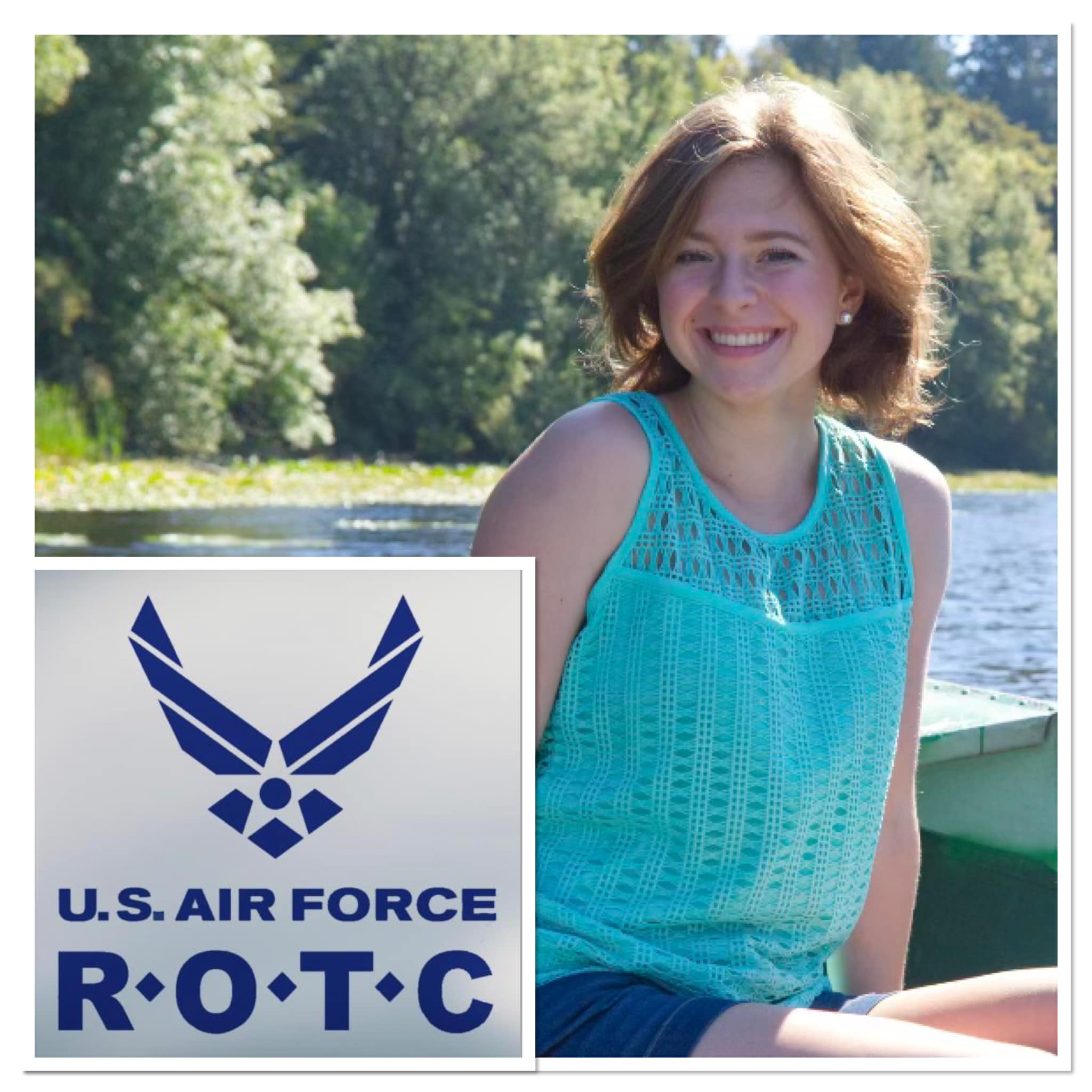 Catelin King had a stellar career at JPII, which helped her earn the U.S. Air Force ROTC scholarship.
She worked hard in the classroom, did exceptionally well on the track, and is one of our leaders at school and on the field.
All that hard work has paid off for JPII senior Catelin King.
Catelin was recently awarded a 4-year Air Force ROTC College Scholarship.                                                                                                           
The scholarship can cover up to $200,000 to $250,000 in tuition at the schools Catelin is applying to and other costs, which include Rose-Hulman Institute of Technology, known as one of the top engineering schools in the nation, The University of San Diego, the University of Washington, and The University of Portland.
There are only 300 projected recipients of the type of scholarship Catelin received nationwide.
Applicants must undergo a rigorous interview process, have strong GPA, SAT, and ACT scores, and demonstrate significant physical fitness and participation in school activities.
Catelin gets high marks in all these areas.
Here are just a few of Catelin's accomplishments throughout high school that helped Catelin attain her scholarship.
Academic
Catelin has a tremendous academic record in a college prep school. Catelin has a perfect unweighted GPA of 4.0 with a weighted GPA of 4.532.
Catelin is in the National Honor Society, participates on the school knowledge bowl team, and is a JPII Stellar Xplorers team member. 
Catelin was also a member of two Washington State Academic Championship teams in Cross-Country. The average team GPA for the Pope John Paul II state academic champions was 3.96 in 2021.
Athletics                                                                               
Catelin is a varsity member of our cross-country and track and field teams. She is one of the leaders on our State Championship Cross-Country teams.                                                                                     
Catelin was part of our school's first-ever state championship cross-country team in 2019 and followed that accomplishment with a second consecutive state cross-country championship in 2021 (no cross-country state championships were held in 2020 in Pasco, Washington due to COVID).                                                         
The JPII cross-country team won their third straight state championship during Catelin's senior season in 2022.
Catelin also led our school's first-ever state championship track and field team in the spring of 2022, where she placed second individually in the 3200 meters. 
Volunteer Work
Catelin is a humble servant-leader who gives back to our community. She serves as a volunteer at a local food ministry at a local Church, sews masks for those in need, helps with toys for tots, and even has done voluntary landscape cleanup on the school campus and soup kitchen. Catelin also serves on the high school ASB team and is the student lead for campus ministry.
Catelin continually serves our community in significant ways day in and day out.
Character
Catelin's great character is probably best demonstrated when she suffered adversity during the 2022 season. She is an overcomer who helps others in inspirational ways, even during personal disappointment.
I highly recommend you read Catelin's story in the post here: Catelin King Overcomes
Catelin thanks everyone who has helped her in her journey but especially mentions the love and support of her parents as most important to the success she has experienced.
Congratulations, Catelin; we are so very proud of you!
Blessings,
Coach Weber
Philippians 4:13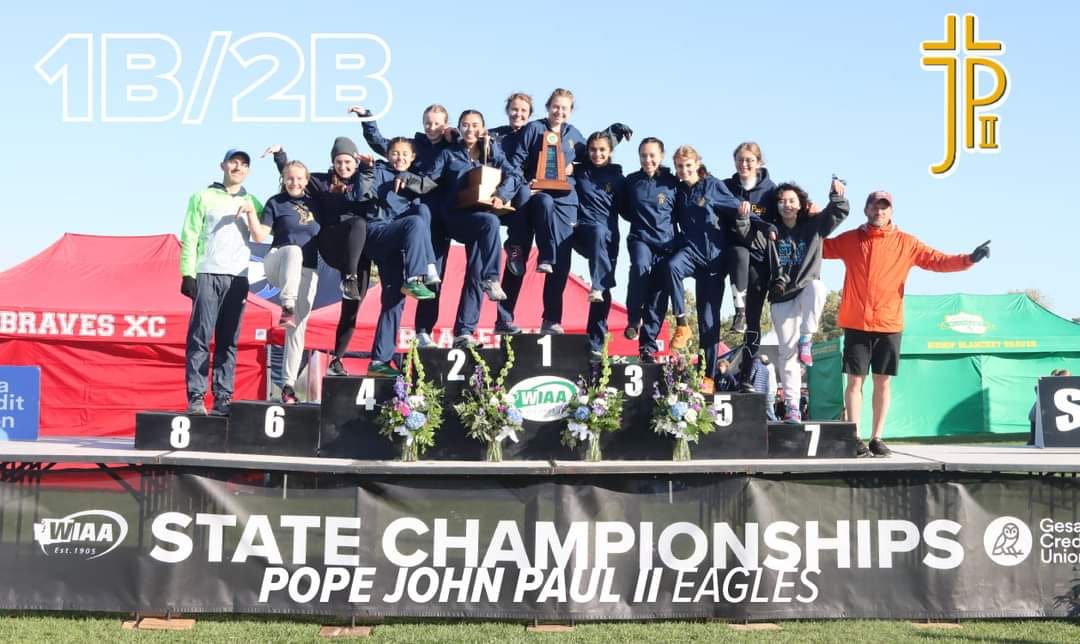 Catelin holds the state championship trophy after the JPII girls win their third consecutive state cross-country championship in Pasco, Washington. Catelin was a varsity member of three state championship cross-country teams in high school.
Catelin is also a talented artist. She recently won an internal contest to design a new school logo.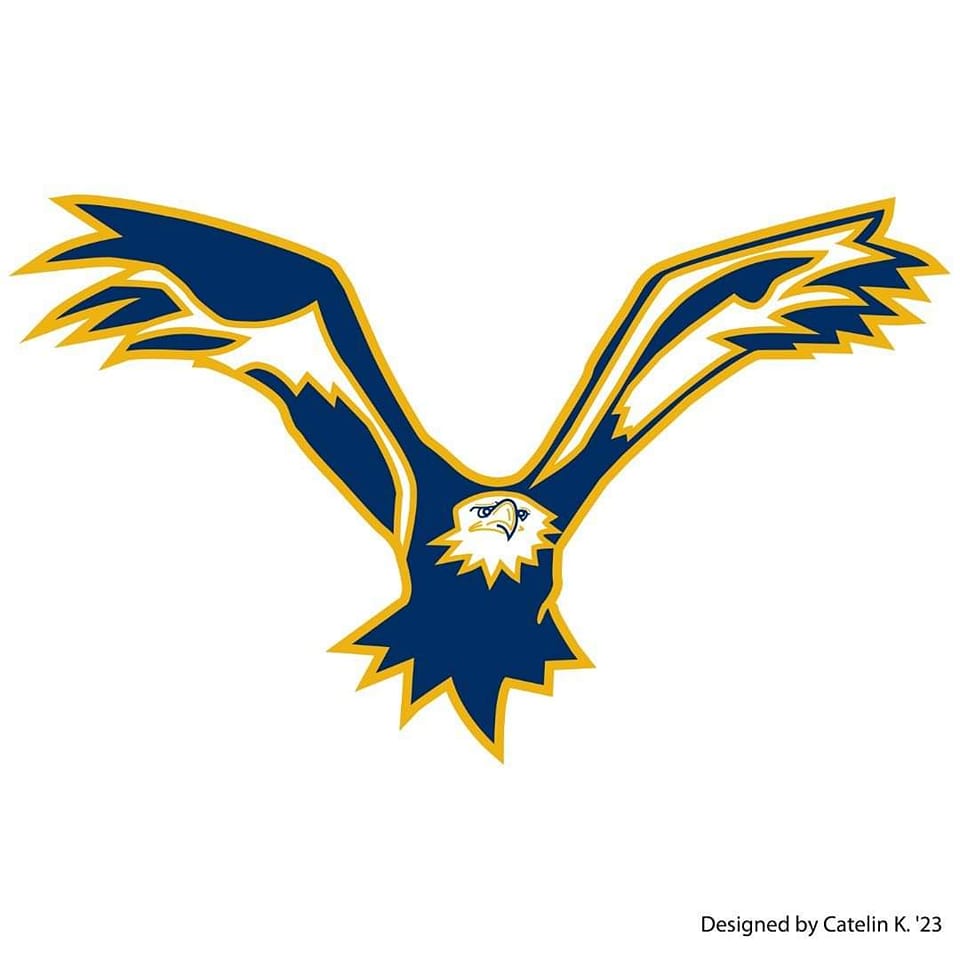 This is a close-up of the logo Catelin designed.