Brooke Feldmeier: From High School Phenom To World-Class 800-Meter Runner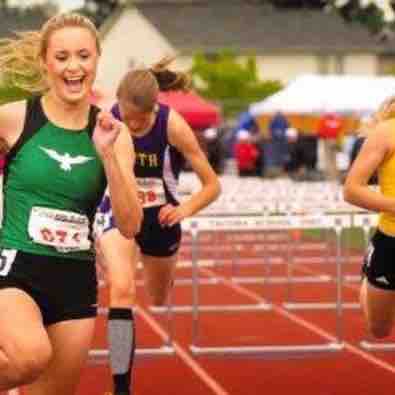 Brooke in her high school days at Tumwater High School in Tumwater, Washington. The joy on her face says it all.
Image Credit: Brooke Feldmeier
The 800 Meters: One Of The Toughest Events In Track & Field 
It is well known that the 800-meter race is one of the most challenging events in track and field.

Some people would say it is the most challenging running event on the track.
To be successful in the 800 meters, you must have the incredible speed of a 400-meter runner and the strength of a 1500-meter runner.
Running the 800 meters takes grit, determination, strong mental tenacity, and an iron will to leave nothing at the finish line.
Running the last 100 meters in the 800 meters in oxygen debt is especially tough and the ultimate test of a strong mindset and speed endurance.
When you see someone run this race well, it's also like witnessing great poetry in motion.               
There is something extraordinary about the 800-meter race that requires unquestionable grit to finish the race and a graceful and efficient stride that helps the runner to get to the finish line quickly. So much is needed to be great at this event.
Brooke Feldmeier exemplifies all of the traits discussed above and more. 
She has the incredible grit, determination, and fantastic stride and form required for world-class success in the 800-meter race.
How It All Started For Brooke
All that Brooke has accomplished in her world-class journey started at a young age.
Brooke started running when she was five years old. Her initial fun running as a child translated into an outstanding high school career at Tumwater High School in Tumwater, Washington.
Some of Brooke's finest moments as a high school runner came when she won the state championships in the 100 meters, 200 meters, and 400 meters in 2013 and 2014. She also set a state record in the 400 meters within her classification.
Brooke was also a two-time state champion in the Heptathlon.
Off the charts amazing is the best way to describe Brooke's high school career. 
Brooke's high school coach, Rich Brown, called Brooke "My greatest athlete I never got to coach, referring to the 800 meters". Rich said this because she was such a versatile talent as a sprinter and heptathlete; he could never fit an 800 into her schedule in high school!
Undoubtedly, if Brooke had run the 800 meters in high school under coach Brown's tutelage, she would have excelled. 
Rich remembers Brooke as a super dedicated and hard-working athlete who never relied on natural talent to reach her goals.
Brooke's work ethic is highly admirable and a throwback to different era.

After graduating from Tumwater, the multiple state champion placed third in the NCAA Championships in the 800-meter running 2:01.54 in 2017 for the University of Oregon.
Not too bad for someone who could not fit the 800 meters into her schedule during her high school years!
Because of Brooke's finish at the NCAA Championship and her consistent great times in the 800 meters, she was able to turn pro after her college career.
Brooke and I discussed the main differences between college running her Pro career. Her insights are helpful for those considering the professional running journey.
"In college- you have another major focus, which is going to school and earning your degree, which takes a lot of time. So it is not all just running.                                                                         
When you become a professional runner- it's a full-time job. It is the focus and the only focus. There are many things daily that you need to do to be the best possible runner possible. Apart from the standard weekly runs, workouts, and gym sessions, you must have proper nutrition and sleep habits, stretching, physio appointments, etc."
Brooke advises new pro runners: "Have fun, work hard, and focus on doing all the little things right."
Sage and straightforward advice from a runner who's been there with a lot left to come.
All that hard running and extra fitness activities are paying off for Brooke.
Brooke is rightfully proud of breaking 2 minutes, making US indoor and outdoor finals, running 1:59 at Stockholm Diamond League (also getting into Diamond League events), and pacing Faith Kipyegon to a World 1500m record last June.                       
Yes, you read that right! A world record in the 1500 meters!                                                                                    
Because of Brooke's incredible abilities, she recently signed a professional running contract with Nike. She is excited to be a part of the Nike running family.
Looking ahead, Brooke wants to stay healthy to be in a position to make the 2024 USA Olympic Team at 800 meters.
She also looks forward to competing in more Diamond League Events (the highest level of professional running in the summer months) and lowering her PR to 1:57 by next summer.
Seeing her grit, determination, and courage to go after big goals, combined with excellent 800-meter form and competitiveness, I have no doubt Brooke is on track to meet or exceed her goals.
As a former 800-meter runner myself and current coach of a former NCAA 800-meter champion,  I see and understand the incredible gifts that Brooke is blessed with in the 800-meter event.  
Due to her fantastic work ethic, raw speed, and incredible form honed from a young age, there is much more to come from Brooke Feldmeier.  
When not running, Brooke is very active and loves staying busy.
Some of her passions include traveling to new countries, taking her road bike out, going to the beach, hanging out with friends, fishing, and drinking really good coffee like many of us from the northwest!
To sum it all up, Brooke Feldmeier is an incredible person on and off the track who knows what she wants and has a great plan and work ethic to get there.
Please look for updates in my blog about Brooke over the next year. There is a strong contingent of people back home rooting for you, Brooke!   
Blessings,

Coach Weber
Philippians 4:13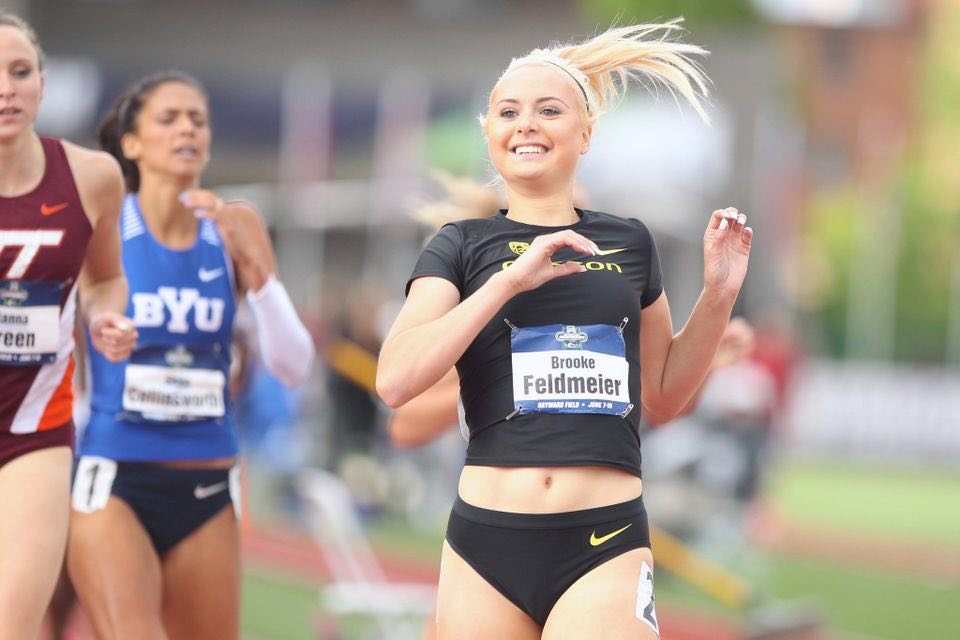 Brooke is running for the University of Oregon in this picture. Brooke finished third in the 800-meters at the NCAA Track and Field Championships for the Ducks.       
From the expression on Brooke's face, it looks like the  joy continued at Oregon!
Image Credit: Brooke Feldmeier