Senior Spotlight:Brendan Perez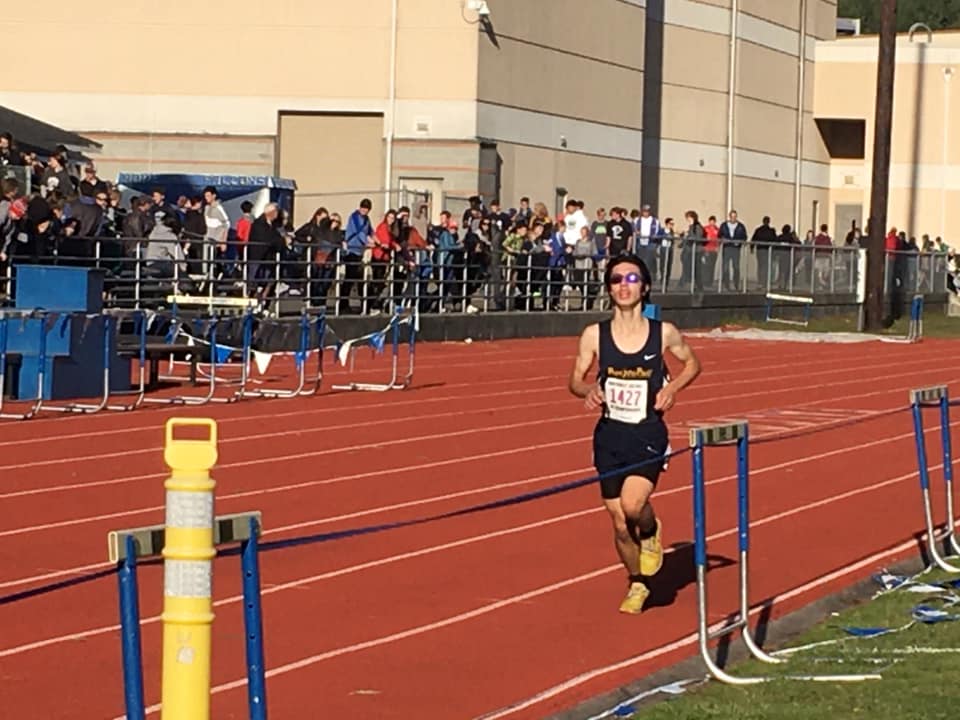 His life story is a testimony about what courage, determination, perseverance, and hard work can do.

How many young people take time to understand parts of quantum physics at an early age, play the piano with excellence, lead the programming of robots, participate in campus ministry, serve as a tutor, place as a team member at the Knowledge Bowl State Championships, and become an All-League first-team selection in their first year of running long distance?
How about becoming a varsity member on two district champion cross-country teams, two state runner-up cross-country championship teams, and making the finals of the 3200 meters in track in your first year running the event? And, how many people can find time to earn a 3.98 GPA with all those activities! 
Brendan Perez is a humble soul. You would never know about  the accomplishments of Brendan unless they were highlighted by others in some fashion. He has worked extremely hard to excel in all of the areas mentioned above. 
Brendan Perez is also the kind of young man you will hear about in the news someday who will help find a cure for some major health problems or solve some of the toughest intellectual challenges that we face as a nation. This young man is simply amazing in multiple areas of life and just fun to listen to when he talks.
I took Brendan home one-day last summer after cross-country practice. By the end of our conversation, I thought I was talking to a professor at MIT! Brendan is knowledgeable on a wide variety of subjects who speaks with humility and confidence. Brendan consistently has something interesting or profound to say.
Brendan is a senior at Pope John Paul II High School (JPII) in Lacey, Washington. Like other student-athletes in our state, Brendan's 2020 track and field season cut short due to the pandemic. Brendan is staying in shape though because he plans to run Cross-Country and Track beginning next fall at Linfield University in McMinnville, Oregon.
Brendan started out as a 100-meter runner and sprinter in track his Sophomore year. He was also a member of the first-ever track and field team at JPII in the spring of 2018.
Near the end of the track season, I asked Brendan if he would consider joining the cross-country team in the fall. With his usual thoughtful response, Brendan said something like, "I will give some thought to that coach".
Well, to my excitement, Brendan gave "some thought" to my request and said yes! The rest, as they say, is history.
Brendan ran in our summer conditioning program to prepare for his first-ever cross-country season. He was very consistent in his  training efforts each week. His inquisitive mind was also working in overtime. Brendan would ask what all these new long- distance training terms meant, how he could improve, and he led by example completing his workouts with little left in the tank after each hard workout. He was all in.
Brendan was doing well in his new sport but he was still a bit behind the top pack on a very good cross-country team. Brendan was not in the top seven varsity runners that make-up a cross-country team when he was starting out on this new adventure. This was all about to change as the regular season approached. 
I will never forget the day of Brendan's first team time trial. Basically, a time trial is a race just with team members. No other schools or other people are invited to participate. The point of the time trial is to see how kids are developing in the early season and to identify JV and varsity runners for the first race of the year.            
Brendan was not favored to make the varsity top seven that day. However, when the day of the time trial arrived, Brendan was very focused and determined as the runners went to the starting line. He was ready.
Surprisingly, Brendan went out near the lead pack. We had not seen this sort of running assertiveness from Brendan in the past so we were all a bit surprised.
Fast forward to the finish line. Brendan made the varsity top seven in amazing fashion by using his 100-meter speed in the final stages of the time trial. He sprinted hard and ran one of the best first-time races I've ever seen on this particular course. We all just stood there shaking our heads in wonder.
Brendan is certainly at the top of the charts in the areas that are measured and matter academically. However, I believe Brendan's greatest assets are his amazing character, courageous heart, and work ethic.  His championship attitude sets the stage for all of his other accomplishments in life. Let me give you just one illustration of what I mean.
During the 2018 season, the Eagles won their first-ever district championship in any sport at JPII. The men's team won their championship on Whidbey Island which is north of Seattle. Only one team from our district was eligible to make it to state that day so the pressure was on. The Eagles had never beaten the other team that was going for the district title in all their previous races.
Brendan came through with flying colors on race day by having  the best race of his life when it mattered most. He ran with an amazing heart, courage, and focus under pressure and helped his team qualify for the state championships. However, Brendan's best high school race at the time was yet to come.
The JPII team traveled to the Washington State Cross-Country Championships in Paco, Washington as an unranked team for most of the season. The team was not on the radar or in the state rankings for a good majority of the season. Brendan and his teammates were underdogs for sure as they lined up for the state championship race.
The pre-race media highlighted two teams as the contenders for the state title. The JPII team was over 160 points behind the second-ranked team on the Athletic.net statewide ranking system going into the meet. By any measure, this is a long way back from the top tier teams even if you used different scoring system projections to determine the top two teams.
Brendan and his team members took off hard from the gun at the state cross-country meet. They were giving what I call a level 10 effort that day. Our team including Brendan were running on all cylinders. The team's goal was to finish the race with nothing left in the tank at the finish line. You could see the fire in our guys' eyes as the race unfolded. They were running out of their heads that day.
All of a sudden, disaster seemingly struck. There was a large stationary pole in the middle of the course that helped mark where the runners should run on the course. Brendan was running so hard and was so focused that he ran hard straight into the pole! The pole literally knocked Brendan right off his feet onto the ground!
We had talked prior to the race about what to do if you slipped in the race due to mud or water-soaked area. The strategy we talked about was to get right back up on your feet as quickly as possible and keep running the race (assuming there was no injury) as fast as possible.
I failed to mention what an athlete was supposed to do if they ran into a pole during the pre-race meeting! Hitting a pole in the middle of a race was not on my coach's radar screen.
When Brendan hit the post he was dazed momentarily but got back up on his feet and continued to run hard in the race. His  championship character was a shining light in the midst of the storm once again.
When you fall down in a race you not only lose time because of the fall, you also additional time because your momentum is lost.
Brendan did not care about losing time due to hitting a pole and falling or the impact losing momentum had on his race. He just got back up and started passing people left and right. His fall happened in the first mile of a 5k race so he had a long way to go to catch up with the pack.
I could see the determined look on Brendan's pace as he raced by me on one part of the course. He was not going to let a pole or some fall deter him from the prize.
With all the energy he could muster, Brendan continued to pass people along the way finishing the race strong with that patented sprint of his. He and the JPII guys ran over their heads that day and finished ahead teams they were not supposed to beat.                                                                                                                   
The team ended up finishing second overall at the state championships that day and, they finished as the first place team overall in their state classification. In cross country, the two smallest state classifications are combined in the state cross-country meet. 
Brendan's championship heart was a good representation of the entire heart of the team that day. He picked himself up literally from a fall and crossed the finish line after getting every ounce out of his ability level at  the state meet. Brendan had nothing left at the finish line.
Yes, Brendan is smart. Yes, Brendan will go far in life. Yes, Brendan is a role model. But most of all, Brendan is the young man with a heart of gold, courage, strong faith, perseverance, and an incredible work ethic.                                                                         
If I was in a tough situation in life, Brendan is the kind of person I would call because of his calm demeanor, character, servant's heart, and his commitment to each challenge he faces in life.
Brendan, it's been my sincere honor and privilege to serve as your coach. Thanks for saying yes to running Cross-Country and distance in Track and Field on that warm spring day late in 2018!
And, thank you, Brendan, for leaving nothing at the finish line of your dreams. We are all better people because of the example you set for us!
Blessings,
Coach Weber
Philippians 4:13
                     Brendan and a Washington State Knowledge Bowl Trophy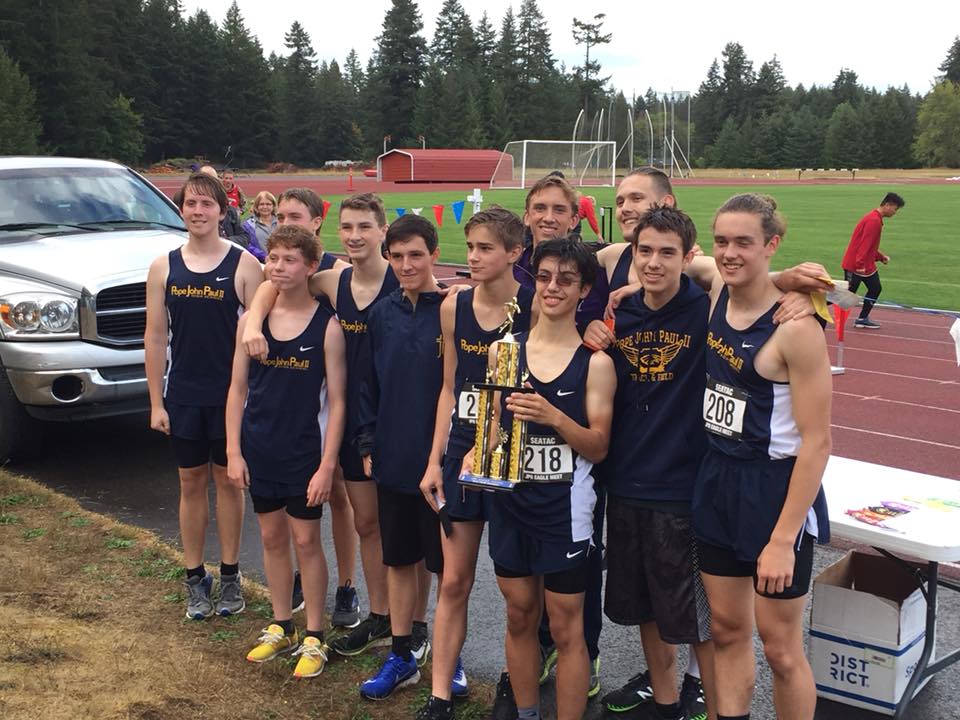 Brendan, his JPII team, and a Cross-Country Invitational Team Champion Trophy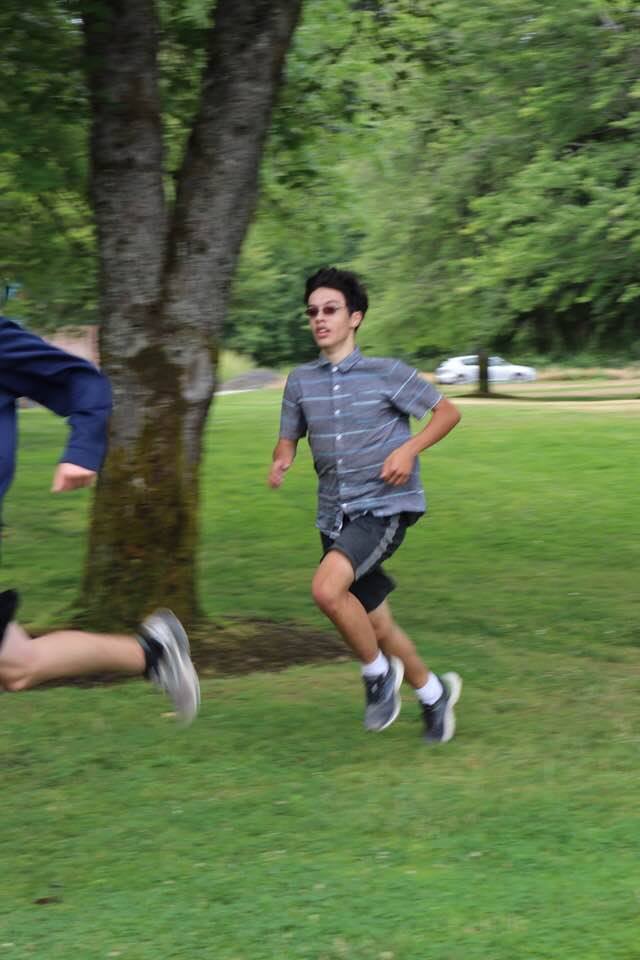 Brendan running his first-ever time trial that was mentioned above
                                    Brendan in the early years in robotics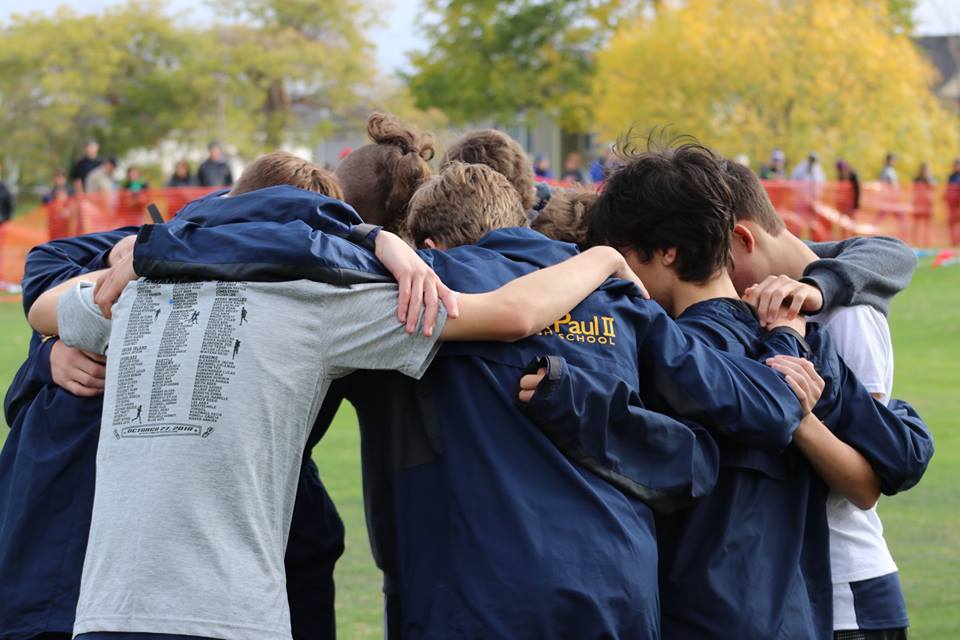 Brendan Praying with His Team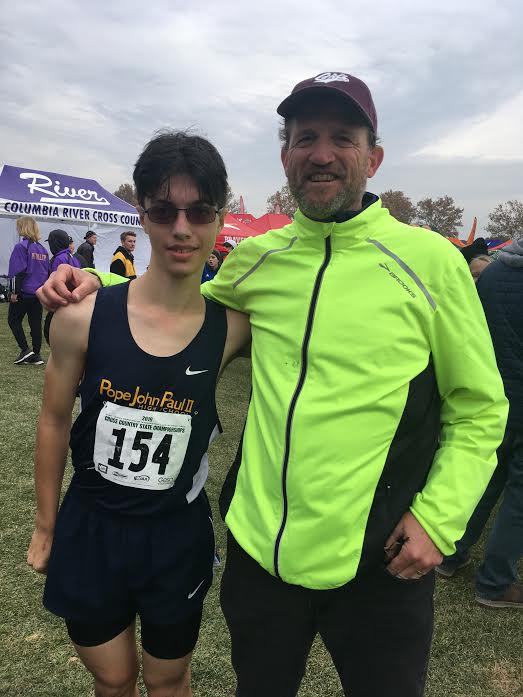 Brendan and Coach Weber at the Ft. Steilacoom Invitational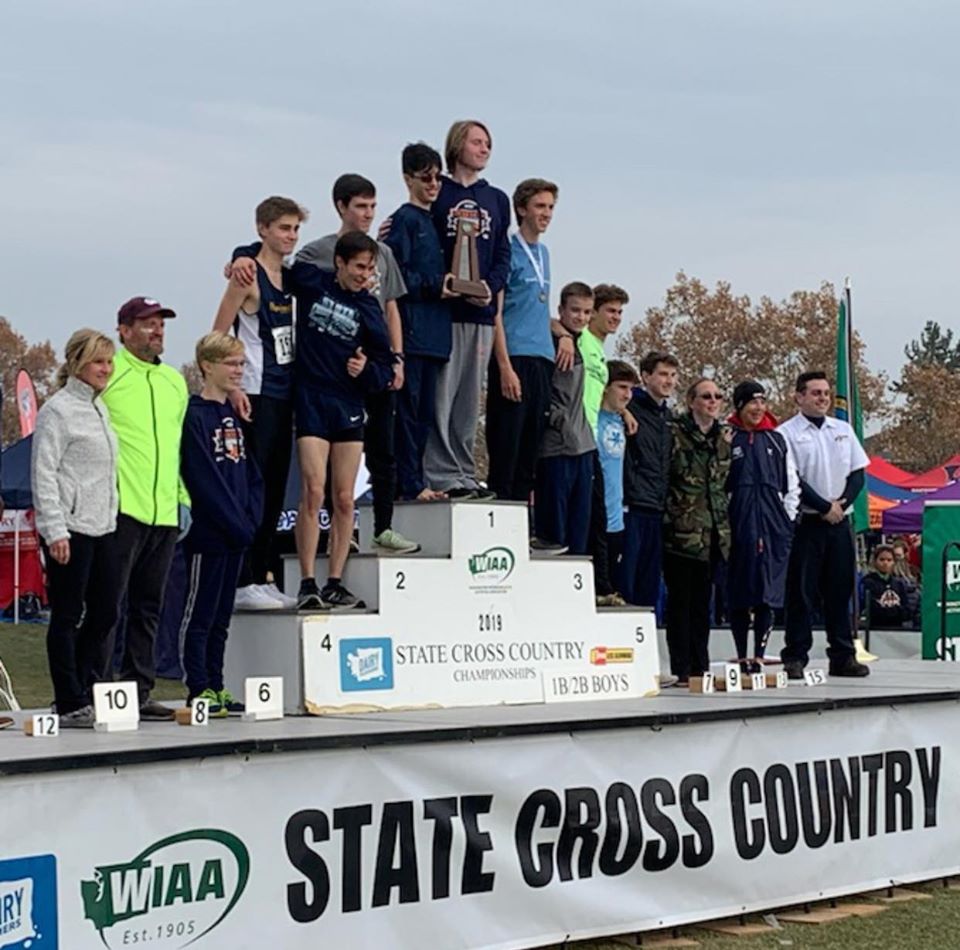 Brendan with his teammates on the Podium holding the State Trophy with fellow Senior Mark Davis