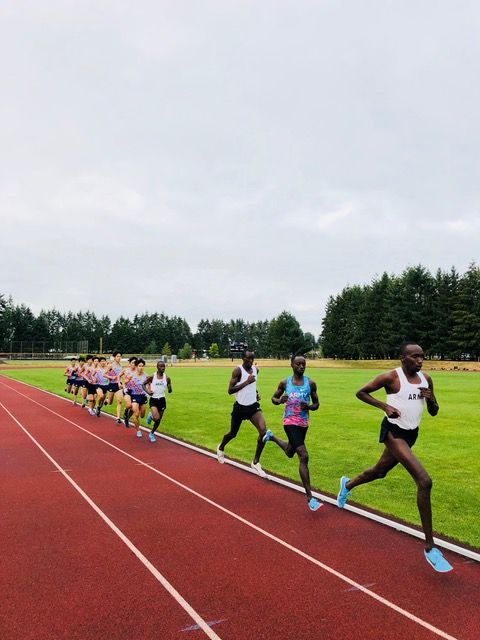 Runners from the American Distance Project racing a 10k at the Saint Martin's University track in Lacey, Washington
American Distance Project Visits Lacey, Washington
Part of the American Distance Project team ran a special race on August 11, 2018 at Saint Martin's University in Lacey, Washington. For our national and world blog readers, Lacey, Washington is where coachweber.org is based. 
The American Distance project is a group of professional runners led by coach Scott Simmons. Coach Simmons is one of the best distance coaches in the U.S. and also helps runners from other countries. He is the coach of many world class runners and Olympians.
Coach Simmons brought a contingent of national and world class runners to help a South Korean runner break their national record of 28:33 at the Saint Martin's track. The race started at 8:00am in the morning. The top runner from South Korea did not break his countries national record but the winning time in the race was 28:57.88 and a personal best for Evans Kirwa (US Army).    
The top runner from South Korea, JongSub Shin (KOR) ran a PB of 29:07.23 at the race. There were many other runners who ran personal bests in the race as well. 
The winning time today is likely the fastest 10k ever ran on Thurston County soil. Coach Simmons is obviously doing a great job with his athletes as demonstrated by all the personal bests at the race last Saturday.
It was fun to serve as the lap counter for the record attempt and to take the unofficial splits with one of my former athletes at the race as well. 
Coach Simmons and his crew were amazingly organized and grateful for the help of our local crew.  He is doing one outstanding job with his professional running team.
Thank you coach Jim Brewer of Saint Martin's University for hosting this magnificent event.
You can learn more about the American Distance Project at : https://www.americandistanceproject.com/
The top ten finishers from the race are listed below.

1          Evans Kirwa (US Army)                  28:57.88 (PB)
2          JongSub Shin (KOR)                        29:07.23 (PB)             
3          Nicholas Kipruto (US Army)          29:08.75                          
4          HyunSu Shin (KOR)                          29:18.53 (PB)                          
5          KyeongHo Lee (KOR)                       29:38.10 (PB)  
6          KwanSik Shin (KOR)                         29:39.15 (PB)                  
7          MinYong Choi (KOR)                         29:54.34 (PB)    
8          JaeHoon Kim (KOR)                         30:10.14                                  
9          JiHoo Kim (KOR)                                30:48.02 (PB)                          
10        TaeJin Kim (KOR)                     31:34.99 
Coach Weber