Develop Level 10 Mental Toughness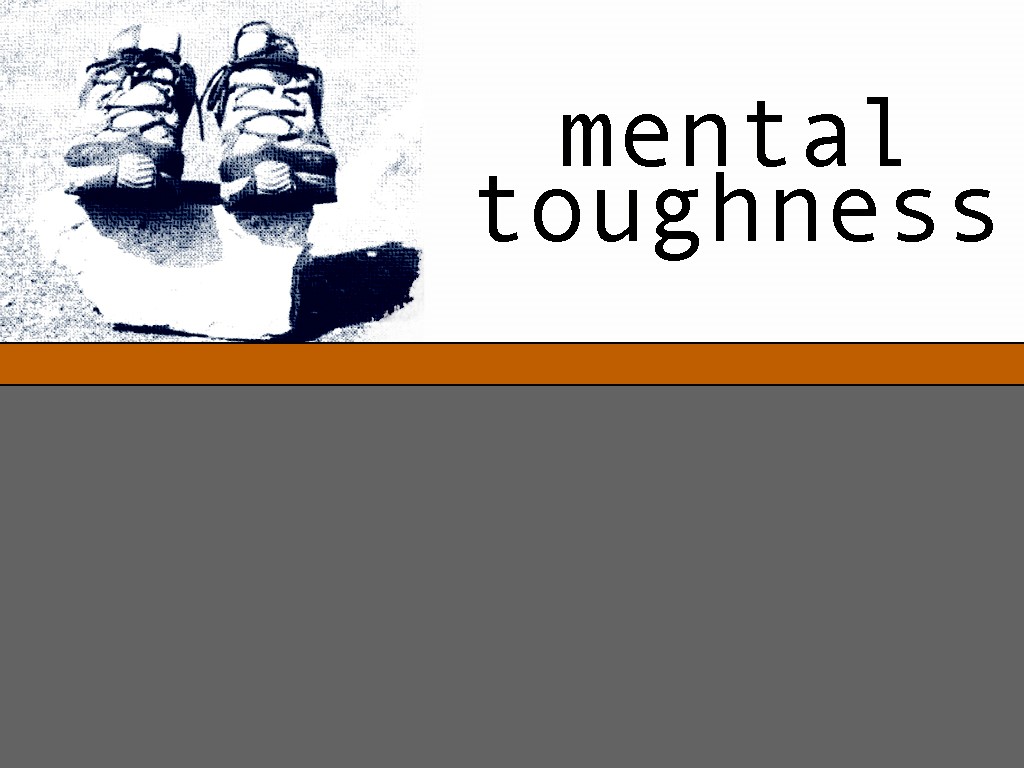 Develop Level 10 Mental Toughness
I once won a big race I was not supposed to win. I was nowhere near the favorite to win this race. The race was known by some as one of the toughest one-day races in the world. A writer covering the race for Runner's World Magazine said this race may be "the last word in endurance running".
The Original Ultimate Runner Competition taught me more about mental toughness than all the books I've ever read on the subject. That race was a great teacher. Some of the points that I learned about mental toughness in that race are outlined below.
Your Mental Toughness Goal
The ultimate goal of endurance mental toughness is learning how to successfully deal with normal (obviously you never try to push through the pain of an injury) pain and discomfort in racing. Pushing through discomfort requires breaking through your own perceived mental limitations while tuning out that voice in your head that says it's too hard or difficult to continue. You can breakthrough to the next level but you must be intentional about your effort to jump over your mental hurdles.
What is Level 10 Mental Toughness?
Level 10 mental toughness is mental toughness at the highest level. Level 10 means running on all cylinders physically, mentally, and spiritually.  It is knowing deep down inside that you gave it you're all with the gifts you've been given. Reaching Level 10 is believing, living, and remembering Philippians 4:13 when things get tough. And, things will get tough. Prepare for the race that is ahead of you by learning how to run at Level 10.
Your mind automatically says you should slow down, quit, or give into the discomfort of a race. This is the battlefield of the mind that goes on in every race. Finding ways to override these negative messages in your brain is your goal. 

Overriding negative messages does not happen magically somehow.  You must very intentionally work at transforming those negative messages into life giving thoughts at practice before running in a race.
Override the negative messages you are sending yourself
Overriding negative messages and reaching a mental toughness peak is measured by your own self-assessment. On a scale of 1-10 with 1 being mentally weak and 10 being super tough mentally,  you give yourself a 10 when you absolutely believe you gave it you're all mentally and physically in a race or hard workout. 

Learning how to tune out or override the discomfort messages in your brain while pursuing mid and long-distance running goals is the number one mental toughness goal. Overriding these messages is no easy task. Mental toughness is just like physical fitness. You have to work at it every day. You must learn to make a consious decision to push through the discomfort of normal racing. You must also learn how to push through discomfort in hard workouts at practice.
I see a lot of people on Strava and other online training tracking systems these days recording their times, distances, and other basic data about their runs. All of this qualitative data is good information no doubt. However, it is only one half of the endurance running equation. Instead of just tracking physical information, start tracking the mental side of endurance running performance each day as well. How mentally tough were you from 1-10?
The Questions to ask Yourself
Ask yourself questions like What were the thoughts that went through my mind when I got tired? What was the first thought that came into my mind when the pain increased? How can I reframe those negative thoughts into life-giving thoughts that help me make a breakthrough? Said another way, how can I trade those negative thoughts in for life-giving thoughts that will help me break through my personal barriers? This is by far the most important mental toughness question. 
Identify the key thoughts that are holding you back and then come up with a daily plan to reframe those thoughts in a life-giving way to get mentally stronger. And, never beat yourself up when you make mistakes in the mental realm. Don't give into self-condemnation. Just learn from your mistakes and go get them next time!!
Take an hour to reflect on what went wrong mentally in your race  and then put whatever challenge you had behind you. Again, don't let self-condemnation into your soul. Let grace rule the day with a plan to do better next time! As they say, "you can't change what you don't acknowledge". So, acknowledge your mistake but don't beat yourself up either. Never lose heart.
Replace negative thoughts with Scripture
Years ago, I replaced some of my own negative thoughts at a heart level with Scriptures that forever changed how I viewed mental toughness. The Scriptures reflected the truth, my own thoughts did not. Holding my thoughts captive to the truth changed my life forever in ways that went far beyond just running fast. Philippians 4:8 is an amazing verse to keep you on track in this area.
Give up the idea of perfection
Like everything else in life, you'll never get mental toughness down perfectly to a science so give up the idea of perfection. I have certainly made my share of mistakes in the mental realm. Let perfection go. Instead, focus on doing the best you can with the gifts God gave you. That's all anyone can ask from any of us in life. And, seek to consistently get back on that horse when you do fall.
In summary, you can always do more than you initially believe. Reach your mental peak this year by believing in your God-given potential and changing those negative thoughts into life-giving thoughts that change your life and the lives around you for the better, forever. 
Blessings,
Coach Weber
Philippians 4:13
"Always remember you are loved regardless of how you perform, always! "
You can watch a video description of the Original Ultimate Runner Competition if you want more details about the life lessons I learned from that event. https://www.youtube.com/watch?v=9OTsG7nuoWM