Community Running Spotlight: Rosalie Fish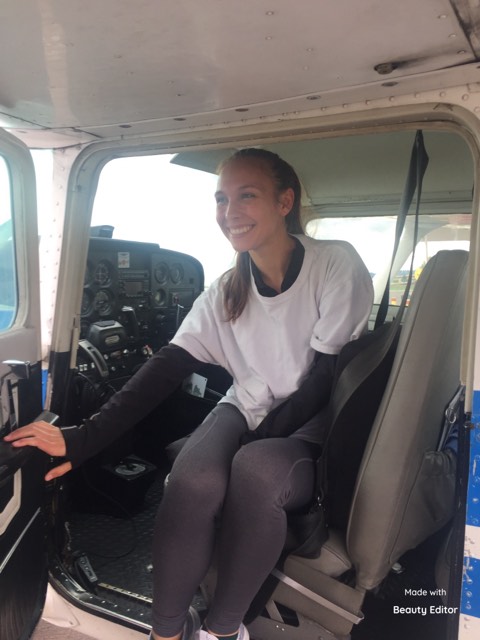 Rosalie in one of her other passions, flying! 
She is inspiring to watch each week. In the small school running world, she is becoming a running legend. Her times continue to drop week after week. Just last week she ran 4:40 for 1500 meters winning her heat at a large invitational high school track and field Invitational in Oregon. Her 1500-meter time equates to about a 5:00 1600 meters, maybe a bit faster.
Rosalie Fish is much more than a great runner. She serves as a role model and example of what's possible at her school and in her community. She flies on and off the track, literally! Just look at what she has done.
Rosalie is a senior at Muckleshoot Tribal High School in the State of Washington. Her school is a member of the Sea-Tac league. The Sea-Tac league is also the league I coach in each week so I get to this great runner week in and week out. I have never seen a better small school female runner in all my years of coaching. I can tell Rosalie will continue to improve when she attends college next year.
Small school track and field does not get a lot of press coverage for the most part. Some great runners like Rosalie fly under the radar. However, this small school state champion will surprise a lot of people when she gets to college next year. I am looking forward to seeing her reach even greater heights.
Rosalie's great career started in the 6th grade. Her favorite memories growing up include running for the Wings of America Cross Country team. She was proud to be a part on a team with some of the fastest native Americans in the nation. The Wings of America team enabled Rosalie to travel around the United States and compete in the national cross country championships.
Rosalie has found that running has empowered her and others in many ways. Running is now a positive and life giving experience for Rosalie in so many ways. However, it was not always that way. 
There were some hurdles to overcome being from a small native American school. Rosalie had to overcome some prejudice along her journey. Like everything else she has done, Rosalie took the high road and overcame personal hurdles serving as a role model for others to follow in the community. 
"Runners are a community, and I'm very grateful for that community', Rosalie said. 
Rosalie has built some great relationships in the running community. I can speak from first-hand experience about this incredible young ladies' relationship and community building skills.
A few weeks ago, Rosalie helped pace some of our young runners who were going for personal best times. She encouraged our runners along the way and selflessly helped them run personal best times. She was amazing. Our runners look up to Rosalie for good reason.
Rosalie credits much of her success this year to her coach Mike Williams. "My senior year is the first time I've had the same coach for more than one season. I have no idea what my senior season would have looked like if I didn't have coach Mike. He helped me find confidence in myself".
Rosalie is also quick to credit all the coaches over the years who have helped her along the way. She mentioned as well that it has been great to have her mom at all her track and field and cross country meets over the years.
Rosalie is far more than a great high school runner. She is a good student who will receive her A.A. degree this spring from Green River Community College along with her high school degree from Muckleshoot High School.                                                         
Rosalie is also President of the Native American Student Organization at Green River Community College and also serves as a Native American activist. Rosalie is also in the process of getting her pilots license! She is one busy young lady.
Next year, Rosalie will attend Iowa Central, a two-year college. She hopes to garner the attention of Division 1 schools in her running journey next year. After watching her run, I believe she can definitely run at the Division 1 level.
Rosalie is one of the best small school (1B) female runners in the history of Washington State Track and Field. She is also a barrier breaker who serves as a role model to others. We wish nothing but the best for Rosalie as she continues her running and life journey. 
Our prayers and support are with you Rosalie!
Blessings,
Coach Weber
Philippians 4:13