Running Spotlight: Caden and Kobe Deutscher of Pope John Paul II High School in Lacey, Washington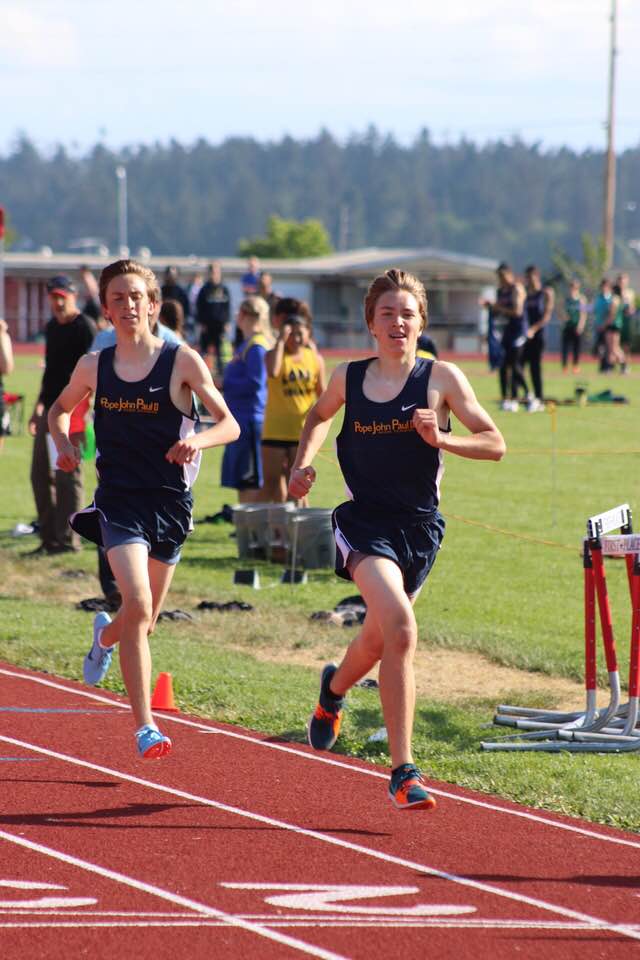 Brothers Caden and Kobe Deutscher running a 1600 meter race.
In over 40 years of coaching at different levels, I have never witnessed what has taken place this track season. I don't know if it is a first or not in Washington State High School Track and Field history. I do know it is an extremely rare occurrence at a minimum.
Brothers Kobe and Caden Deutscher are currently ranked number one and number two in their state classification in the 800 meters, 1600 meters, and 3200 meters. The brothers compete in Washington States smallest school state classification division. The school Caden and Kobe attend, Pope John Paul II High School in Lacey, Washington, has 94 students.
Now, state rankings can change weekly. However, both Kobe and Caden continue to improve each month as well.
This is just the second year of high school track for these two amazing runners and brothers. Pope John Paul II coaching staff started the track and field program in 2018. The Deutscher brothers are just learning the running ropes so to speak. However, these two brothers are quick studies.
As Kobe's and Caden's coach, I see their drive, determination, and brotherly love daily. And of course, clowning around on occasion as well! Both are hard workers on and off the field and exceptional students as well. Their parents have raised amazing young men.
What I appreciate about Caden and Kobe goes far beyond the track. Track times fade in people's memories, accomplishments are remembered only by a few diehard fans, and student-athletes move on to college, their careers, and family life themselves.
The contribution that these two-great student-athletes are making is much greater than their own accomplishments, times, and records. The Deutscher brothers are barrier breakers who serve as role models for others to follow. Both are humble, caring, dedicated, and strong young men.
Caden and Kobe along with their 2019 teammates are establishing a precedent of excellence and breaking through personal barriers and perceived limitations weekly. Their leadership (as well as many other athletes on the 2019 team) is paving the wave for future success in school running programs by their tremendous example.
In a young program, it is important to establish a tradition of excellence from the very first step. Kobe and Caden along with the entire JPII team are carrying that torch well. 
It is a huge blessing to see all the hard work of Caden, Kobe, and their teammates paying off. They are living the old adage of "the harder you work, the luckier you get". 
Pope John Paul II is a small high school in Lacey, Washington. You can learn more about the Pope John Paul High School at the link below.

Blessings,
Coach Weber
Philippians 4:13
Note: The one athlete listed ahead of Caden and Kobe on athletic.net in their division is a great wheelchair athlete named Phillip Croft who competes in Washington State track and field.