JPII Eagles Show Strong Character and Perseverance in Challenging Conditions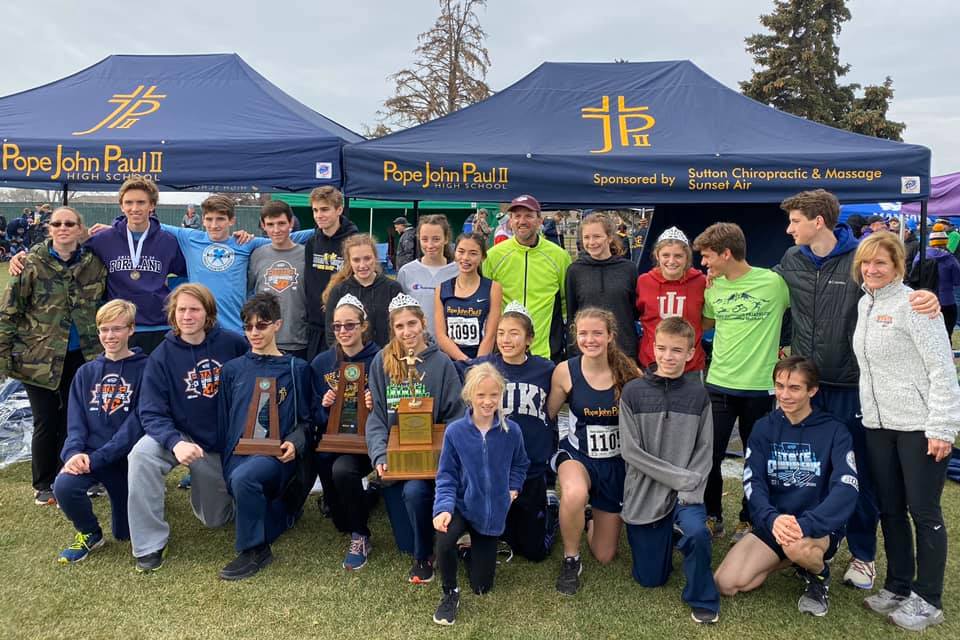 Maybe it's because they had so much pent up energy because they could not compete in races due to COVID issues last spring. Or, maybe it's because they became more determined than ever to persevere and reach their goals with the help of each other through difficult times. Whatever the reasons, these two teams as a group became the best I've ever coached going into a season. The Lord certainly blessed these kids over the summer.
To say these kids worked hard in the summer is an understatement. In two socially distanced  summer time trials, the girl's team was as fast as any that I've ever coached at this time of year. And, their training is what we call base training where kids focus on building and staying within their aerobic capacity mostly on easy slow to medium paced runs. This means they are nowhere near their peak performances. They are just building a foundation for a cross-country season.
The defending Washington State Cross-Country JPII girls champions were heads above where they were at last summer in their time trials. I have a time trial formula that I've used all my high school coaching career to project season-ending times if an athlete is consistent and works hard throughout the season.
The projections are normally accurate within 10-15 seconds of the best 5k time by the end of the season. Some years they are close to spot on with a variance of 5 seconds or even less. The projections of the girl's team this year across the board are the best of any girls' team I've ever coached.
The boy's team had the fastest projections of any team I've coached at JPII this year. And, the team is right with state championship team time projections that I coached at another school. These boys are fast and motivated this year. With some newcomers showing great promise, this team has a lot of depth.
I have never seen anything quite like this summer training. Student-athletes were consistently on time to practice each day for their socially distanced workouts. The teams were almost always positive and upbeat. There was a lot of work that went into preparing practices every day for all socially distancing protocols. The kids handled all the extra socially distancing and screening checks with patience, grace, character, and positive attitudes.
The Boys Team
Two-time 2019 State Track and Field Champion Kobe Deutscher led the team in his two-time trials this summer. He ran as fast as any high school runner I've ever coached at this time of year including a former state individual champion who ran a 15:05 on the district cross-country championship course. Kobe is well ahead in his training compared to last season.                            
Last year Kobe broke into the 15:40's for 5k at the Nike Twilight meet last season. His slow methodical training build-up base is paying off. I can't wait to see Kobe race. I expect a major personal best from Kobe this season. 
The rest of the team was just as impressive. Four or five runners project into the 16's for 5k either based on this summer's training or last year's times. We also have some freshmen who are projected to be in our top five freshmen of all-time at JPII High School.
Congrats to Trever Dugo, Mattox Marsh, Luke Christensen, Joe Oszkewicz, and Nathan Miller for working hard to get to this point of a major breakthrough. Some others missed training due to other commitments or are newcomers who fit into the 17's group by the end of the season.
Newcomers Sam Harris, Logan Johnson, and Noah Ashe all look to have an immediate impact. Veteran Joseph Harris looks to have a major breakthrough once he is able to train more frequently after a summer of work and Carl Butterfield, Ryan Christensen, Kaden Harley, Josh Halle, and Sam Rucker have all shown significant improvement throughout the summer training months. They have all worked hard and smart.
First-time high school runner Junior Noah Ashe made the summer varsity in his first-ever summer training session based on his performances in the time trial. Nathan Miller also made the varsity group for the first time as did Freshman Sam Harris based on his time in the time trial. The top seven runners compete at state with two other varsity members serving as alternates.
The Girls Team
The girl's team looks strong across the board after winning the Washington State Cross-Country Championships in an upset last year.
Vivi Kondrat is leading the way and has shown significant improvement. She is capable of running in the mid to high 18's this year. Senior Maggie Larson was right on Vivi's heels in the time trials onl a few seconds back. All other members of the state championship team, Moriah Steinbrecher, Caitlyn King, Bella Kondrat, Holley Nichols, and Emeline Russell are capable of dropping a minute or more from last years' time with many in the 19' s.
As mentioned above, senior Maggie Larson had a breakthrough summer and ran number two in both team trials this summer close to frontrunner Vivi Kondrat. She was just a few seconds behind Vivi. That is saying something since Moriah Steinbrecher was a podium finisher as a freshman last year. Moriah is coming on strong and finished third in both team time trials. I expect her to improve greatly and be one of those who improves substantially this year.
Moriah, Catelin, Bella, and Emeline in particular just closed the gap on the top two as well in the last time trial. The girls are looking very strong and look to form a close pack when they can race. Emeline had a major breakthrough just this recently and so did Catelin. Bella normally comes on strong mid-season so I expect her to really improve this year when she moves to the interval training phase later in the season.
Holley is well on her way to greater times as well! She is so focused this year! I expect her to be in peak PR shape this season and be right in the top pack of our fastest girls.
We also have some strong returning runners who have worked hard all summer including Madeline Russell who showed PR form in our time trial. Elena Valpiani and Genevieve Goldade are working hard to get back in shape and are returners from last year's squad.
Newcomers Emilee Cash, Ella Hurd, Izzy Larson, Nora Antles, Taylor Ames, and Isabella and Josie will also greatly contribute to the girl's team. Freshman Taylor Ames had a great team time trial as did the other girls who ran in the time trial.
There is something very special about the connection between this team with each other. Both team's performances this summer were superb for a summer session under challenging conditions. And, each person was highly encouraging to their teammates all summer. You can see why both teams were Sea-Tac League Sportsmanship teams of the year last year.
We don't know what the fall will hold at this point. We are still figuring out what the teams can do in this current environment.
What I do know is that we have today. Today these young people are champions in every sense of the word on and off the racecourse. They have shown perseverance in the midst of the storm, had a positive attitude in our uncertain times, and they have taught us, adults, what it means to have faith when you can't see the road ahead. I am most proud of the Eagles outstanding character and faith in the Lord to get them through tough times.
I can't be more proud of the 2020 Eagles!
Blessings,
Coach Weber
Philippians 4:13
                The Pope Paul John II Girls Team Winning State in 2019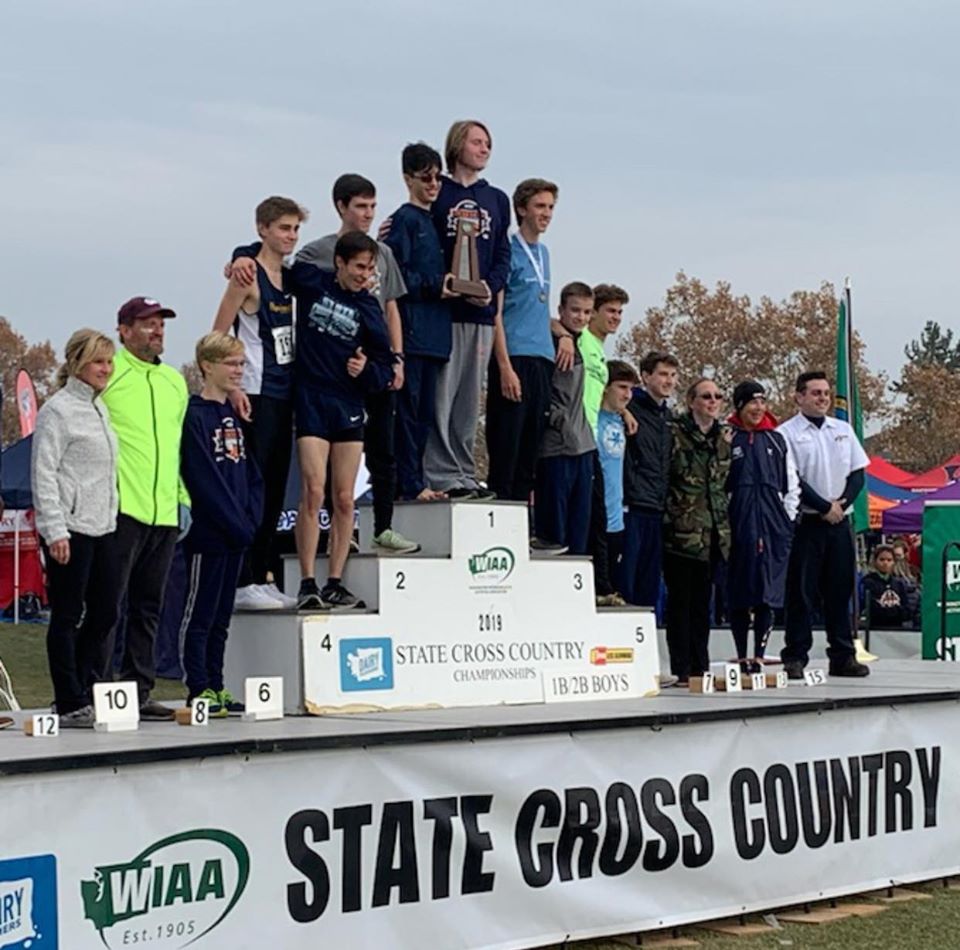 The Pope John Paul II Boys Team had their best-ever summer training this year.