The Young Men of Montana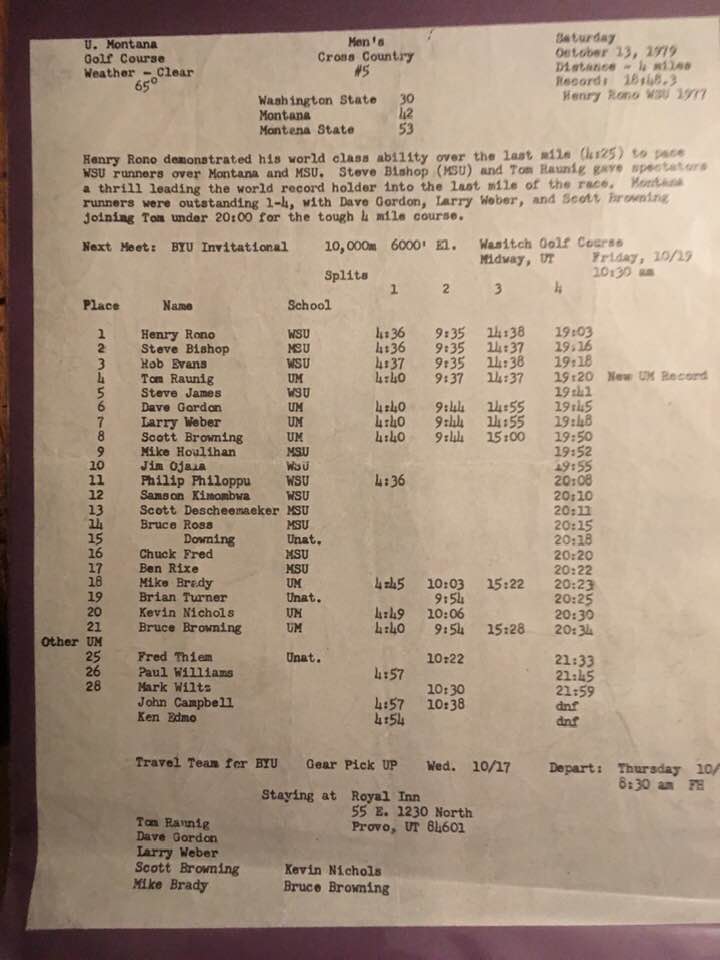 This picture identifies the top finishers in one of my first ever college cross-country races. The field was pretty amazing that day with a future 2:15 marathon runner not cracking the top 15 runners. The race was held in October of 1979.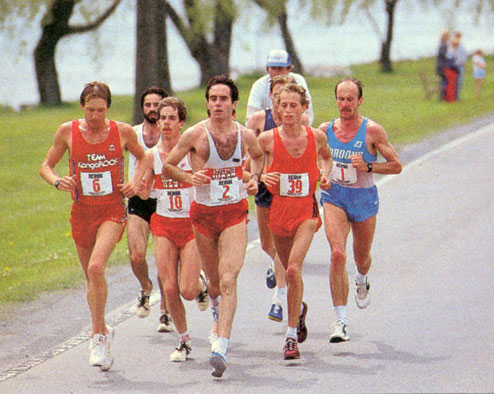 Former University of Montana star Dave Gordon (number 10)  is in lead pack at the U.S. Olympic Marathon Trials  in this picture. Dave was the Olympic team alternate and just missed making the U.S. Olympic team by about nine seconds.
Photo Credit: Unknown
I was an 800-meter runner in college. I held the University of Montana school record holder in the 800-meters and was a two-time Big Sky champion in the event. I did not turn out for cross country at the University of Montana until my senior year. College cross-country seemed too far to race to me at the time.
I started to think that maybe I could run the 1500 meters or even longer races going into my senior year of college. In high school, I only ran the mile to get the school record. I also won the mile against the best runners in the state in all divisions at a large invitational my senior year but decided just to run the 800 (880 back then) at state. I was not confident in my ability to run the mile because I ran it so infrequently.
Let's just say I was a bit stubborn in my teenage years. My coaches really wanted me to run both the mile and 880 at the state championships because I was the state leader in both events. I won the state championship in the 880 but never ran the mile again in high school. I had a mental block for some reason in the mile race.
So, finally, something clicked in my 21-year-old brain going into my senior of college. I decided to give cross country a try to see if it would help me get stronger to run the 1500 meters.
Those Montana Boys Sure Could Run
We had a great cross country team at the University of Montana. Dave Gordon was one of my teammates at Montana. Dave just missed making the Olympic team in the Marathon by a mere nine seconds. He ran 2:11 in the marathon and made the world championship marathon team one year.
Dave ran 28:14 for the 10,000 meters and 13:41 for 5000 meters. Dave was also the first American finisher at the Boston Marathon and was part of the USA world championship marathon team. Dave was one incredible runner.
Tom Raunig was my roommate in college for one year. Tommy ran 28:24 in the 10,000 meters. He ran a 2:12 marathon as a post-collegiate athlete and finished tenth in the U.S. Olympic Marathon Trials. We had two guys on our team who finished in the top ten at the U.S. Marathon Olympic Trials. Not bad. It was the golden era of distance running at the University of Montana.
Mike Brady was also on our team at Montana. Mike became a 2:15 marathon runner and qualified for the Olympic Trials in the marathon as well.
Scott Browning was another great runner on our team. He finished his career as a 29 guy in the 10k on the road. Scott was also a member of our NCAA Division 1 indoor national 4x 800-meter team. Scott had some wheels. And, we had Dave Coppock on our team. Dave became a great marathon runner and served as the head coach at MSU-Billings for decades.
So, we had a great cross country team at Montana. The Griz really didn't need another 800-meter guy on the cross country team that year. However, my coach Marshall Clark convinced me to come out for the cross-country team the summer before my senior year.
Hammering with the guys
I remember one of my first collegiate cross country races. I went out with a guy named Samson Kimombwa, a 27 something 10k runner and former world record holder in the 10,000 meters from Washington State and Kenya. I didn't know any better, and the pace felt easy to me since I normally ran the 800-meters a lot faster. We were also running on a tough hilly course. For some reason, I could always run hills super well.
There were several other great foreign runners on the Washington State team that day as well. This was the era when the Cougars were NCAA Division 1 cross-country champions.
From what I recall, four of the top five WSU runners that day were from Kenya, Ireland, and Greece. Steve James was the lone American in the top group at WSU. James qualified for the U.S. Olympic Trials in the Steeplechase. James is still one of the best steeplechase runners ever from our state.
I went out hard with Kimombwa, Tom Raunig, and Dave Gordon in my first four-mile collegiate cross country race and several other distance stars of that era. We were all just a few seconds behind Henry Rono at the mile (although the world record holder was just playing with us).
Rono was the world record holder in the 3000-meter Steeplechase, 5000 meters,10,000 meters, and at one time even in the 3000 meters. What the heck, I thought. I might as well go for it and see if I could run with the big guns. Again, not knowing any better, I decided to go out with the lead pack (sometimes ignorance truly is bliss!).
My first collegiate cross-country race turned out pretty well for an 800-meter guy. Dave got me with his strength in the last 800 meters by three seconds. I was still ahead of some pretty fast long-distance guys that day.
I ended up running in the mid 29's for a 10k on a certified road course as a post-collegiate athlete and 4:00.1 post-collegiately in the mile on the track in one of my few attempts at the mile distance.
That 10k race, in particular, gave me confidence that maybe I could do okay in the Original Ultimate Runner Competition.
Lessons learned
Looking back, I, of course, wish I would have listened to my coaches and started running the mile more (and other longer races) at an earlier age. However, as an old guy now, it is pretty cool to look back and see that I was in the mix, at least to compete with those long-distance guys. I always wished they had more four-mile races like my first one in Missoula. I seemed particularly well suited for that distance.
It is also gratifying to look back and see the amazing job our coaches did at the time. My coach, Marshall Clark, was an amazing man who was the head cross-country coach at Stanford University for many years. He coached Olympic Marathon runners Tony Sandoval and Don Kardong at Stanford. Sandoval won the Olympic Trials marathon, and Kardong was fourth in the Olympic Games.
Coach Clark also coached Stanford to second place at the NCAA Division 1 Cross Country Championships before Montana.
Coach Clark could sure make those Montana boys run fast. I appreciate what he did for us much more now as an old guy. I wish I had listened more to coach Clark and my high school coaches about trying longer races. However, I truly appreciate more fully now the amazing opportunity I had to run at Montana with young men who truly went for their dreams.
As a side note, the great coach Dr. Jack Daniels is also a graduate of Montana's University. Dr. Daniels was called "The World's Best Coach" by Runners World Magazine. He graduated a couple of decades before our group at Montana. Coach Daniels was a swimmer at Montana. There is a lot of running history living in Missoula.
I talked to coach Daniel's about his Montana days a few years ago at a running conference he was leading. It was fun to recall his memories and past interactions with Tom Raunig and Dave Gordon at the old Nike elite Club, Athletics West.
Both Tom and Dave ran for Athletics West, the Nike-sponsored club, after Montana's running days. Coach Daniels met Tommy and Dave when he was working for Nike. It was pretty cool to discuss all of our mutual Montana running connections with coach Daniels.
The lesson from all of this for current runners: Listen to those coaches earlier in your career and have confidence in your God-given ability. Also, be open to finding your best event before it is too late!
I was way too stubborn and bullheaded in my high school and college days. However, I will always be grateful that I had the chance to run with the young men of Montana! As I look back, I cherish my time hammering with the guys.
Blessings,
Coach Weber
Philippians 4:13
University of Montana star Dave Gordon is number 10 in this picture. Dave finished ahead of Bill Rodgers,  Greg Meyer, and many other great runners in the U.S. Olympic Marathon Trials. .My University of Montana teammate Tom Raunig was tenth in the same U.S  Olympic Trials race. Montana was well respresented at the Olympic trials.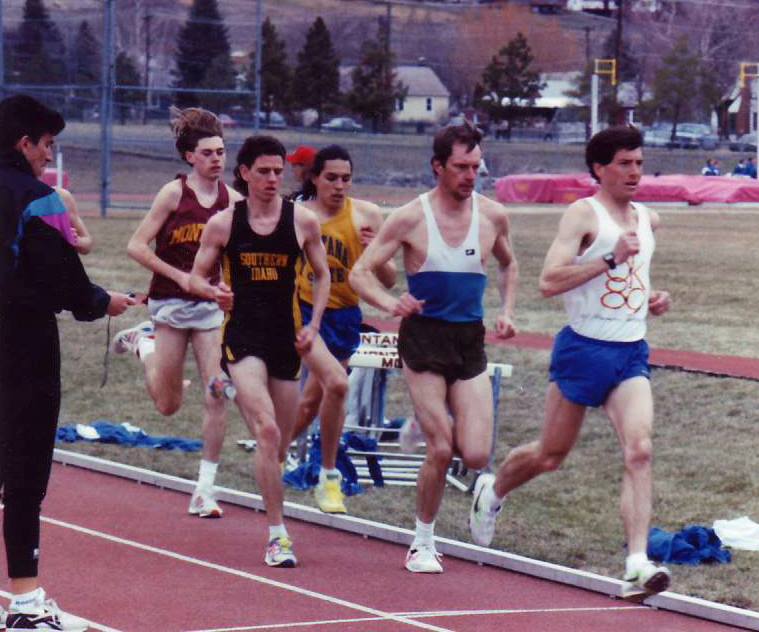 Tom Raunig went on to serve as the head cross-country and track coach at his alma mater at the University of Montana for 12 years before focusing on teaching. Tom earned a Doctorate degree in adult learning and higher education and coached several All-Americans in his coaching career. Tom ran a 2:12 marathon back in the day and was a 28:24 10,000 meter runner.
Photo credit: The Missoulian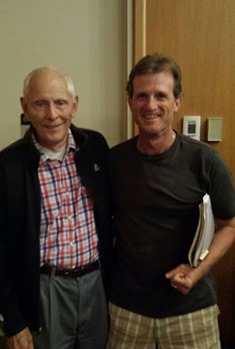 The author is pictured with coach Jack Daniels at one of his coaching seminars. Coach Daniels is one of the best distance coaches in the world and is a graduate of the University of Montana. Coach Daniels was called "the world's greatest coach" by Runners World Magazine. He was a swimmer at the University of  Montana and was an Olympian in the modern pentathlon winning team silver and bronze medals. Coach Daniels was instrumental in my coaching education and coaching career.
Mike Brady (number 2426)  is pictured in a road race in Spokane. Mike was another Olympic Trials Marathon qualifier on our team at the University of Montana.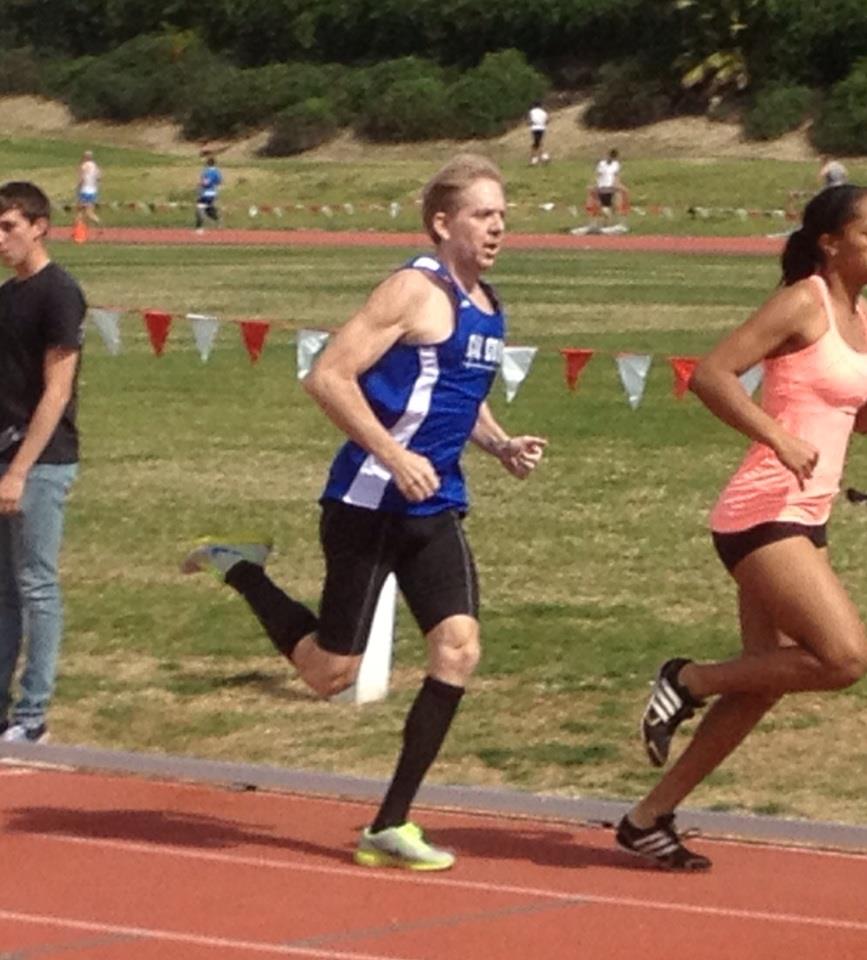 My University of Montana teammate Scott Browning still runs in Master races. He is seen here running in an 800-meter master's race. Scott was part of our 4x 800-meter relay team at the NCAA Division 1 Indoor Track and Field Championships in Detroit, Michigan.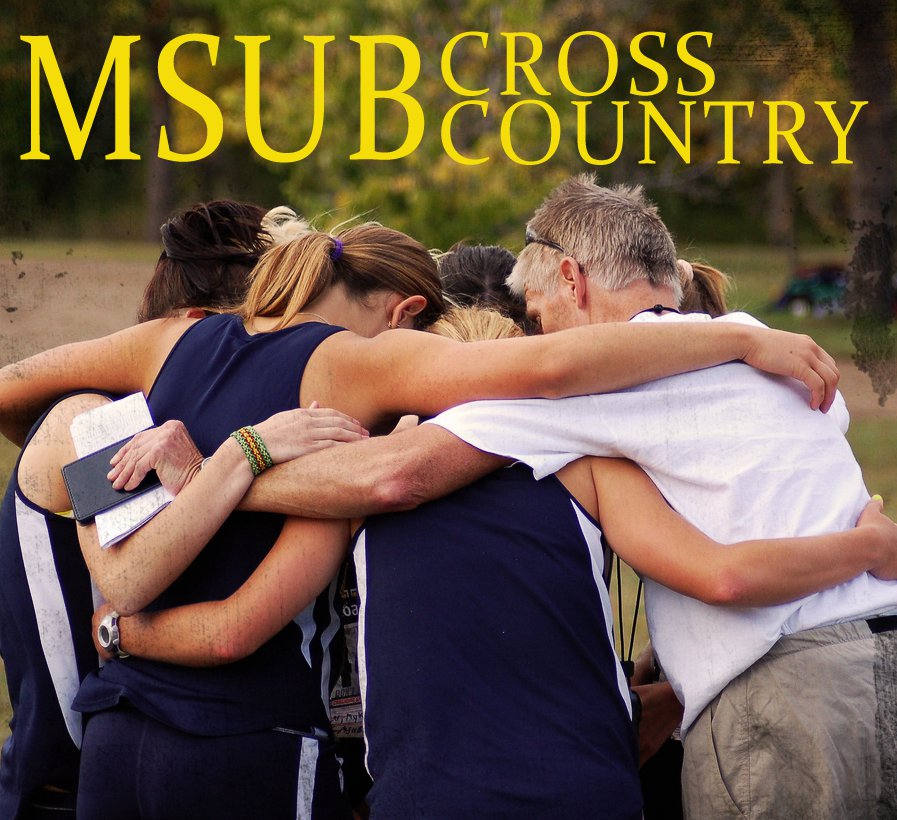 Dave Coppock is seen in this picture with his MSU-Billings Cross-Country Team before he retired from coaching. Dave coached at MSU-Billings for 28 years.