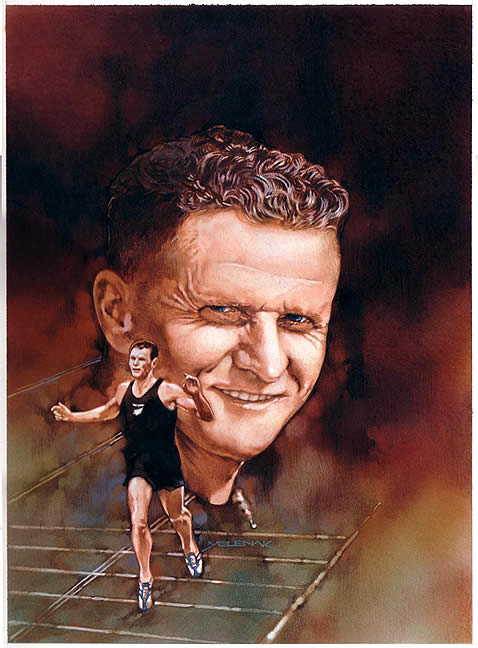 "Running Wizard"software program from the Lydiard Foundation
Some coaches and runners in America have misunderstandings about the Lydiard training method. Many misinterpretations abound in coaching circles and running blogs about Lydiard training strategies. Lydiard training is anything but just long slow distance as some claim.

Lydiard training is science based, time tested, and takes a systems approach to training. Everything is important in the Lydiard training method—lactate threshold runs, long runs, VO2max workouts, hills, speed etc. So is the sequence of the workouts performed in the training cycle. There is a right time to do everything in Lydiard's training methodology. 
The Lydiard Foundation, led by Nobby Hashizume, works tirelessly to correct the misinterpretations and misapplication of the Lydiard method of middle and long distance training, especially in the United States.
What American coaches and athletes use the Lydiard method?
Great American coaches such as Dr. Joe Vigil, Bob Sevene, Greg McMillan, Mark Wetmore, Bill Squires and some others understand the correct interpretation and application of Arthur Lydiard's training methods. Their results show the amazing benefits of Lydiard training done right.
Americans Steve Scott (136 sub four minute miles), Joan Benoit Samuelson (Gold medal in the Olympic Marathon) Bill Rodgers (Boston and New York Marathon winner),  Emma Coburn (U.S. World Track and Field Championships gold medal winner in the Steeplechase), Jenny Simpson (U.S. World Track and Field Championships Gold and Silver medal winner in the 1500 meters), and Meb Keflezighi (Olympic silver medalist and NYC marathon champ) are examples of Americans who understand the value of Lydiard training.
Many other coaches and Olympic Gold Medal winners from other countries use the correct theories and training strategies of the Lydiard training method as well.
Now there is a way to access correct Lydiard training methods that mitigates the misinterpretations and misapplication of the Lydiard method of training. The new Running Wizard software automates many of Lydiard's training methods.
Lydiard training rules accurately defined in running wizard
The Running Wizard software seeks to bring the science based interpretation of Lydiard training to the masses. The software was created by coaches who understand the details of the Lydiard method.
One great thing about software is the ability to capture accurate rules. In the case of Lydiard software, the developers captured "the actual training rules" of Lydiard. The myriad of misinterpretations of Lydiard's training strategies were filtered out in this new software. For the first time, there is an automated training solution that captures the essence of Lydiard's training methodology.
Personal experience with the Lydiard Way
When I converted to the Lydiard method at the end of my  running career years ago, my times improved dramatically. I ended up beating several national and world class athletes whom I had never beaten before prior to changing my training methods. You can read my story here Original Ultimate Runner Competition if you are interested in seeing how Lydiard training help me run my best ever.
My only regret is that I did not have a coach you knew the Lydiard method inside and out when I ran years ago. I had to interpret the Lydiard methods myself. In addition, a tool like "Running Wizard" would have been invaluable in my training.  It would have helped answer my Lydiard training strategy questions more completely.
The Lydiard system works extremely well if applied properly.  Now, there is a software program that busts all the myths and misinterpretations of the Lydiard system as well.  The new software program may help you in your journey to run a personal best by more accurately following the Lydiard method of training.
I don't believe any software training program can take the place of good in person coaching. Having someone review and monitor your training in person from time to time is invaluable.  However, if you don't have a coach for some reason then a software program like the running wizard may be for you. 
For more information about the benefits and features of the running wizard software and how to purchase it, go here Running Wizard.
Blessings,
Coach Weber
Copyright 2018 Larry Weber
Photo Credit: Andy Yelenak