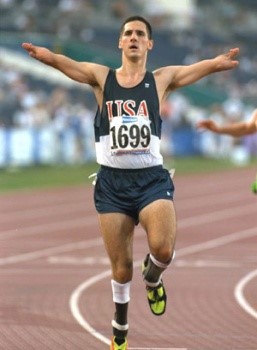 Tony Volpentest set a World Record in the 100 and 200 meters in the Paralympic Games despite being born without feet or arms. You can do amazing things when your truly want something bad enough in life.
I served as Tony's coach (after my good friend Bryan Hoddle no longer coached Tony) when he ran a world best and won a gold medal in the 200 meters at the World  Paralympic Track and Field Championships. Tony overcame huge hurdles in his life to become the fastest runner in the world within his category. He really wanted to reach his goals and found a way to win.
How bad do you want your goals?  What price are you willing to pay?  Said another way, How bad do you want it?
How Bad Do You Want It?
Running a race in many ways is a battle of the mind. The endurance runner especially asks the question "will I or won't I" push through the pain in my race today.This question is a recurring theme in every runner's mind.

The answer to the "will I or won't I" question determines how well a runner performs. If your answer is yes to pushing through the normal pain of a race, you normally tap into mental reserves that help carry you closer to your goal.  
Mental Toughness Under the Microscope
Mental toughness is fascinating to researchers, authors, coaches, and athletes. Entire books are written on the subject.  An acquaintance of mine, Matt Fitzgerald, has written a whole book on the subject. "How Bad Do You Want It, is Matt's take on how to win the mental battle in your mind. His book looks at some of the world's best endurance runners and how they push through pain.
How Bad Do You Want It?
Matt's book focuses more on the latest scientific studies to back up some of his beliefs about mental strength. In addition, Matt cites inspirational stories of elite athletes who have learned to push through the pain of tough races.
One key question that Matt asks in his book is, 'How Bad Do You Want It?  In other words, how bad do you really want to reach your racing goal?
I've seen many athletes with great talent who don't want their goal bad enough. For example, they don't practice on a consistent basis, find excuses for not working out, or don't want to run hard enough to through the pain during their race.  
On the other hand, I've seen many runners with limited talent beat better runners in races even though they are nowhere near as talented. Their mental toughness is off the charts even though they don't have the same physical tools of their talented counterparts.
If you want something bad enough in life, you usually find a way to get it or at least come close to hitting your target goal.
Good questions to ask yourself
Are you trying to reach your goal at the 50 percent effort level?  Are you giving 75 percent of your effort toward your goal or have you made the decision to give 100 percent effort to your goal with the time you have available?   
Many people say they want a goal but few are willing to give it their all when going after an important goal. Actions always speak louder than words when it comes to reaching important goals.
The phrase "All give some, some give all" is still as valid today as it was decades ago. When you give it your all, you can look back with no regrets.
Look Under the "How Bad Do You Want It Hood"
Take a close look at how important your goal is to you. Make the appropriate sacrifices along the journey to reach your most important racing goals if they are truly important to you. In addition, ask your coach to help you identify your best mental approach to  training and racing. Lastly, ask yourself this question, "How Bad Do You Want It".
Blessings,

Coach Weber
Philippians 4:13
From Amazon.com: "Tony Volpentest, a four-time Gold Medalist and five-time World Champion sprinter, carried the Olympic flame at the 1996 Olympics). He's won numerous honors including the International Olympic Committee President's Disabled Athletes Award, the United States Olympic Committee Athlete of the Year, Sports Star of the Year and was the National Spokesman for Shriner's Hospitals. He's been featured on CNN and Sports Illustrated, and now works with others pursuing Gold, and speaks to audiences around th.e world".
You can purchase Tony's book about his inspirational life story at Amazon.com.