Deutscher Brothers Provide Pope John Paul II Track with State's Best 1-2 Punch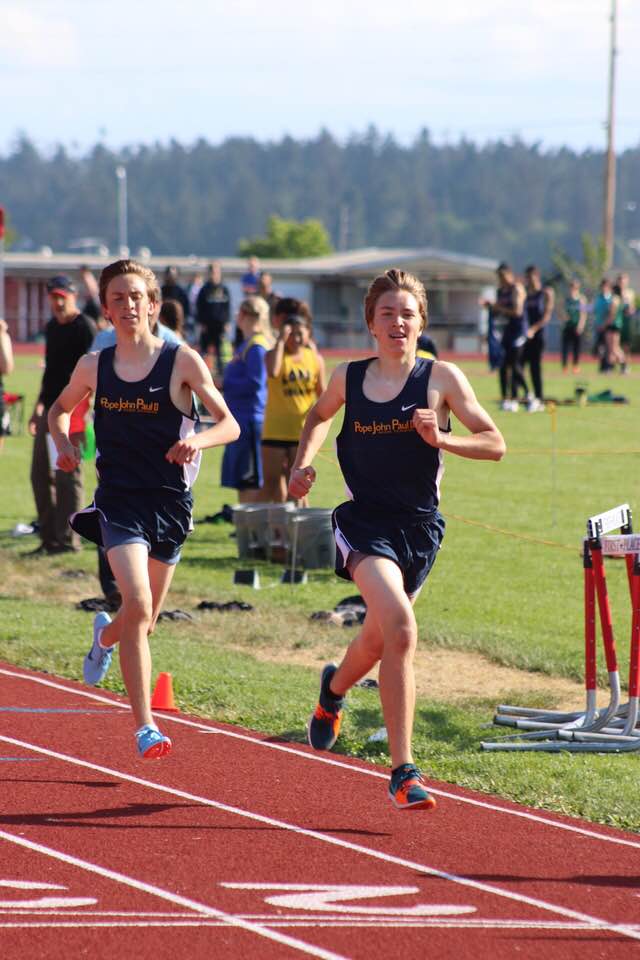 Caden and Kobe Deutscher in a 1600 meter race
Pope John Paul High School is a small high school with 94 students in Lacey, Washington.
There is a great story on two of the runners I coach at Pope John Paul II High School, Lacey WA. Both Caden and Kobe have improved their event times since the article in the link was written a couple of weeks ago. Caden ran a 26 second PR in the 3200 meters about a week ago. His Sophomore Kobe Deutscher improved his 800-meter time as well.
Both brothers received WIAA Athlete of the week awards this year as well. The WIAA is the governing body of high school sports in the State of Washington.  Kobe and Caden are much more than great runners. They work hard at everything they do and are wonderful teammates and student-athletes as well. Caden is a 4.0 student. 
Pope John Paul II High School just started a track program in 2018. This is both Caden's and Kobe's second year of high school track. Caden is a senior and Kobe is a sophomore. Both are just learning how to run the middle and long distance events. Caden played basketball this winter yet he has already broken into the 9's for the 3200 meters. 
The link to the article about Kobe and Caden is below. Sorry about the size of the link. There was a technical problem with the conversion of the link. The link works but it is long.
https://www.thurstontalk.com/2019/05/06/deutscher-brothers-provide-pope-john-paul-ii-track-with-states-best-1-2-punch/?fbclid=IwAR3BE0WYzgRoFZHacarAVAxj32UfIsJu029aow5ro8K5XM4CsvaRHomph5o

Blessings,
Coach Weber
Philippians 4:13