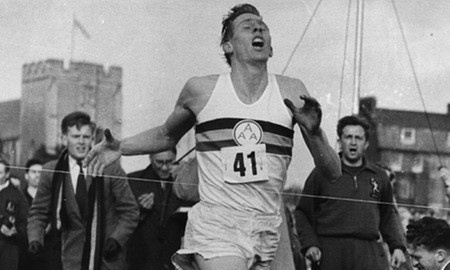 Photo Credit: The associated press
How to Breakthrough Your Perceived Limitations: Part Two
"The best way to become a mentally tough runner is to just believe you're a mentally tough runner."

-Ryan Hall (2:04:58 Marathon PR)
Learn to push through normal race pain
In every race, there is a time of indecision and a question. The time of indecision usually takes place in the middle of a race.
"Will I push through the pain and give it my all, or will I settle? It does not matter if it's your first or hundredth race. This internal question always comes up.
The key to pushing through the pain barrier is to gain leverage on yourself.  In other words, "how bad do you want it".
There is no cookie cutter answer to the "how bad do you want it question".  Everyone has a different reason for running a race. Breaking through your perceived limitations requires strong personal reasons.
For some it's to finish a race or run a personal record. For others, it's to make the Olympic team. Still others want to win a local, state, national, or even world championship. Qualifying for races like Boston or an Ironman are enough motivation for many people.
Regardless of the reason for racing, your reason must be strong enough to carry you through the most painful moments of a race. "Will I or won't I push through the pain" is the question every runner asks. This question never goes away no matter how many times you've raced so time should be spent on finding a good answer.
The "why" behind your running breaks barriers
For years, the thought of running well in the Olympic Trials was enough motivation to run through the pain of a race for me. I saw the races along the way as stepping stones to my ultimate dream. However, after my competitive career ended there was little motivation and leverage to run in that kind of normal race pain again.
I had not raced in many years. One day, I was talking to the team I coached about breaking state records and becoming one of the best small school cross country teams in the nation.
One of my athletes challenged me by saying something to the effect of "if you can run close to the best in the nation for your age, we will go for it this year". Game on.
I trained hard for the first time in a couple of decades. I mean, I worked my tail off for months.  The guys team came out to watch my time trial to see if I could reach my goal. They ended up seeing me run a great time for my age and making my goal.  I was not going to let them down.
My desire/reason for running so fast was to set an example that anything was possible, even for a person of my age. My "strong why behind my goal" was to help the team I coached to have their best year ever. Therefore, I pushed through some pretty difficult pain in my time trial. On a side note, my wife said I sounded like a woman in labor the last mile of my 5k so I must have given it my all!
Develop your own strong "why"
Only you can identify a "strong enough why" to push through the normal pain of a race. Do some soul searching and come up with your own unique reason for giving it everything you've got.  
Look under the "why" hood to get leverage on yourself so you can push through the pain of your next important race. No one has ever regretted breaking through their perceived time barrier.
Leave nothing at the finish line of your dreams.
Blessings,
Coach Weber
Philippians 4:13

Copyright 2018 Larry Weber